What You Need to Know About Phil Hellmuth vs. Jason Koon Match for $1.6M on Dec. 7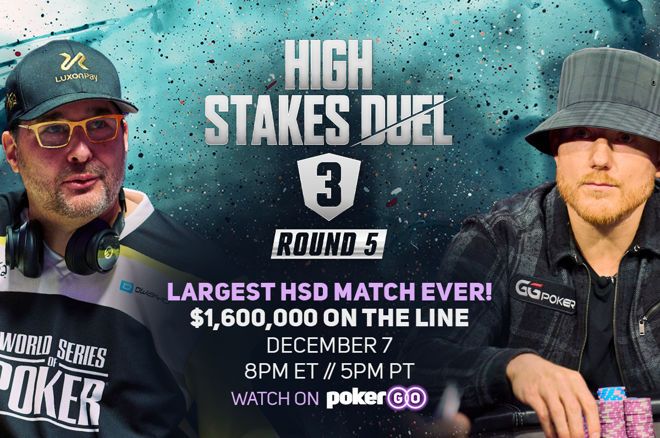 Table Of Contents
At long last, a date has been set for the highly-anticipated $1.6 million High Stakes Duel III match on PokerGO between Phil Hellmuth and Jason Koon — December 7 at 8 p.m. ET.
Hellmuth was originally slated to face Scott Seiver in a rematch back in August but his opponent backed out at the last minute for undisclosed reasons. A few days later, Koon was chosen as the replacement for Round 5 of the current set of High Stakes Duel games, but the date hadn't been disclosed until now.
What's at Stake?
Although the prize pool for Round 5 will be $1.6 million (Koon's $800,000 and the $800,000 already in the pot), the stakes aren't the same for both players. If Hellmuth wins, he could cash out and collect the seven-figure payday. But if Koon comes out victorious, he won't technically win anything ... yet.
Each series of games begins with two players paying $50,000 to enter. The pot doubles each round with the losing player or new challenger always being the only player responsible to buy back in. Players cannot cash out until they win three straight matches.
Round 5 began with Hellmuth defeating recreational poker player and FS1 sports talk blowhard Nick Wright, who declined a rematch. Tom Dwan then stepped in and dealt Hellmuth his first loss in seven games on High Stakes Duel. The two poker legends then battled again in Round 3 ($400,000 pot) with Hellmuth getting revenge.
Dwan was unable to make it to Las Vegas in time for Round 4, so Seiver entered the hot seat and lost, setting up what was to be a rematch for $1.6 million. As mentioned, that never transpired, leaving the door open for Koon, the GGPoker ambassador.
To enter the game, Koon must pay $800,000, doubling the prize pool from Round 4. Hellmuth is only in for $250,000 total ($50,000 for Round 1 and $200,000 for Round 3). So, if he were to win next week, he could cash out and take a $1,350,000 profit. Of course, he doesn't have to take his money and run. The "Poker Brat" could decide to let it ride and challenge Koon to a rematch for $3.2 million.
If the reverse occurs and Koon wins, Hellmuth would have the option to force a rematch, and then he'd be the one on the hook for paying $1.6 million to enter Round 6. But if he loses and then decides to quit the game, PokerGO would then seek out a new challenger.
Names that have popped up among those interested in competing include Dan Cates and Phil Ivey. But the selection of players might change if Koon is the opponent as compared to Hellmuth.
Comparing the Two Opponents
Hellmuth has a 9-1 record on High Stakes Duel since 2020 when he first defeated Antonio Esfandiari in three consecutive matches. He then did the same to Daniel Negreanu before beating Wright, going 1-1 against "durrrr," and outplaying Seiver in May 2022.
The two upcoming High Stakes Duel competitors are among the most accomplished poker players in history. Hellmuth is a 16-time World Series of Poker bracelet winner — a record — and has over $28.4 million in live tournament cashes, according to Hendon Mob.
Koon, on the other hand, has been one of the most consistent and dominant high rollers over the past decade. With $40.2 million in live tournament cashes, the West Virginia native ranks seventh all-time. He won his first WSOP bracelet in 2021, fittingly in a $25,000 heads-up tournament.
Both players have had success in the heads-up sit 'n go format, the style played on High Stakes Duel. Not only is Hellmuth 9-1 on HSD, he took down the 64-player now defunct NBC Heads Up Championship in 2005 and finished runner up to Mike Matusow in 2013.
As has been the case in most of his HSD matches, Hellmuth is likely to be the underdog just based on his critics constantly trashing his heads up game, whereas few do the same to Koon. But his 9-1 record, albeit a small sample size, proves that it won't be an automatic victory for the GGPoker ambassador.