Phil Hellmuth Outplays, Defeats Tom Dwan in Round 3 of High Stakes Duel III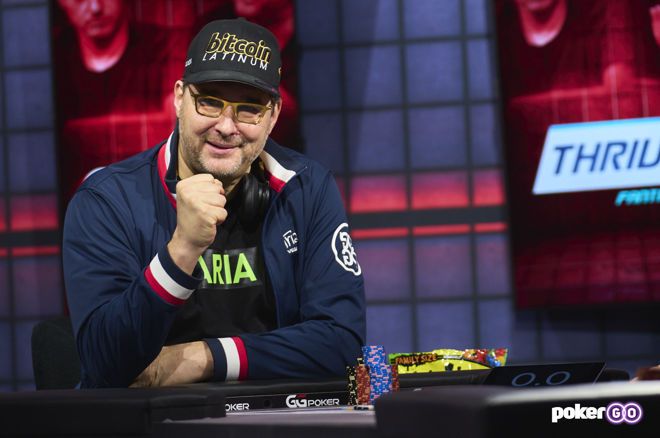 For the eighth time in nine matches on PokerGO's High Stakes Duel show, Phil Hellmuth was a winner Wednesday night when he defeated Tom Dwan in a highly competitive rematch.
"It feels good. Tom is just one of the greatest players in the world," Hellmuth said after his victory. "I like to use the term 'natural-born hold'em player.' I think there are about 10 natural-born hold'em players in the world. I'm one of the 10, for sure. What do I have, 13 world championships in hold'em or something? Plus, just 50 final tables in hold'em. So yeah, I'm one of them."
Round 3 of High Stakes Duel III was a battle of wits between two of poker's most legendary stars. The "Poker Brat" sought revenge following his lone defeat on the heads-up poker show back in August to "durrrr." He was 7-0 prior to that game against Antonio Esfandiari, Daniel Negreanu, and Nick Wright.
Dwan, who bought in for $100,000 originally, didn't owe any money to the Round 3 pot. Hellmuth, because he lost in Round 2, was on the hook for $200,000 to get back in the game, creating a $400,000 prize pool.
The match kicked off on PokerGO at 5 p.m. PT from the PokerGO Studio in the ARIA, Las Vegas. Anyone who has watched the previous matches knew to expect a lengthy battle, and that is exactly what happened.
Players Feeling Each Other Out
As most expected, both players came in a bit snug and there weren't any early fireworks. Dwan hit a straight flush on the river in one hand to win a small pot, Hellmuth took down another small pot with a rivered nut flush, the "Poker Brat" attempted a confusing min-check-raise on the flop with bottom pair. Otherwise, the early stages were fairly uneventful.
Neither player was able to bust out to a big lead early on and gain much of an advantage. In many ways, Hellmuth/Dwan II was similar to the first one, except Dwan couldn't ever grab much of a lead.
About an hour in, Hellmuth rivered trips to crack Dwan's flopped top pair to win a decent pot to nearly even up the score at 200,000 chips, the size of the starting stack.
The tide began to turn heavily in Hellmuth's favor when the "Poker Brat" took, as PokerGO commentator Phil Galfond described, "a pretty interesting line," in a hand.
With around 12,000 in the pot on the turn with the board reading
, Hellmuth checked his
and Dwan semi-bluffed for 9,600 with
. Hellmuth then went for a min-check-raise to 19,200 and received a call. Both players would check the
on the river after Dwan couldn't pull the trigger on a bluff.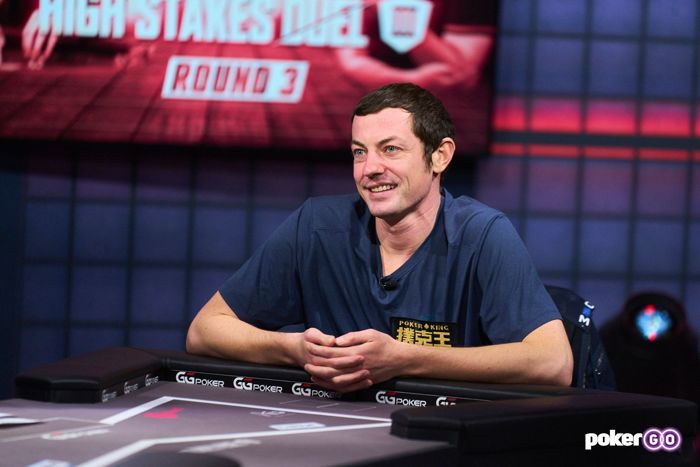 Hellmuth took down a 50,000-chip pot, the largest of the match up to that point, and it propelled him into his biggest lead (231k to 169k). Both players have plenty of experience competing against each other, and mutual respect for one another.
Hellmuth Picks Up the Pace
Hellmuth isn't known as an aggressive player, but he has a knack for pulling off the well-timed bluff as he showed in the first eight High Stakes Duel matches. On Wednesday, he found some aggressiveness at times. In one hand, he fired off a massive three-bet preflop with 6-3 off-suit.
Hellmuth explained: "I thought that I had to play a little faster against him because he's so good. He's so good, he's always there, he's making all these good folds, so I thought to step it up a little bit and to make some big bluffs today to win just to kind of get the mojo in my favor. I was hoping with those big bluffs that once he sees that in the next match he'll adjust. I do better when someone else is making all the big bluffs and not me, but sometimes I have to do one
Although he was passive preflop most of the match, Hellmuth did pick up the pace in the middle and late stages. He three-bet preflop with 4-2 to get Dwan off J-9, a strategy that's worked for him quite frequently on High Stakes Duel.
In another hand, with
in the hole on a flop of
, he check-raised Dwan's 3,000 bet with ace-high to 13,000 and took down the pot there.
Game Getting Juicy
The action really picked up when Hellmuth limped for 800 with
on the button and Dwan made a huge raise to 5,600 with
. The 16-time bracelet winner got a bit frisky and popped it to 21,000, and of course his opponent wasn't going away.
The flop came out
and both players checked. When the
hit on the turn, the match instantly became Hellmuth's to lose. Dwan again checked and then Hellmuth, holding trips, bet 17,000, which didn't scare "durrrr" away so he called.
Following the meaningless
on the river, Hellmuth bet out 37,000 and received a crying call. That put the former poker world champion out in front 3-1 in chips.
Hellmuth turned a straight flush in a hand he raised 10x preflop with
and won a big pot to leave Dwan with around 70,000 chips. He took full advantage of his large chip advantage, firing off numerous bluffs to force his opponent off better hands.
On the final hand, Dwan raised to 7,000 with
and Hellmuth jammed all-in for 70,000 effective with
. The board ran out
, giving Hellmuth top pair to finish off the three-hour match.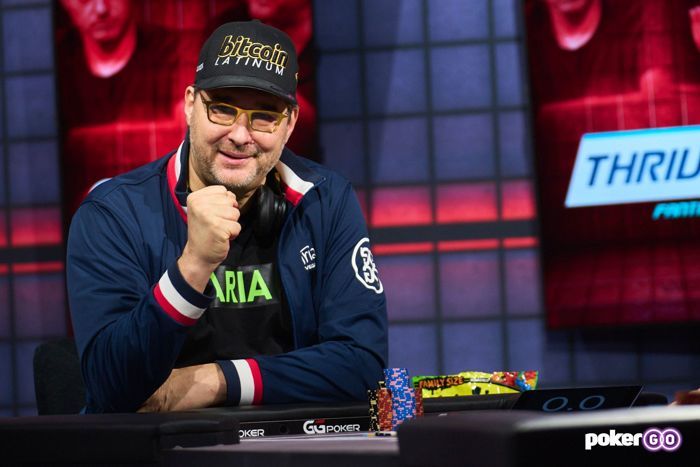 How Hellmuth Ranks his High Stakes Duel Opponents
Hellmuth is now 8-1 on High Stakes Duel. His first three matches were wins over Antonio Esfandiari, followed by three more victories against Daniel Negreanu.
Per the rules of the show, Hellmuth could cash out following three straight wins, which he did against both Esfandiari and Negreanu, denying both players a shot at another rematch. That left the seat open for Nick Wright, a sports talk personality on FS1, who lost a hard-fought battle in the first round of High Stakes Duel III. Wright declined the rematch, and Dwan paid $100,000 to replace him in Round 2, a match he won.
Hellmuth spoke with PokerNews following his second battle against "durrrr" to assess the difficulty of each opponent he's faced on HSD, starting with Esfandiari.
"They're all tough," Hellmuth said of his opponents. "Antonio's tough in his way. He puts a lot of pressure on you, a lot of heat on you. He talks a lot, rubs it in when things are going bad for you. So, you really have to struggle to stay level."
Negreanu, who lost all three matches, entered HSD was some confidence and talked down on Hellmuth's heads-up game.
"And then Daniel, it was super measured," the Poker Hall of Famer continued. "(He'd say) 'here's the chart how I'm going to beat you,' all that b******t that I was incredibly insulted by. It was kind of mean of him to attack me like that. But Daniel's f*****g tough as nails. If anyone wants to come face Antonio and Daniel, I'll bet on Antonio and Daniel."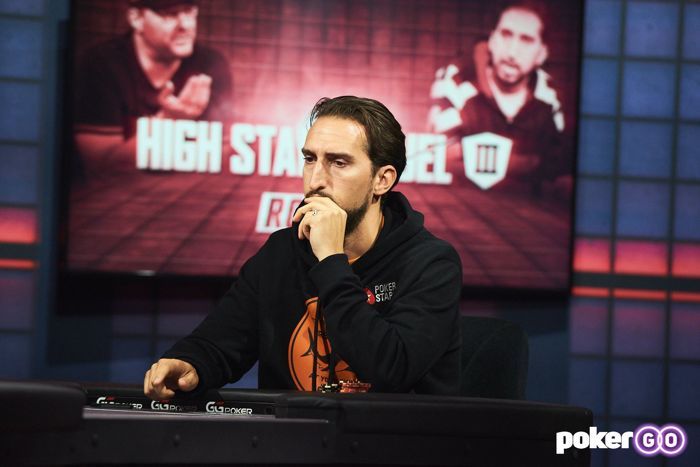 The seventh match was against Wright, the only amateur thus far on High Stakes Duel. Hellmuth acknowledged the sports talk personality played surprisingly well and put him in some tough spots. Dwan has been an even more difficult opponent for the poker legend.
"Dwan is amazing, just like I said, he's a natural born hold'em player," Hellmuth explained before praising Dwan's unpredictability that makes him so difficult to beat.
Dwan vs. Hellmuth III?
Hellmuth hasn't yet collected the $400,000 prize pool from his win against Dwan, nor is he eligible to cash out until he wins at least one more match, even if Dwan were to decline a rematch.
That said, "durrrr" immediately notified his opponent he will challenge him to another battle. This time, Dwan must pay $400,000 to enter, creating an $800,000 prize pool.
Poker Hall of Famer Mori Eskandani, President of PokerGO, told PokerNews he anticipates Round 4 will take place in late March or sometime in April, but the specific date is yet to be determined.
*Images courtesy of PokerGO