Down Goes the Poker Brat: Dwan Cracks Hellmuth's Aces Again to Win High Stakes Duel III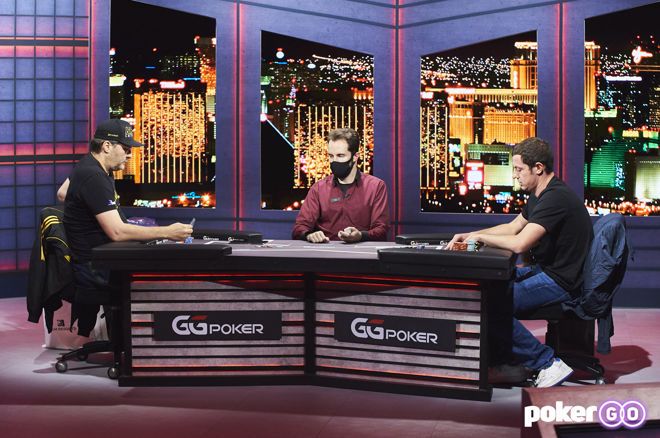 One of the most impressive streaks in recent poker history came to an end at the PokerGO Studio in Las Vegas Wednesday evening. Phil Hellmuth, after seven straight wins on "High Stakes Duel," finally suffered a defeat as Tom Dwan busted the "Poker Brat" just like he did at the 2008 NBC Heads-Up Poker Championship — cracking pocket aces.
Back in 2008, Dwan was the up-and-coming hot shot known as "durrrr" on Full Tilt Poker. He cracked the 2007 Poker Hall of Fame inductee's pocket rockets with pocket tens in the first round of the 64-player televised heads-up poker tournament. That sent Hellmuth into total meltdown mode as he ripped on the then 22-year-old's play. "We'll see if you're even around in five years," he insultingly told Dwan following the match.
Fast forward 13 years and "durrrr" most certainly is still around crushing the game of poker. On Wednesday, he won a marathon heads-up rematch the poker community's been waiting for since 2008. And he capped off the six-hour battle in the most fitting way possible.
Unbeaten Champ Lands Some Early Punches
Hellmuth, who entered the match 7-0 on "High Stakes Duel" after having defeated Antonio Esfandiari three straight times in 2020, then three against Daniel Negreanu earlier this year, and Round 1 of the current series of games versus sports talk show personality Nick Wright last month.
Wright declined a rematch after losing $50,000 in Round 1, which opened the door for Dwan to replace him for Round 2, a $100,000 buy-in game ($200,000 prize pool). In some ways, Round 2 was similar to Hellmuth's first seven matches. But in other ways, it was quite different.
The 1989 WSOP Main Event winner quickly burst out to a sizable lead over Dwan, a stark contrast to most of his previous matches, in which he played from behind. Both players started with 100,000 chips, and Hellmuth seized early control, scooping a slew of small pots, one after the other, which helped him run his stack up to around 125,000.
But there was one major aspect of this match that was similar to the past seven "High Stakes Duel" episodes — the game was of the marathon variety. Hellmuth won some early battles, but he was unable to win the war this time around. He did, however, grind for six hours, refusing to give in and surrender his stack, as did his opponent.
One of Hellmuth's greatest strengths is that he is so difficult to bust, and rarely loses a huge pot at showdown unless he takes a bad beat. He incorporated the same strategy on Wednesday, which made it tough for Dwan to maximize value out of his big hands.
Dwan Fights Back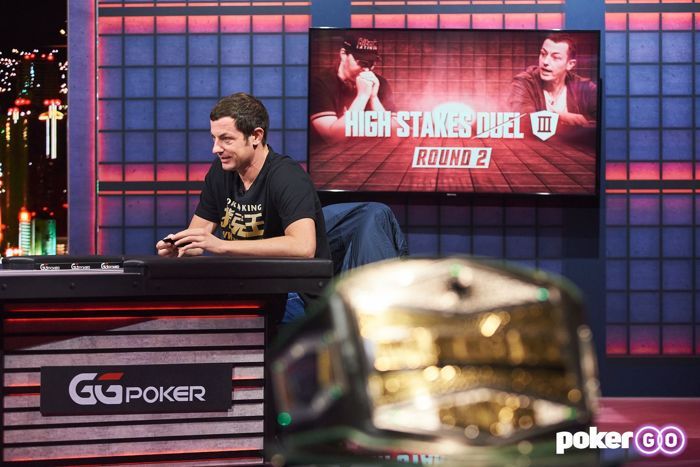 But Dwan did find success in grinding out a number of small pots after falling behind early. About two hours in, on the 124th hand of the match, finally picked up the hand to jump out in front.
With 2,400 in the pot on a flop of
, Hellmuth bet out 800 with
, a straight and flush draw. But his opponent was holding top two —
— so he bumped it up to 3,000. Both players saw the
on the turn. Hellmuth checked, Dwan bet 4,800 and received a call. The river was a meaningless
. Again, Hellmuth checked having bricked his draw. Dwan fired out a 13,300 but couldn't get any action. He did, however, jump into the chip lead for the first time since the first level of play.
An hour later, following a missed flush draw in which he lost a fairly sizable pot to ace-high, Hellmuth's first pseudo-meltdown of the day ensued. For the most part throughout the six hours of play, however, he was rather subdued, especially by "Poker Brat" standards. But the frustration began to kick in as Dwan had seized control of the match.
Still, Hellmuth kept his cool for the most part. He refused to give in and forced his opponent to accept winning small pots if he wanted to accumulate chips. That strategy's worked for the 15-time WSOP bracelet winner on "High Stakes Duel" in the past. The only problem on Wednesday night was the bluffs weren't getting through and the big hands didn't show up at the right time, unlike his previous seven matches on "High Stakes Duel."
Things got even worse for Hellmuth at around the three-hour mark. With
on a board of
, he bet 12,000 into a pot of 28,000 hoping to take down the pot. Unfortunately, for the Poker Hall of Famer, Dwan had
for a straight and moved all-in. Hellmuth folded and was left with 53,000, down nearly 3-1 in chips.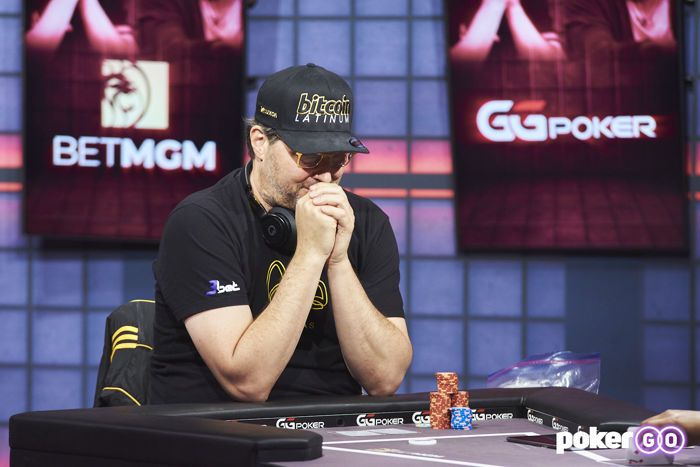 Kicking it Old School
Hellmuth continued to battle, scraping out a number of small pots along the way while patiently awaiting a double up opportunity. He even caught up at one point. As the blinds began to become a factor and Dwan had again taken over the match, time was running out on an eighth straight victory. And then, down to just a few blinds, he picked up pocket aces against Dwan just like in 2008 at the NBC Heads-Up Poker Championship. The outcome wasn't any different than it was 13 years ago.
Hellmuth decided to slowplay
with 20,000 left (blinds at 2,000/4,000), and Dwan checked his
in the big blind. The flop came out
. and the chip leader fired out 5,000 with middle pair and heard an "all in" call. He couldn't fold given his opponent's small stack. And, from "durrrr's" perspective, it turned out to be a good decision as the turn came out a
, giving Dwan two pair, and then an insignificant
.
The streak is finally over, and for the first time Phil Hellmuth is the one who has the option to challenge the winner to a rematch. Should he exercise that option, he'll be required to pay $200,000 to enter Round 3. As he exited the PokerGO Studio, a dejected Hellmuth said, "I don't know if I'm going to rematch now." But that comment came just moments following a difficult, frustrating game.
If Hellmuth declines the option to challenge Dwan to a rematch, and he has 72 hours to make that decision, his seat will open up for a new opponent.
*Photos courtesy of PokerGO
Remember, High Stakes Duel is only available to PokerGO subscribers. If you're not currently subscribed, you can get a monthly subscription for $14.99, a three-month plan for $29.99, and an annual subscription for $99.99. You can also save $10 off an annual subscription by using promo code "PokerNews" at checkout.