Phil Hellmuth vs. Tom Dwan "High Stakes Duel" Prop Bets and Our Picks to Click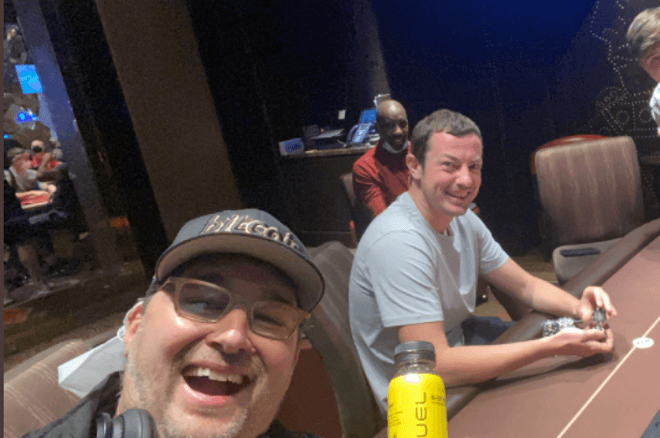 Phil Hellmuth will put his 7-0 "High Stakes Duel" record on the line tomorrow, Wednesday, August 25, against Tom Dwan in what figures to be an exciting heads-up battle between two iconic poker pros.
The match, worth $200,000 to the winner, has been in the making for 13 years. At the 2008 NBC National Heads-Up Poker Championship, Dwan, known as "durrrr" on Full Tilt Poker at the time, busted the "Poker Brat" from the first round when his pocket 10's cracked pocket aces. Following the suckout in one of the most legendary televised poker hands, Hellmuth ripped on his opponent's play.
"Pick your stakes heads up, pick your stakes heads up," Dwan, then 22 years old, responded, challenging the Poker Hall of Famer to a match that never took place. But it will in a matter of hours at the PokerGO Studio in Las Vegas. The game starts at 5 pm PT and is available exclusively on the PokerGO app.
Dwan vs. Hellmuth is likely to bring out some heavy side action from poker fans. Speaking of side action, let's get into the prop bets for what figured to be an epic match, along with our picks to click (but please don't blame us if our predictions cause you to lose money).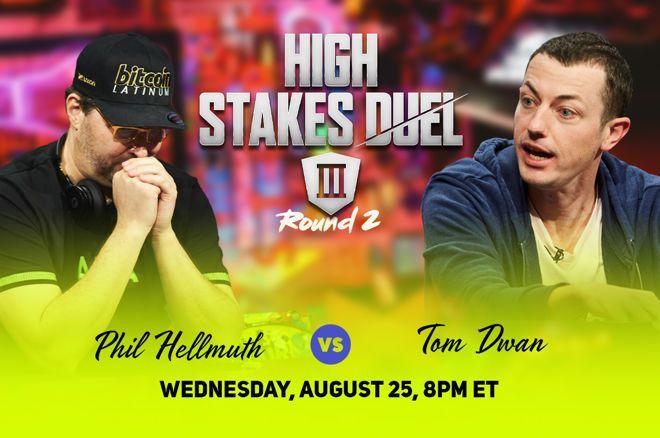 Winner of the Match (Pick 'em)
Phil Hellmuth is unbeaten on "High Stakes Duel." Tom Dwan is a skilled pro with the talent to defeat the reigning champ. PokerShares has Dwan handicapped as a slight favorite (-128). But that's a bit disrespectful to the player who has never lost in seven matches on the show. Thus, why the odds on this game should be close to even, assuming "durrrr" is Hellmuth's toughest opponent to date.
Jon Sofen: As much as I was a huge fan of Dwan back in the day, and still am, my theory in sports is that you ride a hot streak until it ends. If Hellmuth loses this match, I'll take "durrrr" again in Round 3, but until that happens, let's go "White Magic," baby!
Chad Holloway: I know there are a lot of people out there who don't believe in Hellmuth, despite his undefeated record. I am not one of them. The "Poker Brat" continues to get it done despite all the criticism, and I think he'll use his experience in the format to take this first round. That said, if Dwan loses and challenges again, which he would, I like in him Round 3. Hellmuth's run has to come to an end at some points.
How many full meals will Hellmuth consume during the match? (Over/Under 1.5)
Hellmuth's eating habits are a favorite topic of discussion among PokerGO commentators Ali Nejad, Nick Schulman, and Maria Ho. What he'll devour is anyone's guess, although it's safe to assume it will be something greasy and unhealthy.
Sofen: I'll take the over here because the man's from Wisconsin. There isn't much else to do there than to eat and drink. It's a learned habit from birth for any Badger.
Holloway: Definitely the over. On occasions, Hellmuth has been on pretty big health kicks. Right now is not one of them. Just the other day I watched him eating raw cookie dough during his interview with Doug Polk. If you want to win like a champion, you have to fuel like a champion.
How long into the match before Hellmuth's first blowup? (Over/Under 8 minutes 30 seconds)
There are three guarantees in life — death, taxes, and Phil Hellmuth melting down after losing a pot. No doubt that Dwan is going to win his fair share of hands, and that won't sit well with the man dubbed the "Poker Brat" for a reason.
Sofen: There's literally no way Hellmuth's going to make it a full 8 minutes and 30 seconds before complaining about losing a pot. I'll bet my next 15 paychecks, one for each Hellmuth WSOP title, on the under.
Holloway: I'll take the over. Don't get me wrong, there will definitely be one or many blowups, but I think Hellmuth will start off slow and be cordial. It wouldn't be vintage Hellmuth without a tantrum though, so I'm looking forward to when it inevitably happens.
How many hands will be dealt? (Over/Under 275.5 hands)
Most "High Stakes Duel" matches have been quite lengthy. There hasn't yet been an early cooler hand that ended the game quickly. They've all lasted at least a few hours and over 200 hands.
Sofen: The reason the matches have been lengthy is because Hellmuth is so difficult to bust. He is so patient and bides his time, waiting for an opportunity to pounce. But in this match, I'll take the under on the basis that we're either due for a sick early cooler or Dwan's aggressive play will speed up the game.
Holloway: I like the under as well. While Hellmuth is accustomed to setting the pace, he might struggle to do so against Dwan, who won't be afraid to play big pots and put Hellmuth to the test. I see a big clash happening sooner than later, so for that reason I'll take the under (I'll actually take under 200).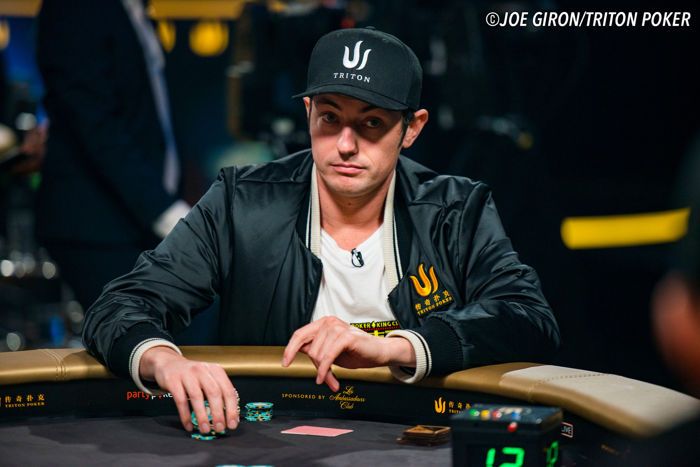 Who will win the most hands? (Dwan -150, Hellmuth +180)
Hellmuth is 7-0 on "High Stakes Duel," but he rarely wins the most hands dealt during a match. This goes back to what we just said about his patience and biding his time to scoop a big pot. He'll gladly lose certain battles if it means winning the war.
Sofen: My biggest lock of the day is betting on Dwan here. He's more consistently aggressive than Hellmuth, which makes it difficult for me to believe he won't win the most hands.
Holloway: This is a tough one, but I think I'll go with Hellmuth. Something tells me Dwan is going to play aggressively and Hellmuth will trap him in big pot early to take a lead. That will allow him to exert more pressure and win more pots.
Remember, High Stakes Duel is only available to PokerGO subscribers. If you're not currently subscribed, you can get a monthly subscription for $14.99, a three-month plan for $29.99, and an annual subscription for $99.99. You can also save $10 off an annual subscription by using promo code "PokerNews" at checkout.
*Images courtesy of PokerGO.
Executive Editor US, PokerNews Podcast co-host & 2013 WSOP Bracelet Winner.