Hellmuth Sweeps Negreanu To Win High Stakes Duel II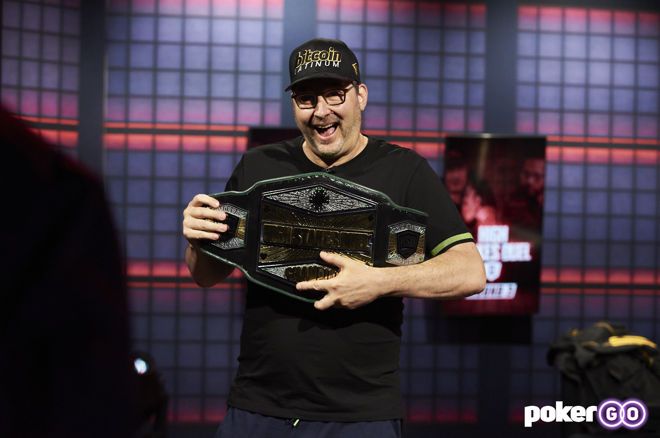 Despite winning a record 15 WSOP bracelets, Phil Hellmuth is the perennial underdog in the poker community due to his unorthodox style in what is now a GTO poker world among many professional poker players.
Perhaps it is finally time to give Hellmuth credit where credit is due, as not only did he complete a sweep of three matches against Antonio Esfandiari earlier this year in High Stakes Duel I but just completed a similar sweep against Daniel Negreanu in High Stakes Duel II at the PokerGO Studio at the ARIA Resort & Casino.
Hellmuth was considered an underdog in every match according to the official betting odds but this didn't stop him from sweeping six matches taking $350,000 from Esfandiari before winning another $350,000 against Negreanu.
Last night's match-up against Negreanu, which was broadcasted with hole-cards exposed at the subscription-based PokerGO, witnessed both players pony up a $200,000 buy-in after Hellmuth previously won matches featuring a $50,000 buy-in April and a $100,000 buy-in in May.
Although Negreanu appeared to be in control until things fell apart during the first two matches, it appeared Hellmuth had control with Negreanu occasionally mounting comebacks in last night's Round 3.
"High Stakes Duel" is available for PokerGO subscribers. If you're not currently subscribed, you can get a monthly subscription for $14.99, a three-month plan for $29.99, and an annual subscription for $99.99. You can also save $10 off an annual subscription by using promo code "PokerNews" at checkout.
Hellmuth Five-Bets Eight-Three Suited
The event began as a deep-stacked affair with 200,000 in chips to start. Negreanu snagged an early chip lead but momentum temporarily swung over to Hellmuth after he showed some aggression with a less than premium hand.
The hand began with Negreanu holding
raising to 1,500 with blinds at 150/300. Hellmuth three-bet with
to 4,800. The preflop action wasn't even close to ending there as Negreanu four-bet to 13,000 before he called a five-bet by Hellmuth to 35,000.
Both players failed to connect with the
flop. Hellmuth snap-checked and just as quickly called a bet of 21,000 by Negreanu.
Hellmuth reached for chips and fired out for 42,000 after the
paired the board on the turn and gave him a flush draw. Negreanu went into the tank before opting to fold the best hand and Hellmuth snagged the chip lead.
Negreanu Takes the Lead; Hellmuth Storms Back
"Kid Poker" kept his composure and regained the chip lead against Hellmuth. But Hellmuth came storming back to take a 4:1 chip advantage after the following hand with blinds at 500/1,000.
Negreanu with
opened the button for 2,500. Hellmuth three-bet to 11,000 from the big blind with
and Negreanu called to see a cooler of a flop with the
rolling out on the board to improve Hellmuth to trips.
Hellmuth check-raised from 7,000 to 25,000 and Negreanu called. The action then got hot and heavy after the
turn. Hellmuth check-jammed from 35,000 to 126,600.
"How much?" asked Negreanu who continued to tank after the dealer counted up Hellmuth's stack.
Negreanu stood up trying to get a look at Phil before asking: "What, do you have a draw, Phil? Did you smack ace-four?"
Eventually, Negreanu opted to call and got the bad news that he was drawing to just two outs. No miracle came and Hellmuth doubled his stack after the
river completed the board.
Negreanu Gets the Diamond He Needs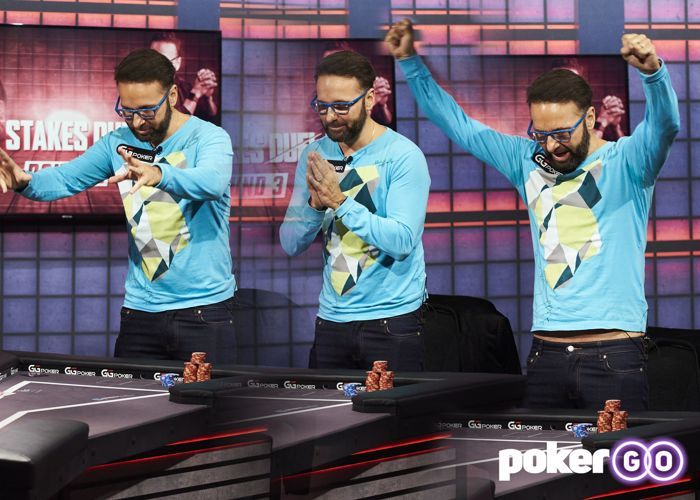 Negreanu was down but not out, and hung around for some time before he delivered a huge cooler to Hellmuth with both players holding cowboys to take a small chip lead with blinds at 2,000/4,000.
Hellmuth opened the button for 9,000 with
. Negreanu holding
three-bet to 23,000 with 79,000 left behind. These chips went in as well after Negreanu called a four-bet jam by Hellmuth.
"Kings," said Hellmuth as he turned over his cards.
"Really, why did you have that scrunched-up face like you had nothing," replied Negreanu.
"Red, red red red!" Negreanu shouted as the
flop gave him a freeroll to the flush against Hellmuth.
"One, just one!" Negreanu pleaded in hopes for another diamond. "One, I know it's coming... Diamond has to come. It must come."
The
turn improved the odds for a chop but Negreanu still held nine outs to win outright.
"I don't need to make it pretty," Negreanu said. "Make it red, but the other red. Come on baby! He's sweating and I'm sweating the other way."
Negreanu's wish came true with the
river spiking the board to improve Negreanu to a flush to double his stack.
"Yes, I win!" Negreanu shouted in joy. "Oh, baby!"
---
Related: Daniel Negreanu "Stoked" Ahead of WSOP 2021; Daily Vlogs Set to Return
---
Another Double for Negreanu
Hellmuth shook off the cooler and surged ahead to double the stack of Negreanu. However, momentum swung back to Negreanu after delivering another bad beat to Hellmuth with blinds still at 2,000/4,000.
Negreanu made a move with
by firing out a three-bet jam to 93,000 over Hellmuth's open of 11,000 and Hellmuth with
called soon after Negreanu counted his stack.
"Good play, Phil," said Negreanu. "You played well either way. If I was wearing a hat, I'd tip it to you."
"That makes it tough," Negreanu said after the
flop gave Hellmuth top pair.
"Back door straights and a king," Negreanu said. "I don't deserve to win this one, honestly. You deserve it. I still hope to (win it)."
Both players were silent as Negreanu's wish came true with the
turn improving Negreanu to a better pair than Hellmuth flopped. The
completed the board on the river and Negreanu was breathing down Hellmuth's neck with stacks nearly evened up.
Hellmuth Closes it Out with a Cooler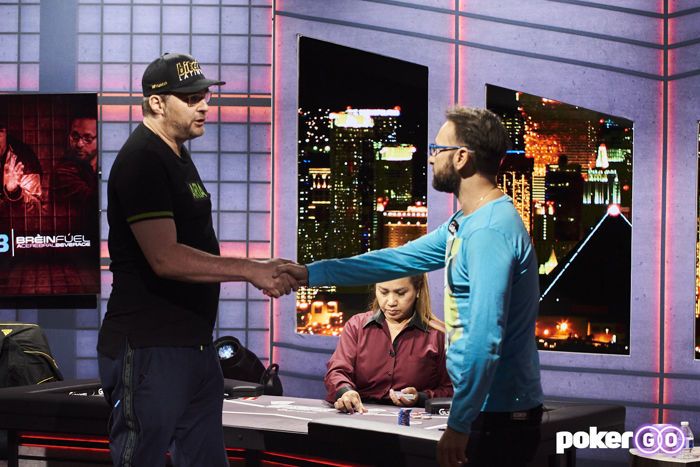 Negreanu was able to claim the chip lead but Hellmuth had a small chip advantage when the final hand took place.
"Kid Poker" limped for 6,000 from the button with
and Hellmuth didn't add anything to the pot from the big blind with
.
Hellmuth check-called his flush draw for 6,000 on the
flop.
The
came raining down on the turn and pandemonium broke loose with both players improving to a straight. However, Negreanu was soon to find out that he was in for a world of hurt as he was drawing to three outs to a chop on the river.
Hellmuth check-raised from 12,000 to 30,000. Negreanu went into the tank before he jammed for 172,000.
"I've got to call," Hellmuth, who was unusually quiet most of the match, said as he called. "I've got the ten-high straight."
"It's a cooler," responded Negreanu. "You've got the flush draw too? Good game, bud. That was an insane fucking way to go. Good match."
"Wow," said Hellmuth looking amazed as the two got up to shake hands before the river was even dealt.
"You played great buddy," said Negreanu. "You really deserve it."
"You played well Daniel," said Hellmuth returning the compliment. "I think you are one of the all-time greats."
Negreanu was unable to get a save for the chop with the
river completing the board and Hellmuth completed his second consecutive three-round sweep against a formidable opponent.
"Okay, he did it," said Negreanu as he was putting on his jacket. "Good job Phil."
"Wow, what a battle!", Hellmuth replied.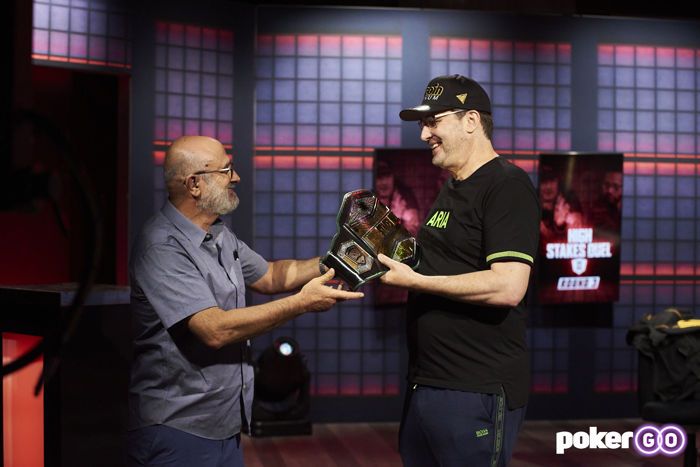 "High Stakes Duel" is available for PokerGO subscribers. If you're not currently subscribed, you can get a monthly subscription for $14.99, a three-month plan for $29.99, and an annual subscription for $99.99. You can also save $10 off an annual subscription by using promo code "PokerNews" at checkout.
Photos courtesy of PokerGO