Hellmuth Beats Negreanu Again, Remains Undefeated on 'High Stakes Duel'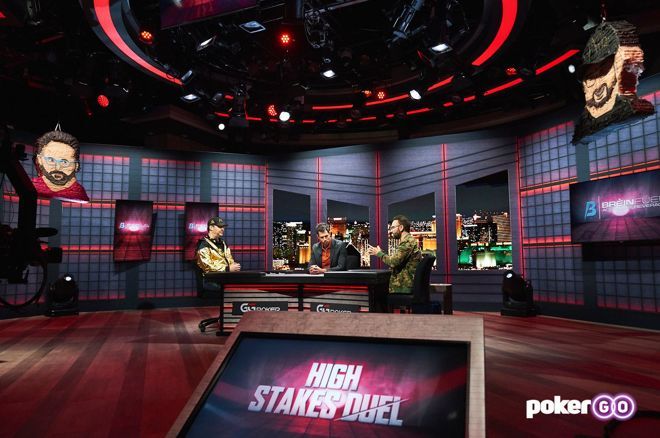 Daniel Negreanu versus Phil Hellmuth I on "High Stakes Duel" on PokerGO proved to be one of the most memorable heads-up matches ever televised as "The Poker Brat" put together an astonishing comeback to win after being down to his last few chips.
About a month later, they met for Round 2 as Negreanu exercised his rematch option at double stakes, each player posting $100,000 for the 30-minute-level live sit-n-go.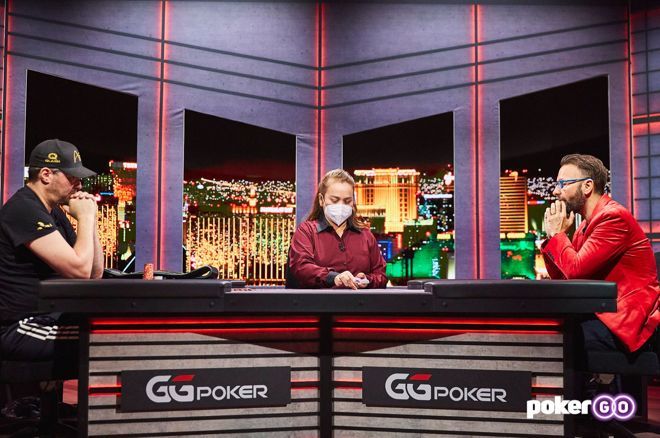 It could hardly be expected to live up to the first match, which had been preceded by months of hype and went down in the wildest fashion possible. But arguably an even higher level of poker was on display as both players executed daring bluffs and turned up the aggression considerably compared to their prior meeting.
Once again, Negreanu looked to be in control, but once again, he failed to put Hellmuth away and paid dearly as Hellmuth engineered another, albeit less epic, comeback. Afterward, Negreanu could only compliment his rival's strong play while vowing to dance one last time for Round 3.
Remember, an annual subscription to PokerGO costs $99.99, but you can save $10 off by using promo code "PokerNews" at checkout. Once you're signed up, the entire saga of Negreanu vs. Hellmuth can be viewed on PokerGO.
Negreanu Digs Out of Early Hole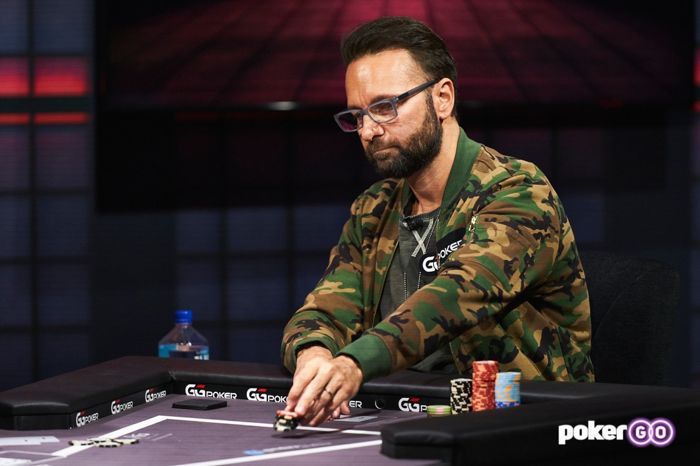 Negreanu dug himself a bit of an early hole with two decent-sized bluffs. On the first, they saw
for the minimum with Negreanu checking out of the big blind holding
. Hellmuth turned two pair and bet 300 into 400 with
only for Negreanu to bluff his draw with a raise to 1,300. Hellmuth called and the river was the
. Negreanu bet 2,000 and was met with a quick call.
Then, it was Negreanu on the button but playing more aggressively with a raise to 500 on
. Hellmuth defended with
. He check-called 400 on
and the
gave Negreanu a combo draw. He fired pot, 1,800. Hellmuth called to bring the
river, where he faced an overbet of 8,000 that he snap-called.
"I've got the low again," Negreanu acknowledged, dipping to about 84K in chips.
However, Negreanu made boat-over-boat on a two-paired board to get things close to even, then a huge hand went down. Hellmuth limped for 300 with
and called a raise to 900 from Negreanu, who had
. The
flop paired Hellmuth and he called 1,200. On the
turn, Negreanu put another 3,100 that was instantly called.
On the
river, Negreanu overbet with 13,000. Hellmuth came back with 28,000 and Negreanu clicked right back to 43,000.
"What the f***?" Hellmuth uttered softly.
He used a couple of time extensions, called, and saw the bad news as Negreanu went up about 144K to 56K.
"I told myself you could never reraise cuz I'm repping the five-seven of clubs," Hellmuth said.
"You musta had a good hand there," Negreanu said as he stacked newly won chips.
"I had nothin," Hellmuth said as he stewed a few moments. "Ah, f*** that's my fault. Shoulda just called him on the river."
Negreanu Controls Middle Stages
Action slowed from there even though Hellmuth picked up his aggression level. Negreanu simply didn't have many hands with which he wished to contest big pots, either via bluffing or for value, and Hellmuth got several bluffs through to creep closer.
He had a shot to get close to even when he opted to limp
and Negreanu checked
. Negreanu check-called 600, half the pot, on
. He check-called 1,500 more on the
and river was the
. Negreanu checked, Hellmuth bet 4,000. Negreanu made it 17,000 and Hellmuth pretty much snap-folded. Had he called, he'd have been down only about 107K to 93K.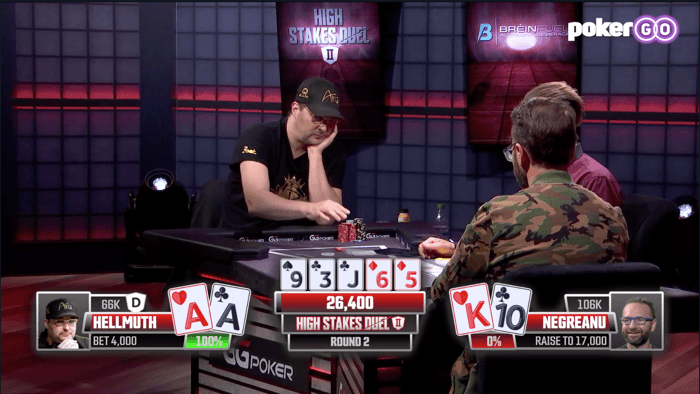 "Bluff?" he asked.
Negreanu nodded.
"Let's see it."
"I can't show you," Negreanu said with a laugh. "You're too good. You're gonna do the white magic stuff."
A big spot came up for Hellmuth when he faced an open to 2,000 preflop and made it 8,000 with
. Negreanu came along with
and flopped top pair against big draw on
. The flop checked through and then Hellmuth bet 9,000 on the
. Negreanu peeled for the
river. Hellmuth fired 18,000 and Negreanu paid off to find himself at a small deficit for the first time in a couple of hours.
Negreanu pulled back in front after Hellmuth got out of line preflop three-betting the nine-five offsuit, then another huge pot went down. Hellmuth defended the big blind for 2,000 with
and Negreanu held
. Hellmuth check-called 1,600 on the
flop and saw a disastrous
turn. He check-called another 3,600, bringing a
river. Negreanu potted 14,400 and got snap-called to go up about 2-to-1 again.
The swings continued though as they exchanged big bluffs. Negreanu got picked off blasting into Hellmuth's kings up, then Hellmuth dusted right back with the nut flush draw when Negreanu had top-top on a paired board. The end result was Negreanu back in front about 120K to 80K.
Negreanu won another decent pot flopping quads with
against pocket twos, getting two streets before Hellmuth folded river.
---
Related: Using a VPN to Play Online Poker? Daniel Negreanu Says "No Problem!"
---
Huge Bluff Turns the Tide
The first utterance of "all in" came after Hellmuth had inched back ahead and raised with
only for Negreanu to pick up a dominating
and call. They checked to
and Negreanu bet 5,500. Hellmuth made it 12,500 and Negreanu came back with 28,000. Hellmuth called but folded to a river shove on the
, falling back to 86K.
The tables turned when Negreanu opened for 4,000 with
and Hellmuth went for a three-bet to 14,000 with
. They saw a
flop for that price and Hellmuth continued for 13,000. Negreanu peeled and the
improved both players. Negreanu called another bet worth 28,000. Hellmuth only had 31K left with 110K on the
river. He shoved and Negreanu snap-folded to cede the lead right back, putting Hellmuth in his strongest position yet.
Down to a little over 50K, Negreanu raised to 4,000 with
and Hellmuth leaned forward to get a look at his stack. He moved in with
.
"It would be pretty outrageously foolish of me to fold this hand," Negreanu said. "All right."
They showed down and Negreanu said he was "nervous" despite his lead. The
couldn't make him feel good as Hellmuth picked up more outs. The
turn had Negreanu looking away, and sure enough the
consigned him to another L.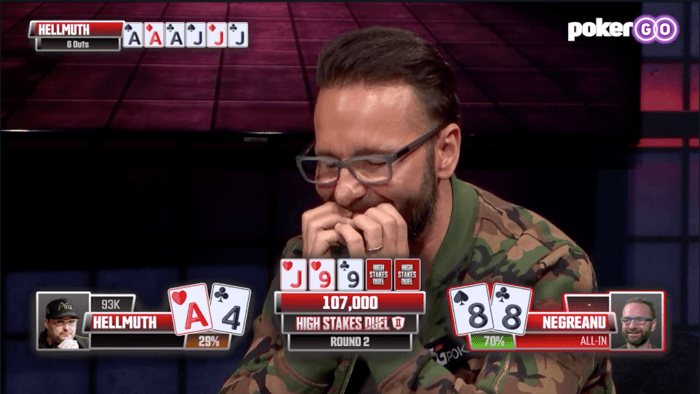 High Stakes Duel II Round 3 to Come
"Good job, buddy, you played well," Negreanu said. "This one, I thought you played a lot better than the first one.
"So, we'll have to see you in Round 3."
"That's an official challenge, all right," Hellmuth replied. "Ah, I got lucky on this one."
So it is that Round 3 will be scheduled and the two combatants will go to war once more. By the rules of the format, this is the last allowable rematch for Negreanu, and he'll have to pony up $200,000 this time. Should he falter once again, Hellmuth will have the option to cash out his winnings once again — he already thrashed Antonio Esfandiari 3-0.
Schedule for the next round will be announced in the coming weeks by PokerGO, but if it's anything like the break between the first two rounds, expect the trilogy to conclude in early June. PokerNews will bring another report when the time comes, but until that day, Hellmuth remains king of the mountain.
"High Stakes Duel" is available for PokerGO subscribers. If you're not currently subscribed, you can get a monthly subscription for $14.99, a three-month plan for $29.99, and an annual subscription for $99.99. You can also save $10 off an annual subscription by using promo code "PokerNews" at checkout.
Photos courtesy of PokerGO