Phil Hellmuth Comes From Behind to Beat Nick Wright in Round 1 of High Stakes Duel III
The 15-time WSOP Champion Phil Hellmuth has done it yet again in a high-profile heads-up match after winning the $100,000 prize pool against Nick Wright in Round 1 of the High Stakes Duel III at the PokerGO Studio at the ARIA Resort & Casino.
Hellmuth shed his image as the underdog that he held for the first two High Stakes Duel match-ups as for this match Hellmuth was favored against Wright, who is known more as one of the hosts of the Fox Sports 1's First Things First show rather than for his poker prowess.
Apparently, it doesn't matter whether Hellmuth is a favorite or an underdog as he is now 7-0 at the High Stakes Duel. In October 2020, Hellmuth impressed the poker world with a three-match sweep against Antonio Esfandiari before also defeating GGPoker Ambassador Daniel Negreanu in three straight matches last month.
In both cases, Hellmuth came in as the underdog but this didn't stop him from taking $350,000 from both Esfandiari and Negreanu and now sports a tasty $750,000 profit after defeating Wright in Round 1 on Wednesday evening.
Last night's six-hour match against Wright, which was broadcasted with hole-cards exposed at the subscription-based PokerGO, witnessed both players pony up a $50,000 buy-in. Wright has the option to demand a rematch, which Hellmuth is bound to accept, where stakes would be doubled for Round 2 with players each ponying up $100,000 each.
Hellmuth Bluffs Into Quads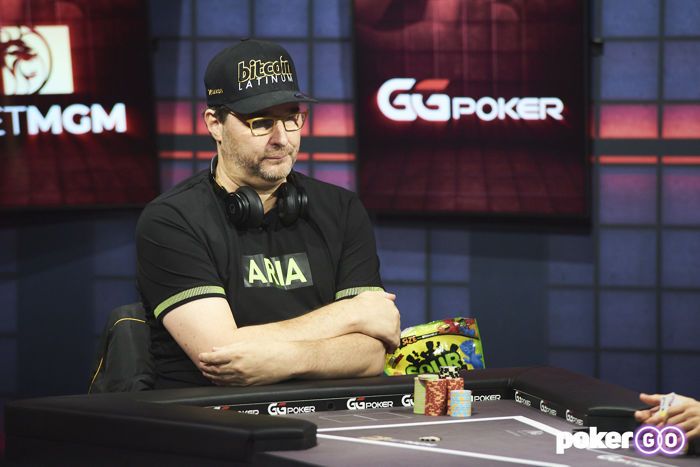 The High Stakes Duel III Round 1 began with players sitting on 50,000 chips each. Players appeared like they were there to have some fun on top of playing for huge stakes as after Hellmuth won the first hand of the day for a small pot with trips, Wright, who was sporting a PokerStars badge throughout the match, threw to Hellmuth a bag of Sour Patch Kids.
Despite losing the first hand, Wright had all the momentum early and had nearly triple the stack of Hellmuth before 'The Poker Brat' came storming back to bring the stacks closer. Wright once again appeared to be in control after picking off the following bluff with quads.
Wright with
opened to 750 with blinds at 150/300 and Hellmuth called from the big blind with
. Both players checked after the
flop gave Wright a set.
The
on the turn improved Wright to quad queens. Hellmuth bet 900 and Wright snap-raised to 2,000. Hellmuth fired in an ill-timed three-bet to 5,500 and Wright was Hollywooding with a small tank including using a time-extension token before he called.
Hellmuth then bet 7,200 on the
river. Wright raised to 27,000 and Hellmuth snap-folded to give the Fox Sports
"What the fuck did I do?" Hellmuth questioned himself as he was pacing behind the table. "He is going to give you all the money, Phil. He bets every flop, he raises when he is not supposed to before the flop, and you try to bluff him. What the fuck are you doing? He is going to give you all the money."
Hellmuth Takes the Lead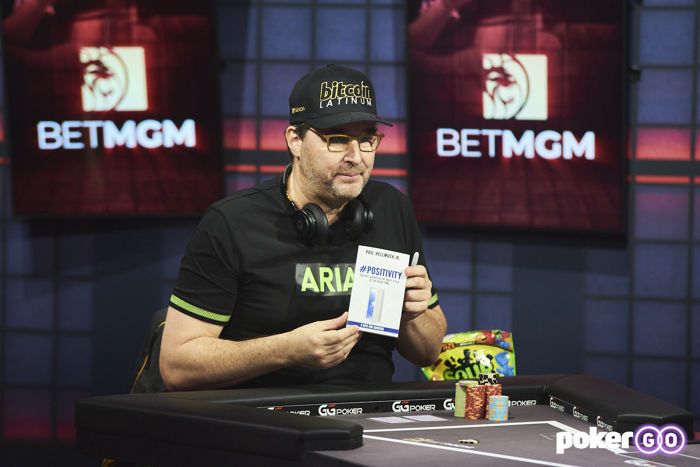 Despite the tirade, Hellmuth quietly chipped up and took a small lead before padding it further after getting paid with a set with blinds at 250/500.
Hellmuth limped the button with
and Wright checked back from the big blind with
. The
flop gave Wright middle pair but he was well behind Hellmuth's top set. Wright checked before opting to call a min-bet of 500 by Hellmuth.
The
turn also gave Wright a gutshot straight draw and the sports radio talk show host check-called a bet by Hellmuth for 1,000.
Wright improved to two-pair on the
river and checked once again. Hellmuth bet 1,400 and won the pot after Wright called.
"That could have been so much worse," Wright commented after the hand. "Oh my God."
Hellmuth appeared to be in good spirits after winning hand responded: "Yeah, I flopped top set, we are going to play."
Wright's Full House Temporarily Ends Hellmuth's Momentum
Hellmuth stormed ahead after this hand and eventually had nine times the chips than Wright. Wright was down but not out and doubled up with blind at 400/800 as follows.
Hellmuth limped the button with
. Wright jammed from the big blind with
for 12,200 and Hellmuth called.
If Hellmuth was able to win the flip, the match would have ended right there and then. But this was not to be as Hellmuth was nearly drawing dead after the
flop as he needed running queens or running jacks to win the pot.
Wright secured the hand after Hellmuth was drawing dead on the
turn and was awarded the pot and trimmed Hellmuth's lead to a 3:1 chip advantage after the
completed the board.
"It's not going to be so easy," said Hellmuth while shaking his head after the hand.
"This double is a hard one," replied Wright. "But if I get it, oh boy!"
"Goddammit," Hellmuth said to himself. "I know he is going to go in lighter than that."
Hellmuth Seals the Victory with a Better Flush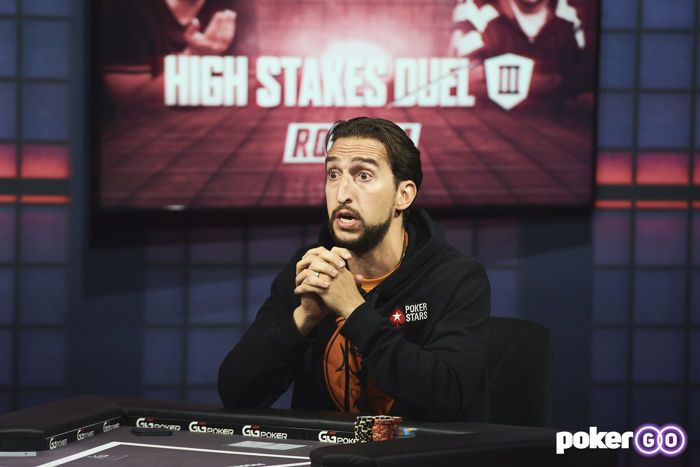 The final hand was a huge cooler for Wright with blinds at 800/1,600. Hellmuth limped the button with
and Wright checked back with
. The
flop gave both players a flush draw. However, Hellmuth had the advantage with not only the better flush draw but also connecting his five for bottom pair.
Wright check-called for 2,000 before the action
on the turn gave both players a flush. At this point, it was evident that the match would likely be over, it was just a matter of whether the chips went in on the turn or the river. Wright was still alive on the turn thanks to slow-playing his flush with a check-call of 3,000 when facing a bet by Hellmuth.
The
river didn't change the dynamic of the hand by adding a fourth club on the board. Wright checked and Hellmuth bet 7,400. Wright jammed for 22,000 and the match was over after Hellmuth called.
"I got an eight-high flush," Hellmuth said calmly.
"No!" Wright screamed after he ended the match on a cooler.
"Good Lord," Hellmuth said to a shocked Wright. "I knew you had a flush, but I had to hope mine was good."
"Cooler on the last hand," Hellmuth admitted as both players stood up to shake hands.
Will There Be a Rematch?
Despite Wright not being well-known as a poker player, he did appear to hold his own against one of the all-time greats in Hellmuth, who after the match admitted it wasn't the easiest of battles he has encountered.
"It was a tough battle, honestly," Hellmuth said following his seventh consecutive High Stakes Duel win. "I felt like he was going to give me a lot of trouble, and he did give me a lot of trouble. It's not easy to make the adjustments because I'm playing against guys that think one way. I'm not going to say he has a better chance to beat me than Daniel [Negreanu] but, I mean, maybe, because he's going to do more unorthodox things."
Wright has 72 hours to demand a rematch with the stakes doubled for a $200,000 prize pool. Whether this will happen or not at this point in time is anyone's guess.
"I got 72 hours, right?" questioned Wright. "I'm going to need 71 of them"
"It was exceptional except for the last 90 seconds," Wright commented about his experience in the High Stakes Duel. "That sucked, but it was great. Maybe I'll be back to challenge Phil, I gotta think about it. You know, there's a lot that goes into it. I don't think I embarrassed myself. I don't think I played bad. Phil deserves it. That's seven in a row in this setup. He's great."
"High Stakes Duel" is available for PokerGO subscribers. If you're not currently subscribed, you can get a monthly subscription for $14.99, a three-month plan for $29.99, and an annual subscription for $99.99. You can also save $10 off an annual subscription by using promo code "PokerNews" at checkout.
Photos courtesy of PokerGO