Hellmuth Vs. Dwan High Stakes Duel Rematch Date Set; What's at Stake?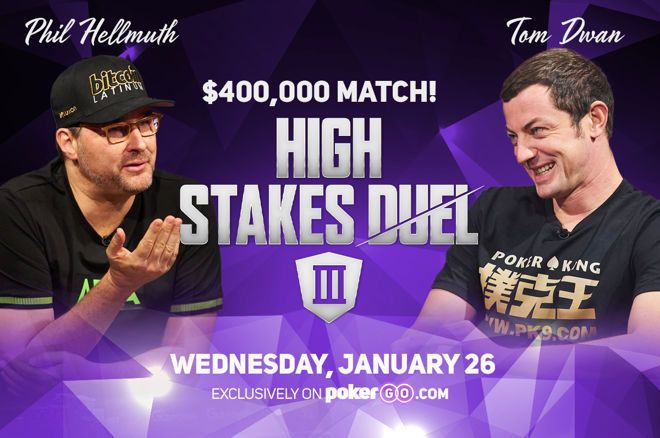 Table Of Contents
Phil Hellmuth will finally get his shot at a rematch against Tom Dwan on High Stakes Duel III January 26, a $400,000 heads-up battle that will air on PokerGO starting at 5 p.m. PT.
The upcoming contest will actually be the third round of the current series of games, but the second between these competitors. Hellmuth defeated FS1 sports talk show host Nick Wright in Round 1 back in late July, a $50,000-per-player buy-in.
Wright declined a rematch, opening the door for a new challenger in Round 2, which happened to be "durrrr." Dwan added $100,000 to the leftover prize pool from Round 1, bringing the pot to $200,000 in August. He won a marathon match against the "Poker Brat," Hellmuth's first loss on the show in eight games (three previous each against Daniel Negreanu and Antonio Esfandiari).
Following Round 2, Hellmuth was given the opportunity to call it quits or challenge his opponent to a rematch. He chose the latter and must now pay $200,000 to enter Round 3, doubling the prize pool to $400,000.
Friendly Rivalry
Hellmuth and Dwan have an extensive history competing against each other that dates back to the 2008 NBC Heads-Up Poker Championship. In the first round of that 64-player tournament, "durrrr" cracked Hellmuth's pocket aces, sparking one of the most memorable meltdowns in poker history.
"Pick your stakes heads-up, pick your stakes heads-up," Dwan responded to Hellmuth insulting his play.
It wasn't until 2021 before the two poker legends publicly competed against each other in a heads-up contest, but they've faced off numerous times in cash games. Coincidentally, Dwan also capped that High Stakes Duel match off by cracking the Poker Hall of Famer's pocket aces, although Hellmuth was down to just a few big blinds at that point.
Despite the rocky start to their relationship following the 2008 match, Hellmuth and Dwan have become friends over the years. When PokerNews interviewed Dwan during a Hustler Casino Live filming in October, it was evident he was thrilled to discover Hellmuth was tearing it up at the 2021 World Series of Poker (WSOP).
Since the two last competed back in August, Hellmuth won his record-extending 16th WSOP bracelet and set a WSOP single-series record with seven final table appearances.
Storylines Heading into High Stakes Duel III Rematch
Round 2 of High Stakes Duel III was long and somewhat uneventful for most of the match. Both players were passive at times and avoided major confrontations. There weren't many big pots during the first few hours of play.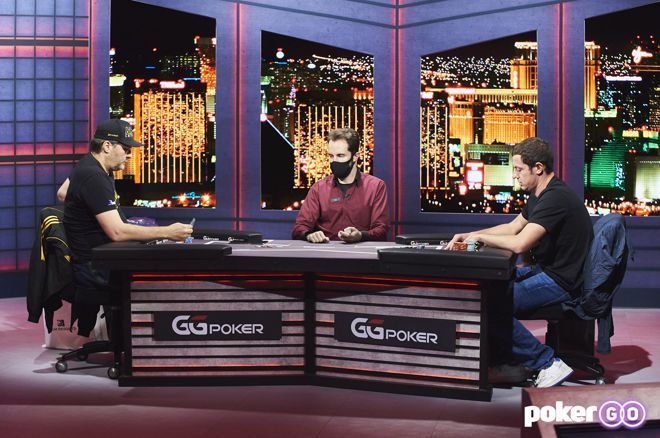 In Round 3, one of the most intriguing storylines to follow will be Dwan's style of play. Will the old, hyper-aggro "durrrr" from the High Stakes Poker days show up ready to fire off some unpredictable massive bluffs? Or will we see the new, patient Tom Dwan at work?
Another storyline to watch will be Hellmuth's behavior. During the first match, he was tame and refrained from any major meltdowns. If the breaks don't go his way this time around, it's hard to imagine we won't have a "Poker Brat" episode to report on afterwards.
During his combined six matches against Esfandiari and Negreanu, and then a solo match versus Wright, Hellmuth had his fair share of bratty moments when the game wasn't going as planned. But, at least he didn't joke about burning down the casino during those matches, so there's that.
Hellmuth was dominant during the 2021 WSOP and crushed Negreanu (and then Wright) on High Stakes Duel last year. The only blemish on his 2021 resume was a loss to Dwan. He'll have an opportunity to get revenge January 26 on PokerGO, but the task certainly won't be a cakewalk given the caliber of his opposition.
If Dwan wins, he must give Hellmuth the option to challenge him to a rematch and would need to win two consecutive games to cash out without allowing his opponent to rematch. Should Hellmuth accept another rematch, he'd be required to pay an additional $400,000 fee. But if the "Poker Brat" wins Round 3, Dwan would then have the decision to make on whether he'd like to continue in the game or give another player an opportunity to step into the hot seat for Round 4.
PokerNews will publish a recap of the heads-up match upon its completion.
*Images courtesy of PokerGO.