Global Poker US Poker Open Series Kicks Off Today; Will Run Through Sept. 3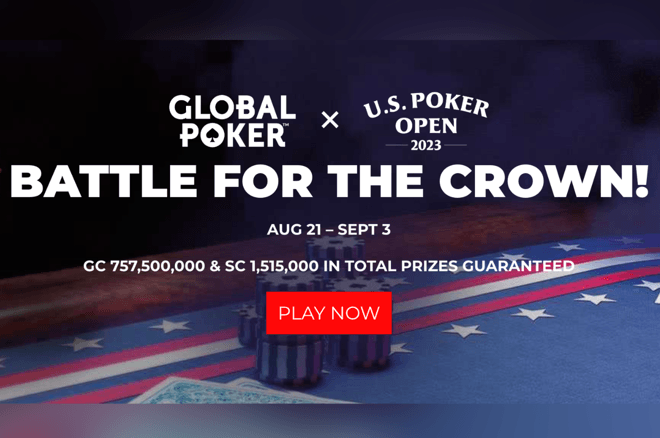 The Global Poker US Poker Open is back for a third season and will feature dozens of events in collaboration with PokerGO's US Poker Open (USPO) in Las Vegas.
Through the Global Poker series, which kicks off today, August 21, and is set to run through September 3, players will have the chance to travel to the PokerGO Studio alongside the world's best high-stakes players. The social poker series will have something for everyone, with everything from super deep stack events to bounty events and buy-ins below GC 99,000 and SC 99.
The series comes after the completion of Global Poker's GOAT V series, which wrapped up earlier this month with "Narcisprince79" and "Slob On Me Knob" winning the Main Events.
Read About the GOAT V Winners!
Win a Trip to Las Vegas
The Global Poker US Open series will feature 64 unique trophy events and will be headlined by the GC 125,000,000 guaranteed and SC 250,000 guaranteed Main Events. In total, the series will feature GC 757,500,000 and SC 1,515,000 in guaranteed prize pools.
There will also be leaderboards for the players competing in the series. The overall GC Leaderboard Champion will win the GP X USPO Champion hoodie, additional Global Poker X USPO apparel, the Golden Crown Trophy and five free entries to a Global Poker Golden Scrimmage tournament.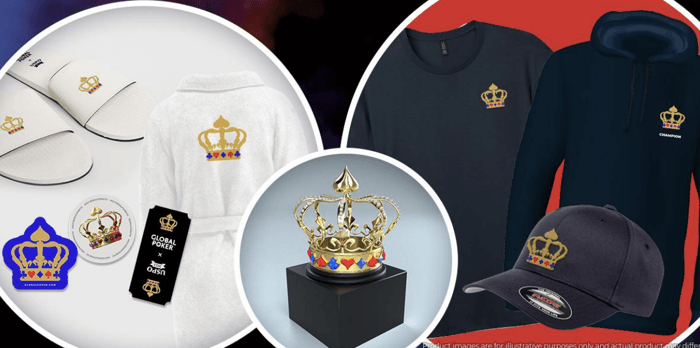 Meanwhile, the overall SC leaderboard champion will win a $5,000 trip to Las Vegas, where they will be presented with a $5,000 check and other prizes inside the PokerGO Studio.
In addition to the 64 trophy events, the Global Poker USPO will feature multiple satellites every day, starting from SC 5.5 for the SC 33 tournaments and SC 16.5 for the SC 99 tournaments. Be on the lookout for reward drops, which can be used for the SC 5.5 and SC 16.5 satellites.
The full Gold and Sweeps Coins schedules for the Global Poker USPO are available in the tables below.
Global Poker USPO Gold Coins Schedule
| DATE | TIME | TITLE | BUY-IN (IN GC) | GUARANTEE |
| --- | --- | --- | --- | --- |
| Monday, August 21, 2023 | 20:30 | US Poker Open 01 L - GC 20,000,000 Guaranteed [1R1A] | 33,000 | 20,000,000 |
| Monday, August 21, 2023 | 21:30 | US Poker Open 01 H - GC 40,000,000 Guaranteed [1R1A] | 99,000 | 40,000,000 |
| Tuesday, August 22, 2023 | 20:30 | US Poker Open 02 L - GC 12,500,000 Guaranteed [Progressive Bounty, Deep] | 33,000 | 12,500,000 |
| Tuesday, August 22, 2023 | 21:30 | US Poker Open 02 H - GC 25,000,000 Guaranteed [Progressive Bounty, Deep] | 99,000 | 30,000,000 |
| Wednesday, August 23, 2023 | 20:30 | US Poker Open 03 L - PLO GC 12,500,000 Guaranteed [1R1A, 6-Max] | 33,000 | 12,500,000 |
| Wednesday, August 23, 2023 | 21:30 | US Poker Open 03 H - PLO GC 30,000,000 Guaranteed [1R1A, 6-Max] | 99,000 | 25,000,000 |
| Thursday, August 24, 2023 | 20:30 | US Poker Open 04 L - GC 10,000,000 Guaranteed [Super Bounty, 6-Max, Deep] | 33,000 | 10,000,000 |
| Thursday, August 24, 2023 | 21:30 | US Poker Open 04 H - GC 25,000,000 Guaranteed [Super Bounty, 6-Max, Deep] | 99,000 | 25,000,000 |
| Friday, August 25, 2023 | 20:30 | US Poker Open 05 L - GC 15,000,000 Guaranteed [Progressive Bounty, Deep] | 33,000 | 15,000,000 |
| Friday, August 25, 2023 | 21:30 | US Poker Open 05 H - GC 30,000,000 Guaranteed [Progressive Bounty, Deep] | 99,000 | 30,000,000 |
| Saturday, August 26, 2023 | 17:00 | US Poker Open 06 L - GC 10,000,000 Guaranteed [1R1A] | 33,000 | 10,000,000 |
| Saturday, August 26, 2023 | 18:00 | US Poker Open 06 H - GC 25,000,000 Guaranteed [1R1A] | 99,000 | 25,000,000 |
| Sunday, August 27, 2023 | 17:00 | US Poker Open 07 L - GC 15,000,000 Guaranteed [8-Max, Super Deep] | 33,000 | 15,000,000 |
| Sunday, August 27, 2023 | 18:00 | US Poker Open 07 H - GC 40,000,000 Guaranteed [8-Max, Super Deep] | 99,000 | 40,000,000 |
| Sunday, August 27, 2023 | 20:30 | US Poker Open 08 L - GC 10,000,000 Guaranteed [Progressive Bounty, Turbo] | 33,000 | 10,000,000 |
| Sunday, August 27, 2023 | 21:30 | US Poker Open 08 H - GC 20,000,000 Guaranteed [Progressive Bounty, Turbo] | 99,000 | 20,000,000 |
| Monday, August 28, 2023 | 20:30 | US Poker Open 09 L - GC 12,500,000 Guaranteed [1R1A, Turbo] | 33,000 | 12,500,000 |
| Monday, August 28, 2023 | 21:30 | US Poker Open 09 H - GC 25,000,000 Guaranteed [1R1A, Turbo] | 99,000 | 25,000,000 |
| Tuesday, August 29, 2023 | 20:30 | US Poker Open 10 L - GC 10,000,000 Guaranteed [Super Bounty, Deep] | 33,000 | 10,000,000 |
| Tuesday, August 29, 2023 | 21:30 | US Poker Open 10 H - GC 25,000,000 Guaranteed [Super Bounty, Deep] | 99,000 | 25,000,000 |
| Wednesday, August 30, 2023 | 20:30 | US Poker Open 11 L - GC 15,000,000 Guaranteed [1R1A, 6-Max] | 33,000 | 15,000,000 |
| Wednesday, August 30, 2023 | 21:30 | US Poker Open 11 H - GC 30,000,000 Guaranteed [1R1A, 6-Max] | 99,000 | 30,000,000 |
| Thursday, August 31, 2023 | 20:30 | US Poker Open 12 L - GC 10,000,000 Guaranteed [Progressive Bounty, 6-Max, Deep] | 33,000 | 10,000,000 |
| Thursday, August 31, 2023 | 21:30 | US Poker Open 12 H - GC 25,000,000 Guaranteed [Progressive Bounty, 6-Max, Deep] | 99,000 | 25,000,000 |
| Friday, September 1, 2023 | 20:30 | US Poker Open 13 L - GC 15,000,000 Guaranteed [Super Deep] | 33,000 | 15,000,000 |
| Friday, September 1, 2023 | 21:30 | US Poker Open 13 H - GC 30,000,000 Guaranteed [Super Deep] | 99,000 | 30,000,000 |
| Saturday, September 2, 2023 | 17:00 | US Poker Open 14 L - GC 10,000,000 Guaranteed [1R1A, 8-Max] | 33,000 | 10,000,000 |
| Saturday, September 2, 2023 | 18:00 | US Poker Open 14 H - GC 25,000,000 Guaranteed [1R1A, 8-Max] | 99,000 | 25,000,000 |
| Sunday, September 3, 2023 | 17:00 | US Poker Open 15 L - GC 25,000,000 Guaranteed [1R1A] | 33,000 | 25,000,000 |
| Sunday, September 3, 2023 | 18:00 | US Poker Open 15 H - Main Event - GC 125,000,000 Guaranteed [1R1A] | 99,000 | 125,000,000 |
| Sunday, September 3, 2023 | 20:30 | US Poker Open 16 L - GC 10,000,000 Guaranteed [Turbo] | 33,000 | 10,000,000 |
| Sunday, September 3, 2023 | 21:30 | US Poker Open 16 H - GC 25,000,000 Guaranteed [Turbo] | 99,000 | 25,000,000 |
Global Poker USPO Sweeps Coins Schedule
| DATE | TIME | TITLE | BUY-IN (IN SC) | GUARANTEE |
| --- | --- | --- | --- | --- |
| Monday, August 21, 2023 | 20:30 | US Poker Open 01 L - SC 40,000 Guaranteed [1R1A] | 33 | 40,000 |
| Monday, August 21, 2023 | 21:30 | US Poker Open 01 H - SC 80,000 Guaranteed [1R1A] | 99 | 80,000 |
| Tuesday, August 22, 2023 | 20:30 | US Poker Open 02 L - SC 25,000 Guaranteed [Progressive Bounty, Deep] | 33 | 25,000 |
| Tuesday, August 22, 2023 | 21:30 | US Poker Open 02 H - SC 60,000 Guaranteed [Progressive Bounty, Deep] | 99 | 60,000 |
| Wednesday, August 23, 2023 | 20:30 | US Poker Open 03 L - PLO SC 25,000 Guaranteed [1R1A, 6-Max] | 33 | 25,000 |
| Wednesday, August 23, 2023 | 21:30 | US Poker Open 03 H - PLO SC 50,000 Guaranteed [1R1A, 6-Max] | 99 | 50,000 |
| Thursday, August 24, 2023 | 20:30 | US Poker Open 04 L - SC 20,000 Guaranteed [Super Bounty, 6-Max, Deep] | 33 | 20,000 |
| Thursday, August 24, 2023 | 21:30 | US Poker Open 04 H - SC 50,000 Guaranteed [Super Bounty, 6-Max, Deep] | 99 | 50,000 |
| Friday, August 25, 2023 | 20:30 | US Poker Open 05 L - SC 30,000 Guaranteed [Progressive Bounty, Deep] | 33 | 30,000 |
| Friday, August 25, 2023 | 21:30 | US Poker Open 05 H - SC 60,000 Guaranteed [Progressive Bounty, Deep] | 99 | 60,000 |
| Saturday, August 26, 2023 | 17:00 | US Poker Open 06 L - SC 20,000 Guaranteed [1R1A] | 33 | 20,000 |
| Saturday, August 26, 2023 | 18:00 | US Poker Open 06 H - SC 50,000 Guaranteed [1R1A] | 99 | 50,000 |
| Sunday, August 27, 2023 | 17:00 | US Poker Open 07 L - SC 30,000 Guaranteed [8-Max, Super Deep] | 33 | 30,000 |
| Sunday, August 27, 2023 | 18:00 | US Poker Open 07 H - SC 80,000 Guaranteed [8-Max, Super Deep] | 99 | 80,000 |
| Sunday, August 27, 2023 | 20:30 | US Poker Open 08 L - SC 20,000 Guaranteed [Progressive Bounty, Turbo] | 33 | 20,000 |
| Sunday, August 27, 2023 | 21:30 | US Poker Open 08 H - SC 40,000 Guaranteed [Progressive Bounty, Turbo] | 99 | 40,000 |
| Monday, August 28, 2023 | 20:30 | US Poker Open 09 L - SC 25,000 Guaranteed [1R1A, Turbo] | 33 | 25,000 |
| Monday, August 28, 2023 | 21:30 | US Poker Open 09 H - SC 50,000 Guaranteed [1R1A, Turbo] | 99 | 50,000 |
| Tuesday, August 29, 2023 | 20:30 | US Poker Open 10 L - SC 20,000 Guaranteed [Super Bounty, Deep] | 33 | 20,000 |
| Tuesday, August 29, 2023 | 21:30 | US Poker Open 10 H - SC 50,000 Guaranteed [Super Bounty, Deep] | 99 | 50,000 |
| Wednesday, August 30, 2023 | 20:30 | US Poker Open 11 L - SC 30,000 Guaranteed [1R1A, 6-Max] | 33 | 30,000 |
| Wednesday, August 30, 2023 | 21:30 | US Poker Open 11 H - SC 60,000 Guaranteed [1R1A, 6-Max] | 99 | 60,000 |
| Thursday, August 31, 2023 | 20:30 | US Poker Open 12 L - SC 20,000 Guaranteed [Progressive Bounty, 6-Max, Deep] | 33 | 20,000 |
| Thursday, August 31, 2023 | 21:30 | US Poker Open 12 H - SC 50,000 Guaranteed [Progressive Bounty, 6-Max, Deep] | 99 | 50,000 |
| Friday, September 1, 2023 | 20:30 | US Poker Open 13 L - SC 30,000 Guaranteed [Super Deep] | 33 | 30,000 |
| Friday, September 1, 2023 | 21:30 | US Poker Open 13 H - SC 60,000 Guaranteed [Super Deep] | 99 | 60,000 |
| Saturday, September 2, 2023 | 17:00 | US Poker Open 14 L - SC 20,000 Guaranteed [1R1A, 8-Max] | 33 | 20,000 |
| Saturday, September 2, 2023 | 18:00 | US Poker Open 14 H - SC 50,000 Guaranteed [1R1A, 8-Max] | 99 | 50,000 |
| Sunday, September 3, 2023 | 17:00 | US Poker Open 15 L - SC 50,000 Guaranteed [1R1A] | 33 | 50,000 |
| Sunday, September 3, 2023 | 18:00 | US Poker Open 15 H - Main Event - SC 250,000 Guaranteed [1R1A] | 99 | 250,000 |
| Sunday, September 3, 2023 | 20:30 | US Poker Open 16 L - SC 20,000 Guaranteed [Turbo] | 33 | 20,000 |
| Sunday, September 3, 2023 | 21:30 | US Poker Open 16 H - SC 50,000 Guaranteed [Turbo] | 99 | 50,000 |