Phil Ivey Cracks Aces with the Dirty Diaper to Bust WSOP Champion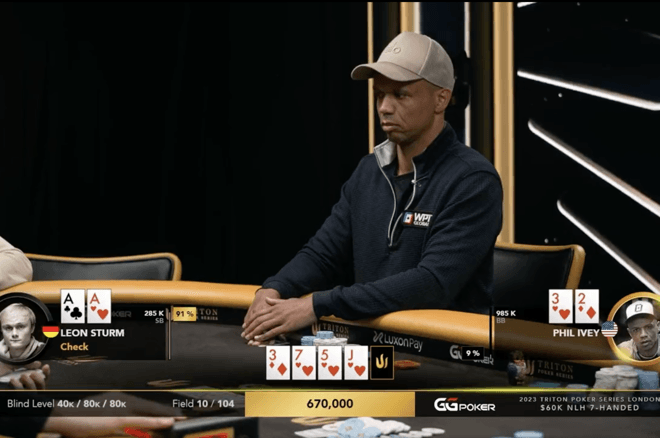 Table Of Contents
The latest High Roller series from Triton Poker is taking place on British soil, with a collection of the world's best poker players battling it out in London, England.
The most recent tournament to play out on the Triton felt was the $60,000 No-Limit Hold'em 7-Handed, which was eventually won by Jason Koon.
Among those to make the final table were Dan Smith, 2022 WSOP Main Event champion Espen Jorstad and Phil Ivey, who is widely considered the greatest poker player of all time.
Ivey would bow out in sixth place for $363,000, but he managed to add one more hand to his ever-growing highlight reel as he cracked aces with the dirty diaper (three-deuce offsuit) en route to his six-figure payout.
Ivey Channels His Inner Rigby
2021 and 2023 WSOP Main Event star Nicholas Rigby must have had a grin on his face that stretched from ear to ear after seeing Ivey play the hand, which helped the former make headlines over the last few years.
https://twitter.com/GTO_Diaper/status/1686483995981238272
With ten players remaining and the blinds at 40,000/80,000/80,000 Leon Sturm, the 2023 WSOP $50K High Roller winner, looked down at pocket aces in the small blind. The upcoming poker star opted to limp in to set the trap. Ivey, in the big blind, raised to 215,000 with 3♥2♦, which Sturm just called.
https://twitter.com/PokerNews/status/1686667021704945664
Ivey paired up on the 7♥5♥3♦ flop to increase his chances of winning, but he was still behind the German's rockets.
Sturm led out for 80,000, and Ivey called to bring in the J♥ turn, which checked through to the 2♠ river.
With 670,000 in the pot, Sturm bet 280,000, leaving him with just 5,000 behind. Ivey, who had sealed the checkmark after improving to two pair, quickly moved all in, and Sturm put in his final chip into the middle before sending his aces into the muck.
Former World Champ Espen Jorstad Beats Phil Ivey to Win Triton Poker London Event
Follow More Triton Poker Action
More poker is being broadcasted to the masses from the JW Marriott Grosvenor House, with Day 2 of the $200,000 NLH 8-Handed underway. Be sure to check out the live stream below to keep up with all the action.
Calum has been a part of the PokerNews team since September 2021 after working in the UK energy sector. He played his first hand of poker in 2017 and immediately fell in love with the game. Calum's proudest poker achievement is winning the only tournament he has ever played in Las Vegas, the prestigious $60 Flamingo evening event.