Rob Mercer Admits to Lying About Cancer Diagnosis, Denies Scamming Poker Community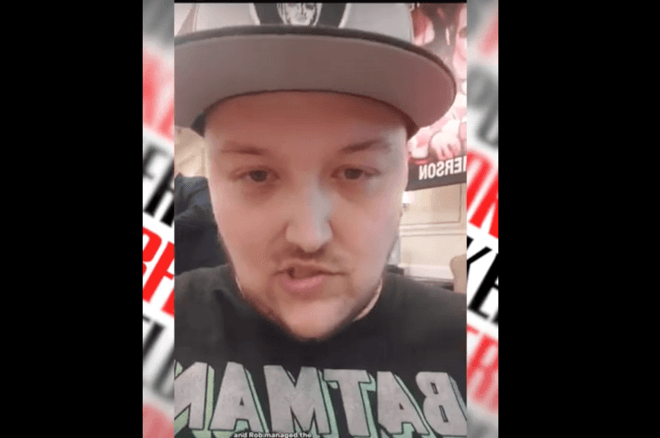 Table Of Contents
Following text messages and an admission to the Las Vegas Review-Journal, Rob Mercer, who is alleged to have conned his way to thousands of dollars in donations after he revealed that he has terminal cancer, lied about his cancer diagnosis to the poker community.
According to a text message sent to and released by Cody Daniels, who really is terminally ill, Mercer hasn't actually been diagnosed by a doctor with any form of cancer.
Poker Community Exposes Rob Mercer
Hustler Casino Live co-founder Nick Vertucci and Poker Twitter Spaces host "SnoopDoug" both played key roles in helping Mercer's dream come true. But they've both recently changed course and admitted they were duped by the supposed cancer patient.
Vertucci spoke about the alleged scam on his own YouTube podcast, while SnoopDoug appeared on the PokerFlops channel.
Over the past few weeks, SnoopDoug exposed the apparent scam on "The Alternative Space," his own Twitter Spaces show. Immediately after doing so, the poker player who claimed to have Stage 4 colon cancer deleted his account and has been unresponsive to text messages since. Attempts by PokerNews to reach him have been unsuccessful.
"I should have vetted him in the beginning, but this was something I'd never dealt with in the past," SnoopDoug admitted to PokerFlops. "It just feels weird asking someone you think is dying for proof."
Coming Clean
If there was any doubt left as to Vertucci and SnoopDoug's claims about the supposed colon cancer patient, there likely aren't many left following text messages SnoopDoug shared via Daniels on Wednesday, along with a damaging confession to the Las Vegas Review-Journal.
"I did lie about having colon cancer. I don't have colon cancer. I used that to cover my situation," Mercer told the LVRJ via a phone conversation. "What I did was wrong. I shouldn't have told people I have colon cancer. I did that just as a spur-of-the-moment thing when someone asked me what kind of cancer I had."
Daniels, who played on Hustler Casino Live and has become a beloved poker player the community has rallied behind, also played in the 2023 WSOP Main Event thanks to some generous donations. He struck up a friendship with Mercer on the basis that he assumed Mercer was going through the same health issues as him.
Mercer, however, admitted in a lengthy text message that he never was diagnosed with colon cancer. Instead, as he claims, he has "male breast cancer" and was too ashamed to admit that publicly, as if that's something to be embarrassed about. Daniels sent the text message to SnoopDoug, who then released them on X.
https://twitter.com/PuntingStacks/status/1704549217719697768
Not only is Mercer apparently afraid to admit his condition, but he doesn't actually know if he's suffering from anything severe as he wrote, "I most likely have male breast cancer." According to the now public chat, he claims he "never wanted to set foot in a doctors room again" because he is "too afraid to be told by a doctor that I was dying."
So, he doesn't know if he's seriously ill, and judging by the comments on SnoopDoug's tweet, many poker fans aren't buying any bit of his story.
Mercer received thousands of dollars in donations. He denies being a scammer and admits that deleting his social media accounts "makes me look like a guilty person."
The poker player confirmed with the Las Vegas Review-Journal that a representative with GoFundMe contacted him for violating its terms of service. He said he has no plans to pay back the estimated $40,000 back because, per the LVRJ, he believes he really does have breast cancer, albeit undiagnosed.
"Obviously I was just trying to keep up with my story," Mercer told the LVRJ. "I didn't want to get exposed because it looks bad. It does look bad. I lied. I'm not going to deny that. I lied. I should have just been transparent and comfortable with what is going on with me and tell people what was happening."
In the message to Daniels, Mercer claims he doesn't know how much time he has left given his undiagnosed illness, but said "it could be months" or more. Are you buying his story? Vote in the poll below and let us know your thoughts.
*Image credit PokerFlops YouTube channel.