Race for a Share of $6,000 on Redbet Poker!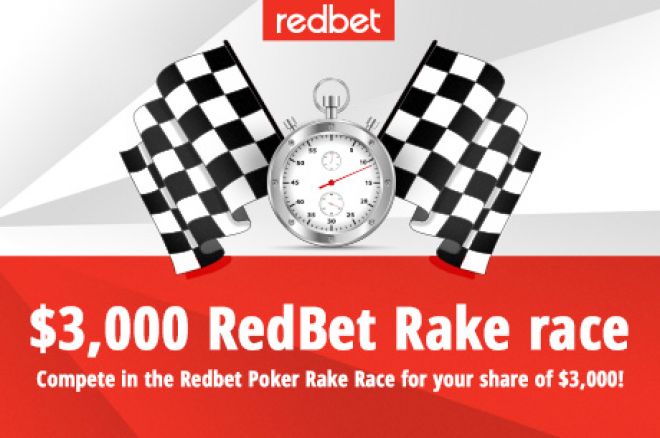 Redbet Poker is running a PokerNews-exclusive rake race for all new and existing customers who sign up through our links. There are two monthly contests in November and December with a chance to qualify for a share of $3,000 each month! Add them together, and there is $6,000 in total prizes to be won!
Getting involved with this promotion is very easy. Existing Redbet Poker players that signed up through PokerNews are automatically eligible. If you do not already have a Redbet Poker account, now is the time to sign-up via PokerNews through this link.
The monthly payouts for the PokerNews-exclusive Redbet Poker rake race are listed below. Everyone in the top 15 is guaranteed to win at least $25 with the each month's winner taking home $800!
| Rank | Prize |
| --- | --- |
| 1st | $800 |
| 2nd | $550 |
| 3rd | $400 |
| 4th | $275 |
| 5th | $200 |
| 6th | $150 |
| 7th | $125 |
| 8th | $100 |
| 9th | $100 |
| 10th | $75 |
| 11th | $75 |
| 12th | $50 |
| 13th | $50 |
| 14th | $25 |
| 15th | $25 |
The rake race will be determined by the amount of Euros raked.
The two rake races take place across the following dates:
November 1-30
December 1-31
Redbet Poker offers its customer players the ability to play on both the Ongame and Boss Media networks. There are lots of tournaments and cash games running around the clock on both networks providing you many ways to boost your standing in this exclusive rake race.
For even more potential value for anyone depositing funds to participate in this promotion. If you make your deposit at Redbet Poker using Skrill as your payment method you could be rewarded an extra $20! Sign up for a free Skrill account via PokerNews then make your first deposit of at least $20 and Skrill will refund you $20 into your Skrill account! Head to Skrill for more details of the PokerNews-exclusive free $20 Skrill offer.
Redbet Poker is one of the most fun sites to play poker, giving you access to play on two separate poker networks from one single account. This promotion should also help boost your bankroll and make it be one of the most profitable sites to play on as well. Sign up to Redbet Poker through PokerNews today and earn your share of $6,000!
Please note that during the promotion period there is no first deposit bonus available to new players. Players that are in process of earning their first deposit bonus can still participate in this promotion only by contacting [email protected] and requesting to discontinue their existing bonus.