5 Things You Should Know About TonyBet Poker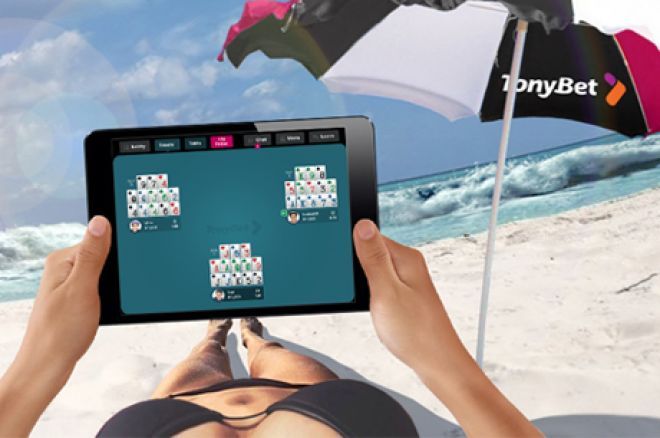 Open-face Chinese poker (OFC) could be described as an addiction — or an insanely fun way to try and outguess your opponents and decipher their skill level if you opt to play a hand out of position. And the only place you'll find online that hosts only OFC games is TonyBet Poker!
Not everyone has tried OFC but you can bet all the poker pros and high limit players have — they play it in live casinos while they're waiting for a game to start, and even add it to the rotation of mixed games. But you don't have to dance your way through all of that to test it out, all you need to do is jump in at TonyBet Poker and start playing.
And what happens once you try it? You're coming back for more, that's a given. That's why we are going to help you with a walkthrough of five things you should know about TonyBet Poker and then you'll be ready to jump in and start your OFC adventure.
The SnG HU Challenge at TonyBet Poker packs a massive €1,000 in guaranteed prize pools.
1. OFC Poker School -- One of the most critical parts of the game is building your hand. Tonybet Poker's OFC School starts you off with an easy tutorial that explains the how and the why of what you should be doing with your first five cards and explains the advantage of position.
In the Hand Analysis section, you will go through an entire hand from the start to the end using a hand that was played on TonyBet Poker at a low stakes table. And you can enjoy more tips and help in the OFC Math section and hand analysis along with OFC poker strategy articles.
2. Bonuses – Get a major deposit bonus and receive a 100% match deposit bonus up to €500 on your first deposit when you download TonyBet Poker through PokerNews.
If you already have an established account, right now you can add to your account balance any time you'd like to boost it up by using the bonus code REFILL when you deposit — get up to €500!
3. OFC Summer Ride – The Summer Ride has an additional bonus that needs its own introduction. You can get a free ticket to the €10 Cruiser event that is part of the OFC Poker SUMMER Ride promotion running right now at TonyBet Poker. In order to grab this €10 Cruiser event ticket free, you must make your FIRST deposit using the bonus code 'SUMMER'! For more information on the OFC Poker SUMMER Ride, please visit this link.
You can get a free ticket to the €10 Cruiser event - right now!
4. TonyBet OFC Poker World Championship -- In December 2014, TonyBet presented its first — and the biggest — OFC live poker event ever organized. The High Roller event broke another record during this premiere live tournament by becoming the richest OFC live poker tournament in history. Read about the event here.
The OFC players of the world are anxiously awaiting the return of the OFC Poker World Championship. Start playing at TonyBet today and fine tune your OFC game to compete in this year's event.
5. OFC Freerolls -- If you like tournament poker and want to give OFC poker tournaments a try, you can start by playing freerolls. TonyBet Poker's OFC freerolls award cash prizes and tickets to MTT satellites in OFC formats you'll want to try, like Pineapple, Turbo, and Classic.
OFC Poker Sit & Gos are also on the menu. You can get in and test your skills (and learn the intricacies) in heads-up, three-handed, and four-handed Sit-and-Gos (SnG). Start with buy-ins that begin at €1 and go up to €250 and experience the different levels each step of the way.
If you like heads-up, try the SnG HU Challenge that packs a massive €1,000 in guaranteed prize pools.
If your tastes run to OFC Poker Satellites or OFC Poker Multi-Table Tournaments, you'll find every challenge with the right price waiting for you at TonyBet Poker.
Now that you know a seat is always open and there's real money to be won – even in freerolls – at TonyBet Poker, you can take this golden opportunity to download the software and begin your OFC poker journey…starting with the OFC School if you need to work on your game.
Play OFC for fun, play OFC for profit but remember to play it at TonyBet Poker where it's the only game in town!
Get all the latest PokerNews updates on your social media outlets. Follow us on Twitter and find us on both Facebook and Google+!