888poker's Million Dollar Money Grab! Are You In?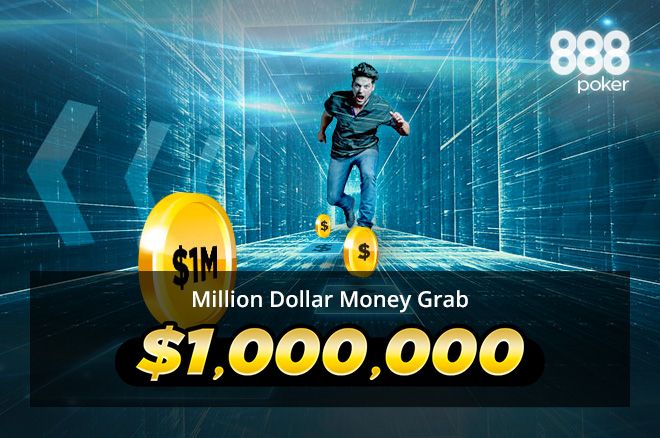 Begin reality check.
Is there any one of you reading this that could honestly say you aren't interested in picking up a cool million, with the exception of players like Bill Klein, of course? The rest of the poker playing world could use a gigantic, bankroll cash transfusion any time.
End Reality check.
Since everyone passed the reality check, we're going to give you the goods on a promotion running at 888poker right now. The Million Dollar Money Grab!
Here's how it works: Win 10 GOLD CHIPS in the $2,000 Money Grab Free Tournaments consecutively and BOOM, Baby! You are a millionaire!
The key to winning the million dollars is collecting GOLD CHIPS. We will tell you how to collect GOLD CHIPS and it's up to you to play your best game when you get a seat in the $2,000 Money Grab Free Tournaments and finish in the top 100.
First, we'll tell you how to get a seat in the tournaments that lead to a million dollars.
Open your 888poker account through PokerNews and you'll receive one free ticket (along with $88 Free) without making a deposit.
When you open your new account through our link at 888poker AND make a deposit, you'll receive three free tickets.
There are other ways to get free tickets. If you already have an 888poker account, you simply need to check your email and claim your tickets — and also claim them through the 888poker lobby in dedicated promotional popups.
You will be able to claim even more tickets by playing the Daily Poker Missions at 888poker and the GOLD CHIP Spin Game every day.
Take a look at the following for even more opportunities to pick up tickets to the $2,000 Money Grab Free Tournaments: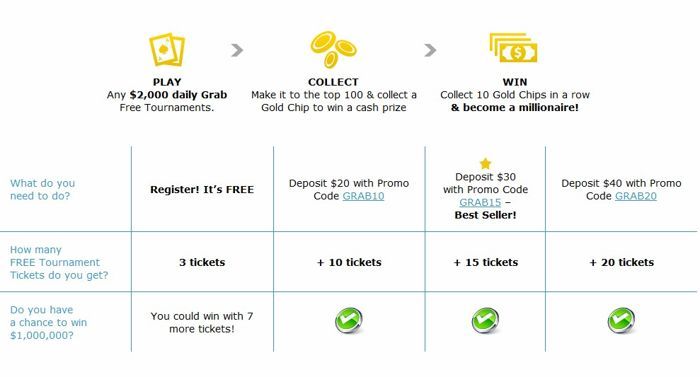 Now that you know how to get the tickets, and you know you need 10 GOLD CHIPS won consecutively in the Money Grab Free tournaments, here are the prizes for winning GOLD CHIPS.
| GOLD CHIP count | Prize |
| --- | --- |
| 2 CHIPS | $2,000 Money Grab Free Tournament ticket |
| 3 CHIPS | $10 |
| 4 CHIPS | $50 |
| 5 CHIPS | $200 |
| 6 CHIPS | $1,000 |
| 7 CHIPS | $3,000 |
| 8 CHIPS | $10,000 |
| 9 CHIPS | $100,000 |
| 10 CHIPS | $1,000,000 |
Winning the GOLD CHIPS consecutively does not mean you have to play a tournament every day. It simply means when you play one, you must finish in the top 100, and once you do, you must keep up the good work to collect 10 consecutive GOLD CHIPS or you'll have to start over. Great news though, once you've collected consecutive GOLD CHIPS, you get to keep the prize even if you have to start over. Example: If you win six chips and fall, you win $1,000. Starting over gives you the opportunity to keep what you won and try again for the $1,000,000. It's a win-win!
Shifting into reverse — we'd like to tell you what you receive when you download 888poker through our link and make your first deposit. Along with the free tickets you are going to receive a free $88 + 100% up to $888. Find more details here.
Watch 888poker's Money Grab video to whet your appetite and verify that you passed the reality check:
Now it's time to put a plan in action. If you're going to be the first 888poker player to win $1,000,000 in the Million Dollar Grab, you'd better start now!
Get all the latest PokerNews updates on your social media outlets. Follow us on Twitter and find us on both Facebook and Google+!