Natural8 Introduces Chinese Rush & Cash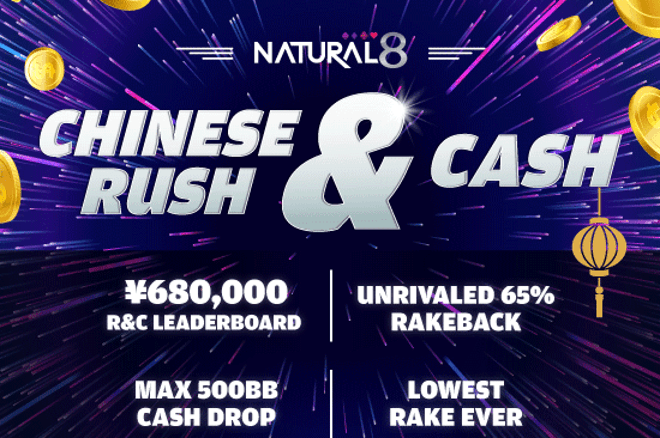 Natural8 continues to demonstrate its capability of being one of Asia's most popular online gaming platforms. February 27 marks the debut of Natural8's latest rakeback system - Cash Drop - that promises an unprecedented 65% rakeback to players.
The new built-in rakeback system will only be implemented to the fast-fold poker tables called Chinese Rush, soon to be renamed Chinese Rush & Cash. The elements of Cash Drop are bound to provide an added level of exhilaration and instant gratification. Cash Drop, as aptly named, drops randomly chosen sum of money onto the table, producing larger pots and all types of interesting table dynamics.
What Makes Chinese Rush & Cash so Appealing?
R&C ensures an instant 65% rakeback to players in the form of intermittent Cash Drops. No loot boxes, no spinning wheels, no mission to complete. Plain and simple where free money is unexpectedly and visibly splashed into the pot or each player's chip stacks.
R&C can also safely assert to having the lowest rake in the poker industry. Instead of the typical two blind structure, R&C plays with a mandatory ante, paid by all seated players, along with a Button Blind. With rake constituting a mere 1/5 of the BB, couple this with 65% instant rakeback, we rest our case.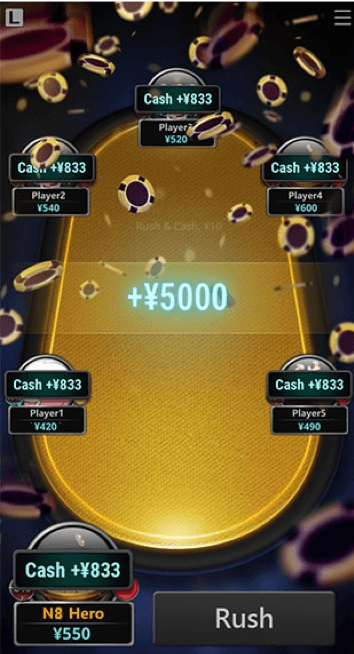 The cherry on top, every so often, 500 BB will shower the table and automatically be added to each player's chip stacks. This means players would not even need to win the pot in order to claim their share of this amazing value, providing an equal distribution to all seated players. The system is designed in a way whereby smaller amounts will go into the pot inducing more action, while larger amounts will be divided and added to every player's stack right away as a straight-up reward.
If and when 500 BB were to rain down on a 6-handed table, 83.33 BB will be added into each player's chip stacks. Players can then decide to leave the table with the added stack, or continue to be drenched in free money.
R&C will initially be offered across three stakes: ¥0.10, ¥1, and ¥10, with more stakes to be added in the near future. The high-octane, fast-fold R&C plays in Chinese Yuan (CNY), retaining the unique qualities of Chinese Rush which made it a household success in China. All player balances (in the room's main currency USD) will automatically be converted into and from CNY, at the prevailing market rate, at no additional cost.
Subsequently, Natural8 is launching the Chinese Rush & Cash Festival, giving away ¥680,000 (approx $100,000) in leaderboard prizes throughout the month of March. That's 680,000 additional reasons for you to try out this rapid-fire game. The festival entails three leaderboards, one for each of the 3 R&C stakes on offer, with the single largest prize being ¥50,000 and 900 individual prizes to be distributed.
Simply play as many hands and earn prizes at the end of the promotion based on your rank. Rank will only be determined by the number of hands played. Players can aim for a prize in a specific blind as prizes are divided for each button blind; or, aim to earn multiple shares of the ¥680,000 prize!
So who wants to be showered with ¥680,000 in rewards? Show of hands please.
Sponsor generated content by Natural8