Why Betfair Poker is Perfect for Lowstake Grinders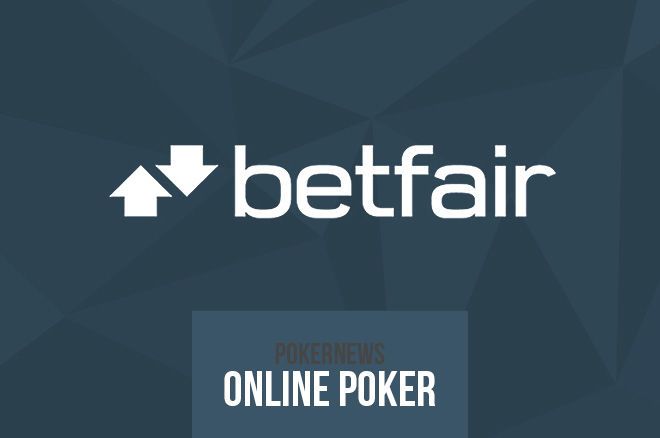 Not everyone has the bankroll for High Roller poker tournaments with high three- and four-figure buyins. Very often, poker operators forget that there is a sub-section of lowstake poker grinders who just want to play within their means and enjoy their time at the tables.
That's where Betfair Poker comes in. If you've not played at Betfair, you won't find any earth-shattering tournaments with buy-ins in the thousands of dollars - partly because the site's curreny is euro - but also because it's the perfect place for lowstake grinders to come and ply their trade.
Read on to find out why if that sounds like you, then Betfair Poker is the place for you.
Find Out Where You Can Play the Best Microstakes Tournaments Online
PokerNews recently looked at some of the best sites to play microstakes tournaments online, and Betfair Poker was one of them!
A Lobby Full of "Normal" Tournaments
One of the first things you notice about the tournament lobby on Betfair Poker is how clean it looks, with tournaments displaying clearly what format they're played in, how many players per table, whether it's re-entry, how fast the tournament is and much more.
A handy graphic next to each tournament shows you exactly what you're going to be entering, not just the buy-in and guarantee.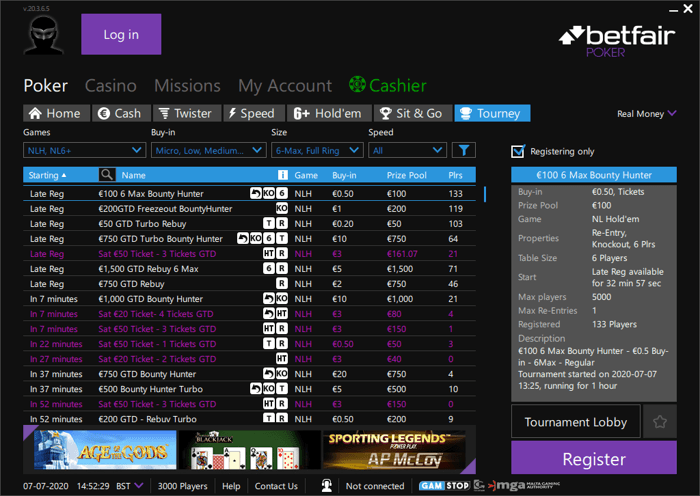 As you can see from the screenshot of the lobby, the biggest buy-in tournament over the next hour or so is €20, meaning it's incredibly accessible to anyone starting out, building a bankroll or just wanting to dip their toe into online poker for the very first time.
Getting Started with Betfair Poker is easy
Even Named Tournaments Don't Burst your Bankroll
Poker players are used to named tournaments on poker sites being mega buy-in affairs that perhaps might only be accessible to them if they satellited. That's not the case with Betfair Poker. Whether it's the €3,000 GTD Sensei (buy-in €20), €2,000 GTD Punch Out (€10 buy-in) or €2,000 GTD Fists of Fury (€2 buy-in) you can get the feeling of playing in a show-stopper event on the site, whilst also knowing that you'll have plenty of money left over in your bankroll should you not cash or win the first time around.
Accessible Big Guarantees
Even if you're looking to play some of the biggest guarantees on the site, such as the €50,000 GTD Ultimate Sweat or €30,000 GTD Sunday Sweat, the buy-in is only €100. We've spoken previously about how players can win entry into the Ultimate Sweat for just €10, so there's nothing stopping you from satelling in for less.
---
---
Sign Up Today to Earn Up to 35% Monthly Cashback
In addition to new depositing players receiving a welcome bonus worth up to €200, every Betfair Poker player has the chance to earn up to 35% cashback every month.
You earn Status Points every time you contribute t the cash game rake or spend on tournament fees. Betfair Poker awards you 25 Status Points per £1 contributed and 30 per €1 contributed.
Earn 1,250 Status Points in a calendar month to become a Silver VIP. Keep up the grind and generate 12,500 Status Points in a calendar month and you'll be a Gold VIP. Both Silver and Gold VIPs receive their own special loyalty mission and both can exchange Status Points for cash payments.
Silver's exchange rate is €10 for every 1,250 Status Points with Gold VIPs receiving a better rate of €17.50 per 1,250 Status Points.
Will Shillibier is based in the United Kingdom. He graduated from the University of Kent in 2017 with a B.A. in German, and then studied for a NCTJ Diploma in Sports Journalism at Sportsbeat in Manchester. He previously worked as a freelance live reporter, and video presenter for the World Poker Tour.