888poker Celebrates its New Mobile App with $1M in Giveaways!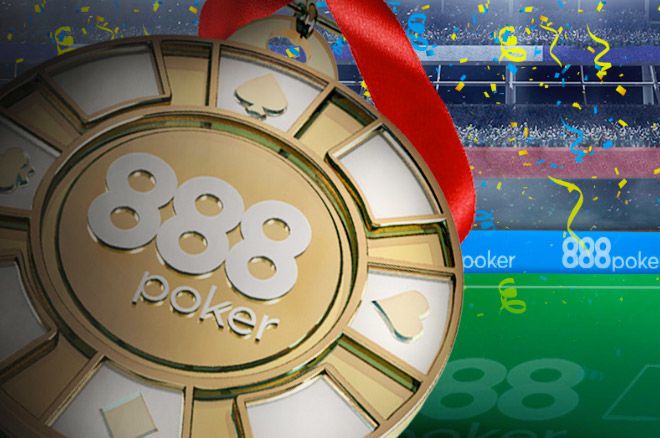 Did you know that 888poker has launched a new app?
It's super cool and worth checking out with its vertical display, amazing graphics, the ability to multi-table, and much more!
This isn't the only reason you should head to 888poker today as they are giving away a whopping $1 million to its players to help celebrate the launch.
---
READ MORE: Learn about all the amazing features of 888poker's new mobile app.
---
$30,000 Weekly Freeroll
Usually, freerolls at poker sites feature small prize pools.
888poker decided to buck the trend in a big way by hosting The $30,000 New App Launch Celebration freerolls - with you guessed it - a $30,000 prize pool.
We bet many - if not all - of the real money poker tournaments you enter don't feature such a large prize pool and there is no reason not to play this one considering it is absolutely free to enter!
The next one of these events takes place on Nov. 22 at 7 p.m. GMT with no ticket required provided you have made at least one real money deposit at 888poker.
This is not all, as 888poker is also hosting tons of daily freerolls with a $1,000 prize pool. While this pales in comparison to the weekly freeroll, it's still a ton of money and much more than just about any other freeroll you will find elsewhere.
Just follow these two simple steps to get involved.
Happy Hour!
The freerolls are just part of the celebration!
Another reason to head to 888poker every day is that each day will feature a different Happy Hour. Like happy hours at your local bar, it actually consists of multiple hours every day and not just one.
Here's a look at the Happy Hour schedule:
| Happy Hour | What's happening | Day | Time (GMT) |
| --- | --- | --- | --- |
| BLAST Boost | One free BLAST ticket every hour up to $30 for each one you play | Monday & Wednesday | 4 p.m. to 6 p.m. |
| Snap Back | 50% rakeback on stakes $0.02/$0.05 and up | Tuesday & Thursday | 4 p.m. to 6 p.m. |
| Satellite Special | 100% rakeback on satellites | Friday, Saturday, & Sunday | 2 p.m. to 5 p.m. |
Gift Drops
Wouldn't you like to be surprised with a gift while playing online poker?
Our friends at 888poker think so and you should too!
888poker will be awarding one random table every five minutes with a Gift Drop up to $1,000!
Why not treat yourself to a gift from 888poker before you are the one giving gifts during the upcoming Holiday season.
The Winner Spinner
888poker is known for its daily wheel spinner where you can win prizes such as freeroll tickets, tickets to real-money poker tournaments, casino free play, free sports bet, and more.
So the wheel itself isn't anything new as it has been around where you can spin once per day via your computer and again if you so wish through their cool mobile app.
What makes this wheel different is that every spin guarantees a prize! This is different from the past where you might walk away empty-handed after spinning the wheel.
How to Download the 888poker Mobile App
The 888poker mobile app is available for free download on iPhone and Android devices. Follow the links below to get yours.
If you don't have an 888poker account you are eligible to a free bonus as soon as you register an account to play.
888Poker bonuses vary depending on your location and range from a free $88 bonus to a £20 UK poker bonus with no deposit needed.