NOW AVAILABLE: Download the NEW 888Poker Mobile App!

New portrait mode, smooth multi-tabling, and an unprecedented level of customization are only a few of the reasons that make the new 888poker app a great one to download.
Released after months of testing and feedback from players, this new mobile poker app puts the player experience first and aims to maximize the enjoyment of its playing community.
PokerNews has been given early access to the new online poker mobile app to get a sneak peek at what changes are in store.
888poker App Update: the Gallery
Made to Play
One of the first things we noticed as we opened up tables to play on the 888poker mobile app was the multi-table option.
Multi-tabling is one go mobile poker's biggest limits as most mobile poker sites struggle to match the limited screen real estate of mobile devices with a proper multi-tabling experience.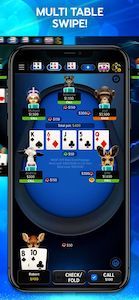 The new 888poker mobile app fixes this — in part, at least.
Although you won't still able to multi-table 'Nanonoko-style' with more tables open than you can possibly count, the 2020 iteration of the 888poker lets you play up to four tables at the same time.
To browse through the tables, simply swipe right-to-left and back.
Neat, simple, and easy. Just like every poker app should be.
All the different areas of your 888poker account are all easily reachable from the app, making it simple for you to know what poker bonuses are available and what rewards and gifts you can claim — and if you consider 888poker's approach to promotions, there's always something.
You can also check your 888 Club balance and any incomplete challenges straight from the app.
New App Customization
The settings menu is now far more visible than before, and that's great — especially if you can use the settings to make the 888poker app feel more 'yours.'
In a tap or two from the main lobby, you can change nearly every aspect of your mobile playing experience.
From the settings of four-color decks, autofocus on tables awaiting your action, auto rebuy and addon, or emojis display everything is right there where you need it to be.
Emoji display is also an important aspect of the app since the 888poker app does not feature an in-game live chat.
While the chat is fun when you play at real money poker sites on a desktop, it is not when you are on your mobile.
And, let's face it, if you are one of those players who take forever to act on your turn because you are trying to type something fun on the chat, we have only two words for you: stop it.
Or download the 888poker app. Because the guys at 888 solved the problem by eliminating the live chat from their mobile client. They now allow only emoji faces to be used at the table.
Portrait Mode Makes One-Handed Play a Breeze
Is 888poker pioneering portrait mode? No. Are we happy they added portrait mode to their app? You bet.
Some of the world's top poker sites have recently made the switch to vertical poker clients, and the new 888poker mobile app now follows the same trend.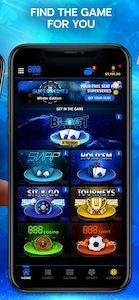 The lobby of the new 888poker mobile app showcases all the different types of tournaments you can play from your mobile — and if you are used to the equation "mobile poker = boring games," this will change the way you think.
Whether it's SNAP Poker, sit-and-go's, cash games, or poker tournaments, you will you're looking for at a single glance.
We found navigating through the tournament lobby quick and easy, especially when filters come into play. Learning how to use them to select the right buy-in range and game format will help you find the perfect tournament in no time.
Play BLAST Poker on Mobile
Finally, the app features also the BLAST sit-and-go games, one of 888poker's most appreciated game types.
Jackpot sit-and-go's are perhaps the most popular poker games right now. Some say because they are fast — and lots of poker players love action.
We think the opportunity to win the $1,000,000 jackpot and snatch a massive payout might have something to do with the games' popularity as well, but that's a different story.
However, BLAST mobile games are great. When we sat to play our first BLAST game, we were met with a spinning wheel that showed us just how close we were to winning a crazy $1,000,000 payout.
Close enough to be exciting but...you got it. Far enough to play for less.
Check out this guide on beating the BLAST!
888poker Adds Throwables
888poker were among the first to introduce 'throwables', and now everyone's favorite feature makes an appearance on their new 888poker online mobile app as well.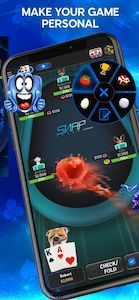 Just tap on a player to access the throwables menu. From there, you can select the following items:
Egg
Tomato
Trophy
Cake
Snowball
You can also choose to add notes to a player or tag them — which is always a good idea if you want to use your poker sessions to become a better player and, in perspective, win more.
Tags are pre-set by the client. Here's the list of all the player tags available via the 888poker mobile app.
| | | |
| --- | --- | --- |
| Fish | Shark | Lion |
| Donkey | Sheep | Chicken |
| Whale | | |
Not Only Poker
Most poker players might not know this, but 888Holdings is not only the mother company of 888poker — as they control also an up-and-coming sportsbook (888sports) and one of the best online casinos in 2020: 888casino.
While most companies tend to keep some of their products relatively separated (although lots of real money slots have made their way into top poker software), 888 tried a different approach here — and is testing new waters with their new poker app.
You can now use your 888poker account and the new app to swipe between poker, casino, and sport seamlessly. The new app has the benefit of having all 888poker's products embedded within one single app.
Do you have to use all the 888 products? No.
But if you are into more than just poker, this app is the perfect choice to de-clutter the screen of your mobile phone and still access the best of the poker, casino, and sports betting worlds at the same time.
---
READ MORE: 10 Things You Can Do on 888poker for Just $1
---
More Fun Still to Come
This massive update of the 888poker mobile app is only the first of a series of steps the company have planned to increase its market share and bring more people into their poker ecosystem.
Speaking to PokerNews, representatives at 888poker hinted at upcoming changes and additional surprises that might hit their mobile product very soon.
How to Download the 888poker Mobile App
The 888poker mobile app is available for free download on iPhone and Android devices. Follow the links below to get yours.
If you don't have an 888poker account you are eligible to a free bonus as soon as you register an account to play.
888Poker bonuses vary depending on your location and range from a free $88 bonus to a £20 UK poker bonus with no deposit needed.
Will Shillibier is based in the United Kingdom. He graduated from the University of Kent in 2017 with a B.A. in German, and then studied for a NCTJ Diploma in Sports Journalism at Sportsbeat in Manchester. He previously worked as a freelance live reporter, and video presenter for the World Poker Tour.