Five Amazing Reasons Why You Should Play SNGs on Run It Once
Run It Once Poker is now more than just about cash games as the online poker room launched by poker legend Phil Galfond has recently introduced sit-and-go tournaments dubbed SNG Select to the delight of many players.
You should definitely consider checking these games whether you grind sit-and-go's or occasionally enjoy diving in as they don't take up nearly as much time as playing in tournaments.
Here is a look at five great reasons why you should play SNG Select at Run It Once Poker.
Check Out the Brand New SNG Select at Run It Once!
1) Variety in the Same Game
SNG Select is like no other sit-and-go's anywhere else. In a way, you can have your cake and eat it too!
Some players enjoy playing sit-and-go's with traditional payouts, while others prefer lottery-style games. In order not to split the site's liquidity, Run It Once has combined both formats into the same game!
SNG Select games begin after three players register with each player independently deciding whether they want to play a SNG Select Classic game with standard payouts or the lottery-style SNG Select CUB3D which will pay out random prizes up to 1,500-times the buy-in for the winner.
If choosing the SNG Select CUB3D option, you won't know the prizes until the game is over instead of before the first cards are dealt like in other lottery-style games.
Meanwhile, those choosing SNG Select Classic will know exactly what they are playing for even before they click the button to register into the game.
2) You Can Win Even When You Lose
Another aspect of what makes SNG Select an amazing option to choose is that they incorporate unique Glitch Prizes.
When choosing the SNG Select CUB3D option, it is possible that you can be awarded a special CUB3 containing a prize even if you don't win the game. This is completely random and the best part is that they are unraked!
Of course, this is only available to those that choose the CUB3D option and not available to players that choose the SNG Select Classic option.
3) Amazing Graphics
If you grind SNGs, you might not care about the graphics. But you should even if you don't want the pretty whistles and bells as this is one thing that attracts more recreational players that are just out to have fun in hopes of winning some money.
Players who are used to playing on Run It Once Poker will have gotten a feel for the graphics and tables, and it is a little different about the SNG Select interface.
Each table comes with a slick dark theme as a contrast to the colorful cash game tables. Of course, the CUB3 itself is very cool and it isn't a surprise that the graphics in these games are second to none.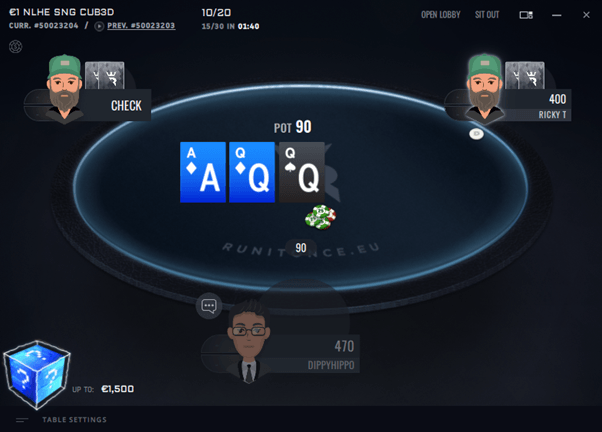 4) Avoid the Sharks
SNG Select games attract recreational players and we just covered one reason why - the amazing graphics.
SNGs at other sites are littered with regs that study the game with many of them knowing optimal push/fold in just about every situation. It is likely most of these grinders will continue playing where they are leaving these games softer in relation to what other options are out there.
Another reason is that although there is a huge variety in buy-ins starting at just €0.25, the highest buy-in is €25 keeping the high-stakes sharks away from your games.
5) Amazing Welcome Package Including Free SNG Select Tickets!
Run It Once already awarded its existing players with a free SNG Select ticket bundle. Of course, they didn't forget about those that have yet to try out Run It Once for its amazing cash games it has been well-known in no small part due to the popular Galfond Challenge taking place throughout the year.
Now is the perfect time to see what you have been missing out on.
Simply download Run It Once Poker through PokerNews and your first deposit will be matched in the form of a bonus up to a whopping €600!
This is not all, as they will also be giving all new players between now and Nov. 30 a total of €50 worth of SNG Select tickets. You will get a €10 SNG Select ticket bundle within 72 hours after your first deposit and then another €10 bundle each of the next following four weeks.
Be sure to use your tickets within seven days before they expire.