Phil Galfond: Run It Once Poker SNGs "Just Around the Corner"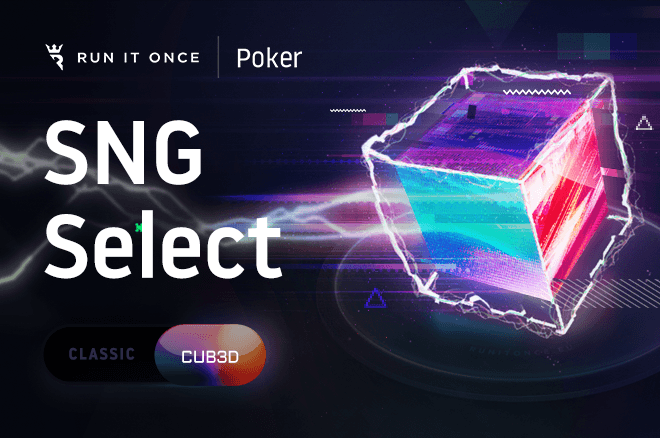 The poker community is waiting patiently for the recently announced Run It Once Poker sit-n-go offering, as Phil Galfond prepares to take the RIO product to the next level.
And after PokerNews were one of a select few to get their hands on the SNG Select product in action, Galfond himself hinted that a full launch may be "just around the corner."
SNG Select Beta Test
The SNG Select has to undergo some crucial beta testing before the product can be released to the Run It Once Poker playing community.
"We've been working on these SNGs for so long," Galfond told PokerNews. "We've done a lot of internal testing to date, but a larger test with real users across the world can always bring up new issues, and is absolutely critical when it comes to being launch-ready."
Although Galfond didn't give a concrete date on when the SNGs would be available, he hinted that subject to testing, the launch may be just around the corner.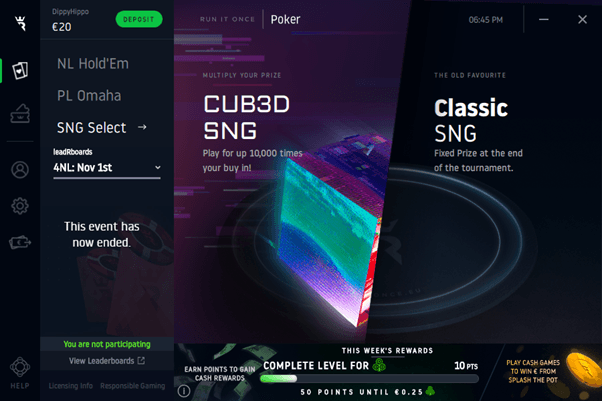 How does SNG Select work?
Run It Once Poker is calling their three-handed jackpot tournaments SNG Select, and they have their own section within the Run It Once Poker lobby.
Once selected, you are faced with a choice between CUB3D or Classic. Buy-ins for the CUB3D version range from €0.25 to €5 and Classic range from €0.90 to €4.50.
Upon selecting CUB3D, players are met with a "randomizing prize" graphic, after which the eventual prize is sealed in a cube present at the side of the table.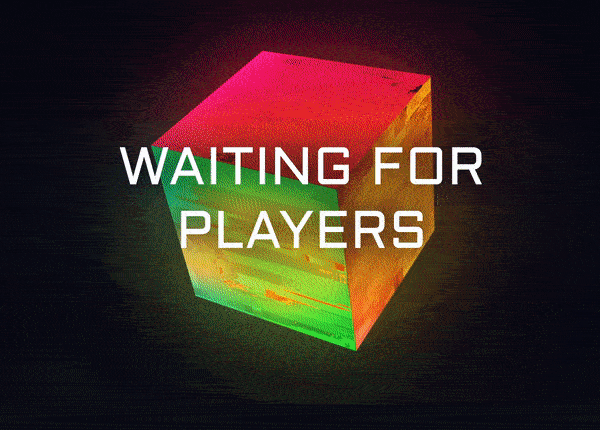 Players who are used to playing on Run It Once Poker will have gotten a feel for the graphics and tables, and there is little different about the SNG Select interface.
Each table comes with a slick dark theme as a contrast to the colorful cash game tables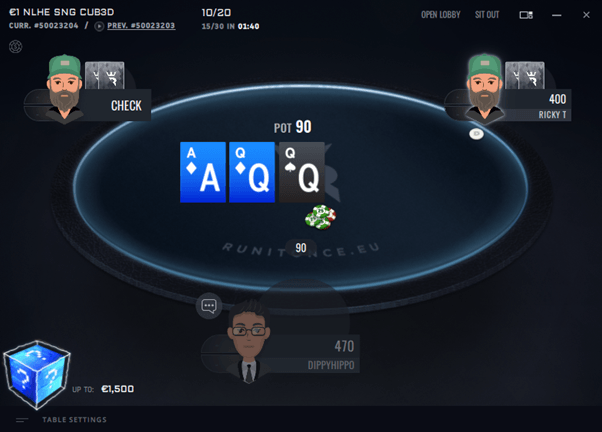 CUB3D Payout Tables
| Buy-in | Payout |
| --- | --- |
| € 0.25 | Up to €375 |
| € 1.00 | Up to €1,500 |
| € 2.00 | Up to €3,000 |
| € 5.00 | Up to €7,500 |
---
READ MORE: There's Never Been a Better Time to Become a Run It Once Legend
---
Classic SNG Payout Table
| Buy-in | Payout |
| --- | --- |
| € 0.90 | € 2.49 |
| € 1.80 | € 4.98 |
| € 4.50 | € 12.57 |
How Does it Feel to Play?
With so much of the interface and playing experience similar to the existing Run It Once Poker client, the transition to SNGs is a simple one. However, you soon realize that at the three-handed tables you are playing a lot differently than you would if you were chasing a leadRboard prize or trying to win a hand with seven-deuce to earn a cash bounty!
Once the game begins, it's reassuring to state that even in beta testing the product runs smoothly. The concept of CUB3D SNGs - where the eventual prize is not released until the tournament finishes - meant that every SNG we played in was competitive right up until the end.
When Will it Launch?
Galfond kept his cards close to his chest when it came to a launch date. But from the looks of things, the product is certainly ready to be put out to the masses. And we can't wait for you to get a chance to play it!
---
Don't Have a Run It Once Poker Account?
In order to be one of the first to try the SNG Select upon launch, you will need a Run It Once Poker account.
All new Run It Once players who download the software via PokerNews are entitled to a 100% deposit bonus worth up to €600. What makes this welcome bonus unique is you can make as many deposits as you like for the first 30 days after your first deposit. This makes it perfect for those players who do not want to or cannot deposit €600 in one chunk.
Another great feature of the Run It Once welcome bonus is it never expire if you play at least once hand every 30-days, meaning you essentially have forever to clear your bonus! As for release rates, check the table below to see how fast the Run It Once bonus clears.
| Bonus Progression | Rake This | Get This |
| --- | --- | --- |
| €0-€100 | €25.00 | €5 |
| €100-€200 | €57.10 | €10 |
| €200-€300 | €66.50 | €10 |
| €300-€500 | €100 | €10 |
| €500-€600 | €200 | €10 |
For example, you make three deposits totaling €110 at Run It Once Poker. For every €25 in rake you pay, they release €5 into your account, up to €100. Once you rake another €57.10, they deposit the last €10 in your account for a total of €110 matched.
Will Shillibier is based in the United Kingdom. He started working for PokerNews as a freelance live reporter in 2015 and joined the full-time staff in 2019. He graduated from the University of Kent in 2017 with a B.A. in German. He also holds an NCTJ Diploma in Sports Journalism.