New Depositors on Run It Once Receive Enhanced Welcome Bonus and Free Poker Training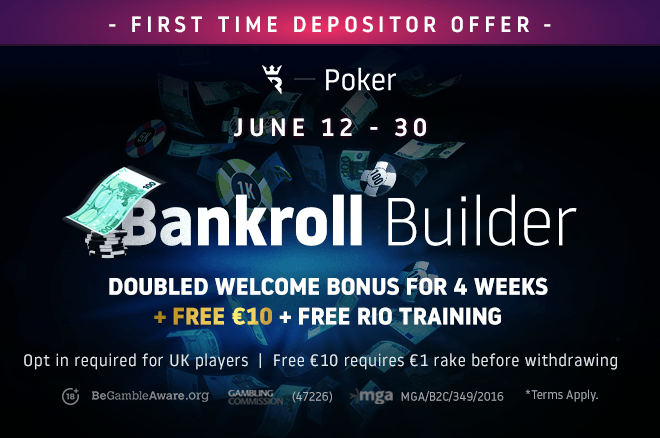 Table Of Contents
New depositors at Run It Once Poker have always been able to enjoy exciting and generous offers but this latest 'Bankroll Builder' promotion promises even more extra goodies!
Players who make their first-ever deposit at Run It Once Poker will receive instant cash, extra rewards, & coaching!
Six Ways You Can Earn Points For Run It Once's Legends Program
Like all loyalty programs, you need to earn points to claim the rewards. Here are six ways to get your hands on them.
---
Instant Cash Bonus
That's right! €10 will instantly be added to your Run It Once Poker account within 72-hours of your first deposit on the site. You can then use it to play with right away!
That doesn't mean you can withdraw it straight away! Players must rake €1 within 7 days in order to keep the bonus funds. If you try to withdraw it, and the rake requirements are yet to be met, the withdrawal will not be processed.
Learn more about the Legends reward program
Free Run It Once Coaching
We've talked previously all about the Run It Once poker training site, and now all first-time depositors will get two-months access to the Essential Content.
Just make your first deposit on Run It Once Poker and then send an email to [email protected]
Make sure to include:
Your Run It Once Training username
Subject line: 'Essential Bankroll Builder'
The Run It Once team will then confirm the requirements and upgrade your Run It Once Training account within 72 hours.
Increased Welcome Bonus
The welcome bonus at Run It Once Poker is superb, and with 'Bankroll Builder' Run It Once will be doubling all bonus funds released for the first four weeks!
Players will receive a credit matching all the bonus funds released during a given week, within 72 hours of the conclusion of the week (23:59 UTC on Sunday).
For example, if you unlocked €20 in bonus funds during your first week, you'd receive a €20 credit at the conclusion of that given week. This bonus is then released into your account balance when you hit specific rake milestones show in the table below:
| Bonus Progression | Rake This | Get This |
| --- | --- | --- |
| €0-€100 | €25.00 | €5 |
| €100-€200 | €57.10 | €10 |
| €200-€300 | €66.50 | €10 |
| €300-€500 | €100 | €10 |
| €500-€600 | €200 | €10 |
Download Run It Once Poker via PokerNews and see why hundreds of budding poker players are making this their first choice for online poker.