Phil Galfond Announces Rake Changes and 'Legends' on Run It Once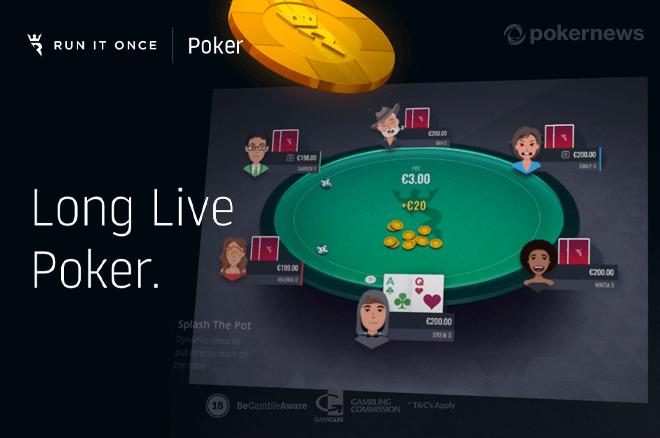 Table Of Contents
Phil Galfond promised to be honest and open when he was in the process of launching his online poker site Run It Once and he has lived up to that promise.
Galfond has penned regular blogs highlighting his thoughts, hopes and fears since Run It Once opened its doors to the poker-loving public.
His latest foray into the world of blogging discusses changes to Run It Once's rewards system, introducing what is known as Legends.
One of the most popular features of Run It Once is the Splash The Pot rakeback system.
Splash The Pot awards 51% rakeback but not in the traditional sense.
The Run It Once software randomly drops antes worth between one and 1,000 big blinds onto the table.
Whoever wins the hand, wins the additional antes and therefore a larger pot.
Check Out Run It Once Poker Here!
Galfond explained how Splash The Pot rewards all of the site's players in a lengthy blog post back in January.
If a rakeback system is popular with the players using it with everyone seemingly loving it, why would you change it?
There's a saying, after all, that states "If it ain't broke, don't fix it." Another Galfond blog explains.
In his latest blog entry entitled "Become a Legend," Galfond explains how player feedback has resulted in changes to the rewards system at Run It Once.
Splash The Pot continues to exist, but a whole new system is also being added known as Legends.
We have always intended to have a secondary rewards system.

We launched with just Splash The Pot because we were very excited about it and we felt it was a very strong rewards offering, even on its own.

Since we loved STP and we had plenty of other things to work on, we kept the planned rewards changes low in our ever-growing development queue."
Galfond, who recently issued a heads-up challenge to the entire poker community, explains how some Run It Once players do not see the value in Splash The Pot with some even stating they view Run It Once as an online poker site that offers no rakeback at all.
With that in mind, some major changes are afoot.
Splash The Pot Changes
Firstly, rakeback from Splash The Pot is being reduced from 51% to 30%.
Don't worry, Run It once isn't pocketing that 21%. More on that later.
Secondly, players will be able to compete for splashes of 100 big blinds or more without risking any of their chips.
When a splash of 100BB or more occurs, all players dealt into the hand will be all-in for nothing automatically.
The best hand at showdown wins 70% of the splash with the remaining 30% going to the other players in the hand.
This way everyone wins all the time.
Also, it is going to be possible to see how much money you have won from Splash The Pot in the lobby so players can keep track of how much free cash they have got their hands on.
Introducing 'Legends'
Legends is a weekly rewards program that awards up to 45% rakeback, meaning it is possible to secure 75% rakeback when you include Splash The Pot payments.
It is made up of five tiers:

Clubs
Diamonds
Hearts
Spades
Legend
Each tier consists of up to five levels.
Points are earned at a rate of 1 point per €0.05 in gross rake paid, with bonus points awarded for your first login of the week, playing your first hand of the day, clearing a rewards level, starting new tables and keeping tables running.
Also, those who achieve Legend status for four consecutive weeks receive an additional 15% rakeback, taking the total to an incredible 75% when including Splash The pot.
Fans of short-handed cash games are rewarded with 1.5x points when play is three-handed and 2x points in games playing out heads-up.
With Splash The Pot included, these are the rakeback rates for all Run It Once players:
Clubs: 40%+
Diamonds: 42.5%+
Hearts: 45%+
Spades: 50%+
Legends: 60%+
Legends Kick-Start
To celebrate the launch of the Legends program, Run It Once is running the Legends Kick-Start promotion from November 25 through December 8, 2019, where a 1.5x multiplier is being added to all points earned.
In addition to this, play between November 25th to December 1st, to receive the Four Week Streak bonus in a single week instead of the usual four that are required.
This means the following points are rewarded during the Legend Kick-Start.
| Reward Points | Description |
| --- | --- |
| 15 | First log in of the week |
| 25 | First hand of the day |
| 30 | Per EUR raked for 4-6 handed play |
| 45 | Per EUR raked for three-handed play |
| 60 | Per EUR rake for all heads-up play |
How to Play on Run It Once
Like what you have just read? Then why not give Run It Once a try?
Download Run It Once via PokerNews and receive a 100% match bonus on all your deposits during the first 30-days up to a combined €600.
This welcome bonus never expires so long as you play at least hand every 30-days.
Run It Up Poker is open to players residing in qualifying jurisdictions now. Check it out here!