How to Qualify For the partypoker MILLIONS Online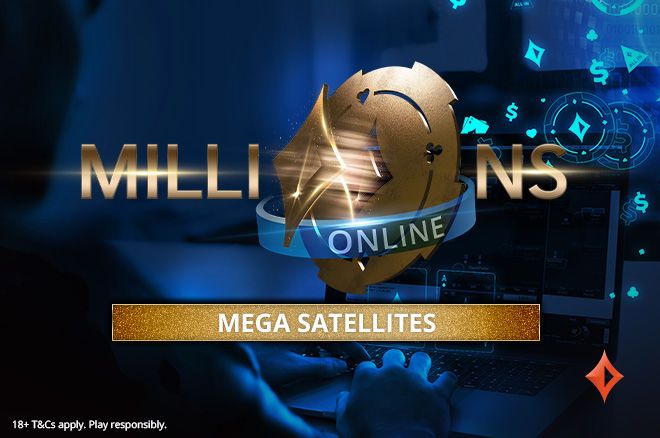 Partypoker's MILLIONS online event is back in December with the same $20,000,000 guaranteed prize pool that was introduced in 2018.
This year, the buy-in for the event went up to $10,300
All PokerNews players have the opportunity to qualify for just $1 via these special online satellites.
Everyone thought partypoker was crazy when, in 2018, it announced it was to double the guarantee of its MILLIONS Online event to $20 million.
"It can't be done," they bellowed from the rooftops. But it was done.
In fact it was more than done, because 4,367 entrants created a guarantee-busting $21,385,000 prize pool.
The MILLIONS Online runs again this December and, once again, it comes with the same supersized $20 million guarantee slapped on it.
The buy-in, however, has doubled to $10,300.
You may think this makes it twice as easy for the guarantee to be hit, but it actually makes it more difficult to achieve because there are far fewer players out there prepared to pony up $10,300 than they are $5,200.
We're not silly here at PokerNews, we know that the vast majority of our readers do not flick $10,300 into tournaments on a regular basis.
That's why we have compiled a comprehensive guide into how to qualify for the $20 million guaranteed MILLIONS Online.
Read it. Digest it. Then put it into action because the first cards are pitched at 9:30 p.m. CE on December 1st, meaning you do not have a lot of time left to win your $10,300 seat.
MILLIONS Online Phased Satellites
One option to win your way into the MILLIONS Online is via partypoker's Phased satellites.
What are the 'Phased Satellites'?
Think of Phased satellites as a multi-day tournament with several Day 1s and a final.
You can buy into these Phased satellites at any stage, but there is no direct buy-in into the weekly final. You must play your way into it.
The first Phased stage is the MILLIONS Online Sub Feeder Hyper that only cost $1.10.
These award tickets to the $11 buy-in MILLIONS Online Feeder Direct to Phase 1.
The MILLIONS Online Satellite Phase 1 cost $109 to enter, unless you win your way in from the $11 buy-in games, and see you battle it out for 27 four-minute levels or until only one player remains, whichever happens first.
Anyone with chips in front of them at the conclusion of Level 27 progresses to the MILLIONS Online Satellite Sunday Final.
The last of these finals takes place this Sunday, November 24th, and it has 20x $10,300 seats guaranteed to be won.
Pokernews-Exclusive Satellites
All PokerNews readers who created their partypoker account via our links and who have made a deposit of at least $20 can play in a special tournament with a $109 MILLIONS Online Satellite Phase 1 ticket guaranteed.
These PokerNews-exclusive tournaments only cost $1 to enter!
The events kick off at 9:00 p.m. CET every day until November 30th.
"Grishuha" won a $109 ticket on November 20th after outlasting only eight opponents.
These games could be your easiest route to a $109 ticket that you can then use to try qualify for this last 20x $10,300 seats guaranteed final.
$530 and $1,050 MILLIONS Online Satellites
partypoker has created dozens of MILLIONS Online Satellites with at least 10x $10,300 seats guaranteed that cost $530 to enter.
The first of these shuffles up and deals at 6:00 p.m. CET on November 24th and again at 8:00 p.m. CET and 10:00 p.m. CET.
This pattern is followed right through to November 30th, meaning 210 seats are guaranteed for Day 1A alone.
Another 21x $530 MILLIONS Online Satellites take place between December 1st and December 7th that feed into Day 1B. Expect the same for Day 1C.
Those of you feeling flush can also get involved in some MILLIONS Online Satellites that cost $1,050 to enter. These have between 10 and an incredible 50x $10,300 seats guaranteed.
Find these satellites under the MILLIONS Online filter in the partypoker Tourneys lobby.
Win Some Tournament Dollars
Tournament dollars were recently reintroduced at partypoker and they have gone down a storm.
Instead of awarding tickets to target tournaments like a traditional satellite, Tournament Dollars satellite pay out in T$ which can then be spent on any tournament in the partypoker lobby.
These satellites start at only $2.20 and increase all the way to $530.
The amount of T$ awarded range from T$10 up to T$5,000.
Tournament Dollars satellites run throughout the day every day and there are over $1 million of them guaranteed to be won each week.
Grab Your Welcome Bonus Today
Start your quest to win a MILLIONS Online seat today by helping yourself to a welcome bonus. Download partypoker via PokerNews, make your first-ever real money deposit, and enjoy up to $30 worth of SPINS tickets.
Deposit $10 to receive $10 worth of free play, made up of:
Day 1 = 1 x $5 SPINS ticket + 5 x $0.25 SPINS tickets
Day 2 = 5 x $0.25 SPINS tickets
Day 4 = 5 x $0.25 SPINS tickets
Day 6 = 5 x $0.25 SPINS tickets
Up your initial deposit to $20 and $30 worth of free play is yours, made up of:
Day 1 = 1x $5 SPINS ticket + 5 x $1 SPINS tickets
Day 2 = 1 x $5 SPINS tickes + 5x $1 SPINS tickets
Day 4 = 4 x $1 SPINS tickets
Day 5 = 2 x $3 SPINS tickets