Epic Prizes Await in the Unibet Poker Team Collector Promotion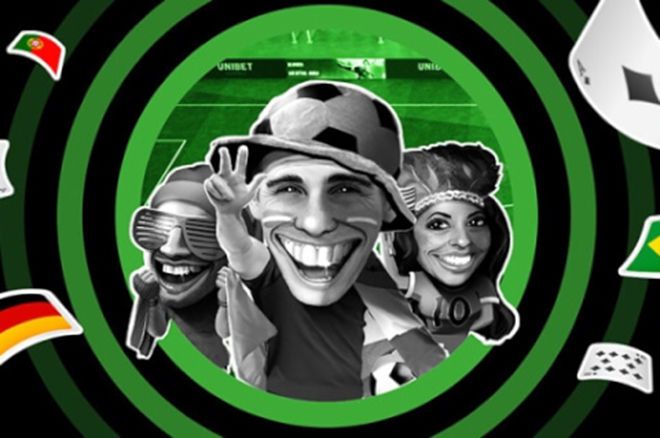 Unibet Poker is gripped by football fever and that is great news for you because there are more than €35,000 worth of prize waiting to be won in the €40,000 Team Collector promotion.
Team Collector revolves around the ongoing World Cup, but it is entirely poker-related. Unibet Poker invites you to collect each of the 32 teams competing at the World Cup by completing poker challenges. With such great prizes on offer, you would think that Unibet Poker would make the Team Collector difficult to complete, but nothing could be further from the truth.
Each time has a specific challenge assigned to it. For example, by creating a new identity, you collect host nation Qatar, and playing in two HexaPro tournaments with a 1.5x multiplier earns you Ecuador.
Other challenges include being deal pocket queens twice in a Hold'em game, playing in specific satellites, seeing a predetermined number of flops at the PLO tables, and other similar tasks.
Unibet Poker Celebrates Revamped MTT Schedule With €100K in Leaderboards
What Can You Win in the Team Collector promotion?
Completing each group is not only great fun but also comes with a prize. These prizes range from a €1 HeaxPro ticket through to entry to a €5,000 guaranteed Completed Team Collector tournament. It is worth mentioning that you must complete the groups in alphabetical order.
| Group | Prize for completing |
| --- | --- |
| A | €1 HexaPro ticket |
| B | €2 HexaPro ticket + 20 Cash Spins on Beast Mode |
| C | €1,000 Football Weekly Flip ticket + 30 Cash Spins on Beast Mode |
| D | €5 MTT ticket |
| E | €5 MTT ticket + €5 HexaPro ticket |
| F | €10 HexaPro ticket + 50 Cash Spins on Beast Mode |
| G | €25 MTT ticket |
| H | €5,000 Completed Team Collector Final |
In addition, you receive a Team Collector raffle ticket for each completed group, meaning you can earn up to eight raffle tickets. There is €30,000 worth of prizes in the raffle, and winning any of them will make your day.
Five lucky Unibet poker players will receive a Flexi Live Package, each worth €2,250. The Flexi Live Package is a package to a live poker tournament in 2023 for which Unibet Poker offers satellites. The package consists of the tournament buy-in, hotel, and spending money.
Earn €3,000 in Cash Thanks to Unibet Poker's Generous Loyalty System
€30,000 Raffle Prizes
| Place | Prize | Value |
| --- | --- | --- |
| 1-5 | Flexi Live Package | €2,250 |
| 6-10 | 100,000 Bonus Points | €1,000 |
| 11-15 | 75,000 Bonus Points | €750 |
| 16-25 | 50,000 Bonus Points | €500 |
| 26-35 | €250 MTT Bundle | €250 |
| 36-40 | €200 MTT Bundle | €200 |
| 41-50 | €150 MTT Bundle | €150 |
The promotion concludes on December 4, which should still give you enough time to complete all eight groups. Be aware that residents of Belgium, Denmark, and Sweden are not eligible for the Team Collector promotion, sorry, we don't make the rules.
Should you complete Group H and receive a €5,000 Team Collector Completion Final ticket, that particular tournament takes place on December 17 at 7:00 p.m. CET. The €30,000 raffle draw is hosted on the Unibet Poker Twitch channel from 6:00 p.m. CE on December 18.
Help Yourself to €20 Extra and a €500 Bonus
Now is the time to join the fun and games at Unibet Poker because signing up for a free account via PokerNews' links gives you an awesome welcome package.
If you don't have an account already, download Unibet Poker via PokerNews. Create your account, and make a deposit of at least €10. Doing so entitles you to €20 worth of tickets, plus entry into up to four €500 weekly welcome freerolls.
Your new Unibet Poker account comes with a €500 playthrough bonus. Play real money cash games, tournaments and HexaPro games and your bonus money releases into your playable account balance at the frequencies shown below:
| Level | Rake | Cash reward | Reward % |
| --- | --- | --- | --- |
| 1 | €2 | €1 | 50% |
| 2 | €10 | €4 | 40% |
| 3 | €50 | €15 | 30% |
| 4 | €150 | €40 | 27% |
| 5 | €588 | €140 | 25% |