The Bernard Lee Poker Show 11-09: 2013 WSOP Main Event Champ Ryan Riess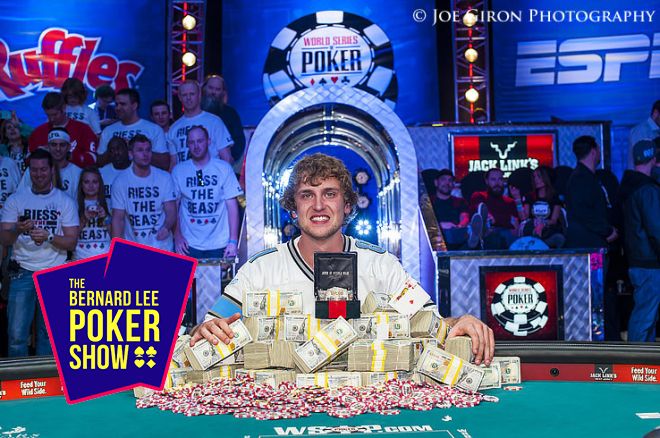 In this episode of The Bernard Lee Poker Show on the PokerNews Podcast Network, Bernard Lee relives an interview with Ryan Riess, the 2013 World Series of Poker WSOP Main Event champion. During the kickoff of The Bernard Lee Poker Show's 11th anniversary celebration back in May 2018, Bernard interviewed several special guests, including Ryan Riess. The duo reminisced about Ryan's fifth anniversary of his memorable WSOP Main Event victory over a field of 6,352 players. They also discussed his downswing after his victory and his recent success playing high roller events across the globe, including his wins at 2017 World Poker Tour Seminole Hard Rock Finale and the recent 2018 WSOP Europe Turbo High Roller Event this past week. Ryan also discusses why he truly enjoys playing in these high roller events and his desire to become the next triple crown winner.
Show Time Stamps
| | |
| --- | --- |
| 0:00 | Welcome to The Bernard Lee Poker Show as the show will interview 2013 WSOP main event champion, Ryan Riess. |
| 0:03 | Before beginning his interview with Ryan Riess, Bernard Lee discusses the poker news. While the WSOP Europe main event is underway, Bernard reviews the results of the recent preliminary events at WSOP Europe held at King's Casino in Rozvadoz, Czech Republic. |
| 2:07 | Bernard introduces Ryan Riess, 2013 WSOP main event, who recently won €10,000 turbo high roller event at WSOP Europe. |
| 3:07 | Ryan joins the show and discussing why he likes playing in high roller events. "It's an interesting mix of all the best players in the world and wealthy businessmen, who like to gamble." |
| 3:54 | Ryan describes WSOP Europe at King's Casino in Rozvadoz, Czech Republic. "The poker room and hotel are really nice. There's not much to do in this city other than to play poker…You really want to do your best because if you bust there is literally nothing else to do." |
| 4:28 | Ryan discusses his playing schedule for the upcoming months. |
| 5:19 | Ryan congratulates Bernard on winning his second WSOP Circuit Ring. |
| 5:35 | Bernard thanks everyone for their well wishes and congratulations on winning his second WSOP Circuit Ring at Harvey's Lake Tahoe in Nevada. Bernard quickly analyzes the tournament, which was a $400 no-limit hold'em event. |
| 9:22 | RunGood Gear Ad |
| 10:05 | Bernard once again welcome Ryan Riess to the show, reliving his interview that originally aired back in May 2018. |
| 12:16 | Ryan can't believe how fast five years has flown by since his WSOP main event victory. "It's pretty wild. It seems like it was a couple of months ago. It's awesome. It's cool to think back and look back at the last five years and I've come a long way, I feel." |
| 13:28 | Ryan remembers his 2013 WSOP summer prior to the main event. |
| 15:44 | Ryan discusses his brash comments prior to the 2013 WSOP main event final table and believing in yourself. "I might not have been that up front in my statements, but I truly feel that you really have to believe you can do it. I definitely was not the best player at the time and had some of the least experience at the final table…But I truly believed that I was going to win…And I think it is really important to believe in yourself, even if sometimes you sound crazy." |
| 17:15 | Ryan recalls his team of WSOP Circuit grinders including WSOP bracelet winners Loni Harwood, Phil Hui and Jonathan Taylor, who were on his rail during the 2013 WSOP main event final table. |
| 20:43 | Ryan discusses the target on his back being the WSOP main event champion and second guessing himself, which led to his post-WSOP main event hangover over the next couple of years after his victory. "Poker turned into a guessing game for me. Everyone plays differently against the 'good players'…Everyone has their own hidden agendas in their mind. They want to show them a bluff, take a picture and tweet it…It turns into a guessing game…It makes the game a lot harder." |
| 24:28 | Ryan explains why he currently likes to play in the high rollers events. "I love it. Everyone is just trying to play their best. The buy-ins are high and no one cares who their playing against." |
| 27:28 | Ryan describes the atmosphere of these high roller events. "Everyone is really friendly. In the beginning of the tournament, it's kind of like a home game. We have all played against each other…Everyone knows how the other people play… It's all the same people and you really build friendships with everyone." |
| 29:42 | Share My Pair Ad |
| 30:14 | Cabot Cheese/Creamery Ad |
| 30:44 | Bernard continues his interview with Ryan and asks him how he transitioned into playing primarily high roller events. "I played a few right after I won the main event, and I felt like I wasn't really good enough to be playing them. I was still making a lot of mistakes, being too aggressive. I didn't start playing them exclusively until 2017, after I won the tournament in Florida (WPT Seminole Hard Rock Finale)…I was practicing a lot online and I felt like I was getting better. And, the group of friends, I was talking to were all really good and I was seeing the game from a different perspective and doing different things that a lot of other people weren't doing." |
| 32:14 | Ryan discusses playing poker online including PokerStars' tournament series, SCOOP and WCOOP in Canada. |
| 33:15 | Ryan credits talking with Alex Foxen and Chance Kornuth for improving his game. "Talking with Alex Foxen was huge because almost nobody in the game plays a similar style to what he does. Chance (Kornuth) is similar in some ways because they are both really aggressive, but they're aggressive in completely different ways…But I just loved the way he (Alex) plays." |
| 36:06 | Ryan discusses how he was inspired to become better after playing online with fellow poker players. "When you see your friends winning, and you're not winning, then you say 'Okay, I need to be better. What do I do? How do I improve my game?' It's great to compare yourself to your friends and it lights a fire." |
| 37:32 | Ryan recalls travelling to various tournaments in 2013 and 2014 and realizes he wasn't focused on poker, but more about having fun. |
| 40:50 | Ryan likes being just one of the players in the high rollers events. "You look at everyone's lifetime earnings, there are times where I'm one of the least in lifetime earnings and I won the (WSOP) main event and no of those guys did…In the high roller tournaments, everyone is just an individual person. Everyone is just the same." |
| 43:07 | Ryan moved to Las Vegas after winning the 2013 WSOP main event. |
| 45:21 | Ryan discusses his 2018 WSOP schedule and his goals. "My goal right now is to show up on time. In the past, for all the $1k's and $1,500's, I would max late reg them. The summer is really brutal. I play almost everything even some of the mixed tournaments and all of the no-limit ones $100k or less." |
| 48:33 | Bernard and Ryan discuss playing in The Super High Roller Bowl ($300,000 buy-in) and The Big One for One Drop ($1,000,000 buy-in). |
| 50:25 | Ryan describes his excitement for the WSOP, especially the main event every summer. "I love the World Series of Poker, especially the main event. I can't sleep before and I get butterflies, I get super excited. It is the only tournament that I truly get super, super excited for." |
| 52:17 | Ryan would love to win another WSOP bracelet. "I definitely want another one." |
| 52:50 | Bernard asks Ryan if his goal is to become a triple crown winner, needing only to win an European Poker Tour (EPT) main event. "Oh definitely. That's the next thing on my radar. I play a lot of the EPT events and love them." |
Let us know what you think of the show - tweet about the podcast using #BernardLeePokerShow, and be sure to follow @BernardLeePoker on Twitter or Instagram.
You can follow Ryan Riess on Twitter @RyanRiess1.
The Bernard Lee Poker Show is now available on iTunes.
Don't forget to subscribe to the PokerNews podcast on iTunes here, or you can access their RSS feed here. The entire PokerNews Podcast family of podcasts is now available on audioBoom.
Everybody needs an account at one of these online poker rooms! They're the biggest, the best, and we get you the best poker bonuses. Check out our online poker section for details on all the online poker rooms around.