The Bernard Lee Poker Show 11-20: Aaron Johnson, 2018 HPT & MSPT POY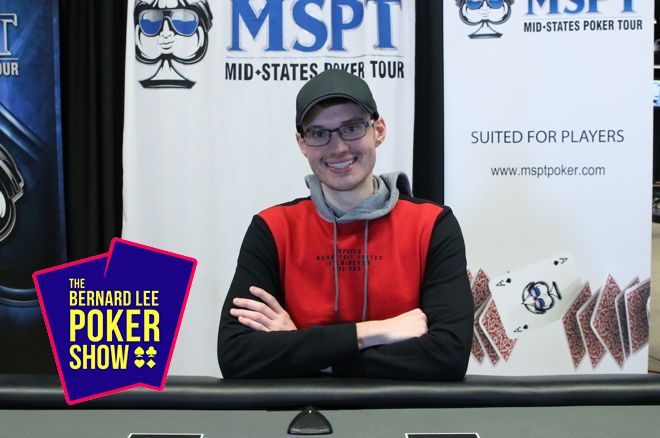 In this episode of The Bernard Lee Poker Show on the PokerNews Podcast Network, Bernard Lee interviews Aaron Johnson, who not only won the 2018 Heartland Poker Tour Player of the Year (POY), but also the Mid-Stakes Poker Tour POY. The 28-year old Minnesota native captured the unprecedented double POY for both mid-stakes poker tours in the same year. During this interview, Aaron discusses the road to each POY title and reveals his lofty goal for 2019.
Show Time Stamps
| | |
| --- | --- |
| 0:00 | Welcome to The Bernard Lee Poker Show as this week's guest will be 2018 Heartland Poker Tour and Mid-Stakes Poker Tour Player of the Year, Aaron Johnson. |
| 0:23 | Before his interview with Aaron, Bernard discusses the poker news of the week, headlined by Chino Rheem capturing the PokerStars Caribbean Adventure's $10,300 Main Event, earning over $1.5 million. The 38-year old California native bested a field of 865 players down in the Bahamas at the Atlantis Resort. |
| 1:12 | Bernard announces that Sonny Franco captured his fourth overall WSOP ring and his second WSOP Circuit Main Event title, taking home over $150,000. The record setting field of 544 entries was the largest in Marrakech history. |
| 2:21 | Bernard unfortunately reveals that long time poker pro and 2010 WSOP bracelet winner, Gavin Smith unexpectedly passed away at the age of 50. He had lifetime earnings of over $6.3 million. |
| 5:29 | RunGood Gear Ad |
| 6:12 | Bernard welcomes Aaron Johnson to the show. |
| 7:01 | Aaron joins the show. |
| 7:43 | Aaron explains what his goal is every year including 2018. "My goal basically every year is to at least make a run at the MSPT Player of the Year because that is my main tour and I play and lot of those events...But as the year got going and we were halfway through and all of a sudden, I was leading both (tours), it was surreal and then to actually close it out and finish them off was incredible." |
| 8:52 | Aaron describes how it felt to get his first major win on the HPT at Belterra Casino and Hotel in March of 2018. "So, to finally make a deep run in something like an HPT and win it was incredible. It felt amazing and it was nice to just get that monkey off my back." |
| 9:32 | Aaron explains the pressure he put on himself. "I put a ton of pressure on myself to win a mid-major…To win that event, it kind of just propelled me to all sorts of things in terms of momentum, confidence and just having one run like that can really spring you off and set good things in motion." |
| 11:41 | Aaron, being a Minnesota native, explains why the MSPT is his main tour. "Primarily location. It is basically an 8-hour drive or less for 90% of the stops I play." |
| 13:48 | Aaron describes what he thought when he was leading both tours POY leaderboard during the summer. "MSPT felt pretty good once I put up all those points…And once I made that deep run in HPT in May and I realized I took the Player of the Year lead in that one (HPT), then it was super surreal and I knew that I was going to have a really good chance at winning both." |
| 14:29 | Aaron describes how winning these two mid-stakes tours POY's was definitely the goal after WSOP during the summer. "After the summer, there was essentially a HPT or MSPT every weekend until November or December." |
| 17:50 | Aaron recalls the last HPT championship event where he had to finish in 8th place or better to capture the POY lead and a 4th place finish or better to lock it. He finished in 6th place but had a tough road to secure POY. "Going into the third day there were 15 of us left…Let's reduce variance as much as possible, let's try to make pots as much as possible, let's do everything in our power to not be all-in and not sacrificing our tournament completely." |
| 21:10 | Aaron explains once he took over the POY lead at the final table, he began to play poker normally, trying to win the event. However, Aaron had a sweat as Jim Kasputis could win POY if he won the HPT Championship Main Event. However, Jim Kasputis ended up finishing 3rd place to secure HPT POY for Aaron. |
| 24:18 | Aaron remembers focusing on playing normally and not too concerned about winning HPT POY on Day 1 as he knew he had to final table the event, which is unlikely in any tournament. He had almost written it off and knew he had to have a special run in this event. "It was super well-structured and I that's where I have my biggest advantage: good structured mid-tiered tournaments." |
| 25:54 | Aaron reveals that he was very disappointed losing a MSPT Main Event in South Dakota in August. "That one was extremely disappointing because I had an 11 to 1 chip lead at one-point heads-up and my opponent won two flip-ish all-ins which were kind of standard. And then, essentially, things went exactly the opposite of going my way." |
| 26:37 | Aaron recalls that there were two players that could have overtaken him at the last MSPT event: Blake Bohn (needed 7th place or better) and Kuo Vang (needed 5th or better). But they were both eliminated on Day 2 before Aaron for him to officially clinch MSPT POY. |
| 28:18 | Aaron discusses qualifying for the MSPT Hall of Fame. "It's a really cool accomplishment. Getting into the MSPT Hall of Fame was a goal of mine this year." |
| 29:26 | Share My Pair Ad |
| 29:58 | Cabot Cheese/Creamery Ad |
| 30:28 | Bernard continues his interview with the 2018 Heartland Poker Tour and Mid-Stakes Poker Tour Player of the Year, Aaron Johnson. |
| 31:21 | Aaron explains why he feels his does so well on these mid-stakes tours. "Quite a few things: 1) My fundaments and my baseline game are super strong; 2) I put in a ton of volume and playing them almost weekly; 3) High focus and intensity when I'm playing; 4) Constantly trying to get better and improve my game." |
| 32:28 | Aaron recalls he was a product of the Moneymaker Boom, playing with his friends and then transitioning to online poker. |
| 33:49 | Aaron describes why he officially turn pro. "I had a lot of success in my last semester in community college and that success gave me the bankroll and confidence." |
| 34:34 | Aaron discusses the support of his parents to become a poker pro. |
| 35:21 | Aaron explains what he did to get better at poker. "Increase my knowledge of the game…and constantly striving to make my game as strong as possible and learn from mistakes and just never being satisfied with where I was at." |
| 37:04 | Aaron recalls where he met Josh Reichard, 2018 HPT Championship winner and how Josh and his buddies have helped Aaron's game. |
| 39:10 | Aaron discusses the future and goals for 2019. "So the mid-tier tour is basically my bread and butter…I would like to go back-to-back in one of the tours." |
| 41:44 | Aaron describes his WSOP goals and schedule, which he has been going to since 2014, playing a full schedule in between the $1,000 and $3,000 range. "(winning a bracelet) It's definitely a top goal, but I also understand how tough it is and how few opportunities you have." |
| 44:29 | Aaron reveals one of his favorite MSPT stops. "The event that I got 2nd place last year in Deadwood (South Dakota) was possibly the best $1k event I've ever played. A super good mix of local players and some people who traveled in. And obviously, the location is super unique and historic." |
| 45:06 | Aaron reveals one of his favorite HPT stops. "Belterra is probably the best Heartland (Poker Tour) that I ever played in." |
| 45:50 | Bernard reveals his favorite HPT stop is in Black Hawk, Colorado at the Golden Gates Casino. |
Let us know what you think of the show - tweet about the podcast using #BernardLeePokerShow, and be sure to follow @BernardLeePoker on Twitter or Instagram.
You can follow Aaron Johnson on Twitter @AyeGeeJay.
The Bernard Lee Poker Show is now available on iTunes.