David "Chino" Rheem Wins 2019 PokerStars Caribbean Adventure Main Event ($1,567,100)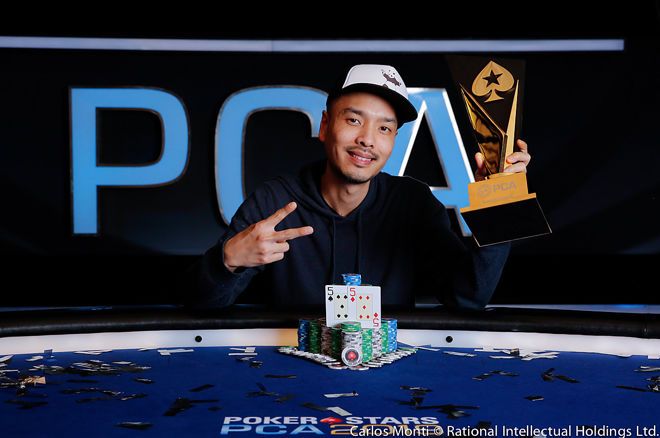 He eliminated them all one by one to add another seven-figure score to an already lustrous poker career, and is now the reigning PokerStars Caribbean Adventure Main Event champion. The Atlantis Resort in the Bahamas had one man stealing the spotlight today: David "Chino" Rheem. The 38-year old from Los Angeles, California conquered an 865-player strong field and scored the second biggest cash of his career collecting $1,567,100. The win also moved Rheem over the $10 million in lifetime winnings mark on Hendon Mob.
Runner-up was Daniel Strelitz, who was the last player to fall to the Rheem-onslaught. Strelitz received $951,480 for finishing second, nearly topping his WPT win from 2017. Scott Wellenbach's dream run ended in third place ($671,240). Before that, Pavel Veksler of the Ukraine finished fourth ($503,440), Vicent Bosca of Spain was fifth ($396,880) and Brian Altman finished in sixth place ($297,020).
"Things just went my way. Nature ran its course and obviously, it was fun."
"It's an honor," was the first thing Rheem said after winning the coveted tournament. "I'm very grateful to even have the opportunity to come here and play, and I'm blessed to be able to win it."
For those watching the final table, it was a treat. Each player at the table seemingly enjoyed themselves, engaging in banter. Rheem, as always, had the highest word and was perhaps the catalyst to get the others out of their shells. The American didn't want to highlight the banter too much afterwards.
"Things just went my way. Nature ran its course and obviously, it was fun."
Despite his checkered past, it's clear that Rheem knows his way around the poker table given his sheer endless list of poker accomplishments. But winning the PokerStars Caribbean Adventure Main Event, the fifth seven-figure ship of his career, is perhaps his most crowning achievement. When asked about the secret recipe behind his success, Rheem simply had two words to say.
"Be lucky."
Rheem also spoke some kind words about his rail, featuring Noah Boeken and Michael "The Grinder" Mizrachi, among others. "It's a special feeling. It feels good, it means a lot," Rheem said to PokerNews. "To be honest, it means a lot to me to do it for the people that were there for me. That's what means a lot."
"It's a really good feeling."
2019 PokerStars Caribbean Adventure Main Event Final Table Results
| Place | Winner | Country | Prize (in USD) |
| --- | --- | --- | --- |
| 1 | David "Chino" Rheem | United States | $1,567,100 |
| 2 | Daniel Strelitz | United States | $951,480 |
| 3 | Scott Wellenbach | Canada | $671,240 |
| 4 | Pavel Veksler | Ukraine | $503,440 |
| 5 | Vicent Bosca | Spain | $396,880 |
| 6 | Brian Altman | United States | $297,020 |
| 7 | Mihai Manole | Romania | $208,920 |
| 8 | Marc-Andre Ladouceur | Canada | $146,840 |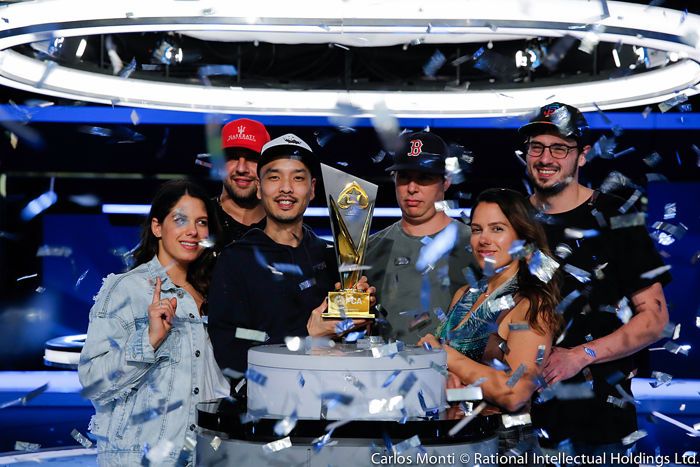 Scott Wellenbach Playing for Charity
While Rheem was the one to claim the spotlight at the end of the day, the story of the tournament belonged to Scott Wellenbach. Wellenbach, a 67-year old Buddhist text transcriber from Halifax, NS/Canada won his way to the event via a $500 online qualifier and vouched beforehand to donate all of his winnings to charity, no matter the outcome. Wellenbach played a strong tournament throughout, but the crowd favorite saw his Cinderella story come to an end two spots short of the victory.
"The poker gods were smiling, I'm sure."
"A real rollercoaster of emotions. Ups and downs and at the moment, I'm feeling a bit disappointed," a deflated Wellenbach said directly after busting out. "I did have some hopes for playing a little better.
"It's a bit of a bittersweet moment," he added.
Despite his disappointment, the Canadian was ecstatic about making nearly $700K for a good cause. "Going into the tournament, if you would've said: 'How's third place?' I would've said "unbelievably good." I'm sure in a few days, it'll sink in and I'll be happy with the outcome. At the moment though, I feel like I could've played better. Certain things didn't go my way as well. I gotta say I was extremely lucky I was getting certain cards in certain situations. So the fact that things went a little odd today, in no way balances the scale, I was very lucky, very fortunate.
"The poker gods were smiling, I'm sure."
You can watch the PokerNews interview with Wellenbach below:
2019 PCA Main Event Final Table Action
Yesterday, the first skirmishes at the final table promised a dynamic and interesting finish to the event, and the six remaining players followed up on that promise. At 1 p.m., they gathered to play down to a winner. It became a feast for the neutral poker fan, with raises, three-bets, the occasional shove and a lot of table banter keeping viewers entertained throughout. The six kept each other in balance for over 50 hands, with only Rheem distancing himself slightly from the pack.
That all changed when Strelitz was the first player to get called on an all-in shove. Holding pocket threes, Strelitz was up against Wellenbach's ace-jack. After the ace fell on the turn, the three came on the river to keep Strelitz' hopes alive. The very next hand, Altman raised up ace-three of diamonds, Rheem three-bet pocket queens from the blinds and Altman moved in. Rheem snapped him off and forced the accomplished U.S. pro on a trip to the payout desk after the queens held up. (6th - $297,020).
Things settled down after the slow burst and the five once again battled it out for more than 50 hands before the next player fell. It was Vicent Bosca, the high-stakes cash gamer from Xatia, Spain, who suffered a case of the "too many outs" syndrome. Bosca had raised with ace-jack of diamonds and flopped the nut flush draw and gutshot on a queen-ten-three flop. Rheem check-raised all in with five-three and Bosca called. The turn brought the ten, bumping Bosca's outs even further, but the river was a blank and he was gone in fifth ($396,880).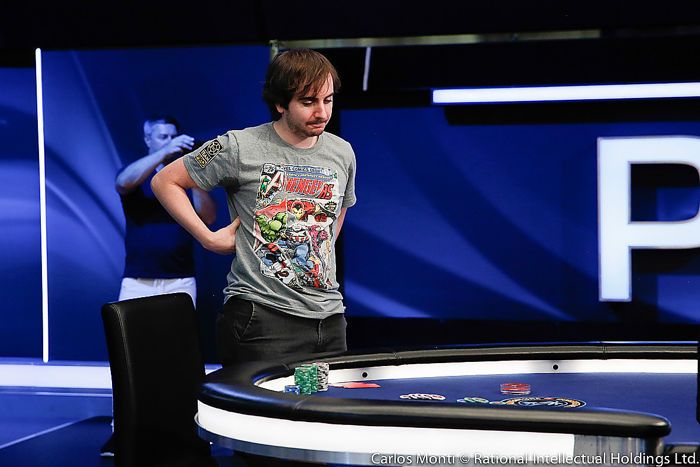 Rheem then turned on the thumbscrews and started three-betting a ton to put ICM pressure on his remaining three opponents. In the span of just under an hour, he finished off his remaining adversaries one by one. Veksler was the first to go after losing ace-queen against pocket sixes and became fourth for $503,440.
Shortly after, Wellenbach (3rd - $671,240) followed, losing king-queen to Rheem's ace-ten. Wellenbach flopped a king, but Rheem caught a runner-runner straight to get to the heads-up. Starting the heads-up match with a 5:1 lead, Rheem finished off Strelitz (2nd - $951,480) after just seven hands. In the final hand, Strelitz open-shoved a little over twenty bigs with ace-deuce of spades, and Rheem snap-called him with pocket fives. The board ran out clean to give Rheem his fifth knockout of the day and a deserved championship.
That's all for eleven days of PokerNews coverage from the PokerStars Players Championship and PokerStars Caribbean Adventure from the Atlantis Resort in the Bahama's. Until next time!
Want to read back about all of Rheem's hands and how eliminated each opponent? Relive the hand-for-hand coverage of the PCA Main Event final table in the PokerNews Live Reporting section.
The Stars Groups owns a majority shareholding in iBus Media.
A former professional poker player with a background in sports marketing and journalism. Yori has been a part of PokerNews since 2016 and manages the content team.