PokerNews Podcast 520: Shaun Deeb, Martin Kabrhel, David Peters, and Michael Haag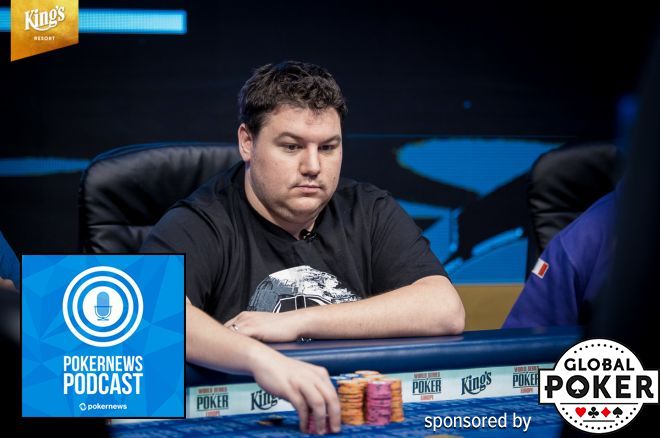 It's another episode of the PokerNews Podcast with Sarah Herring coming at you from World Series of Poker Europe at King's Casino. She chats with WSOP Player of the Year Shaun Deeb about his incredible year.
Plus, Martin Kabrhel takes down the Super High Roller, he tells Sarah what that win meant to him. Kabrhel beat David Peters heads-up. A disappointing result for the American, but it's still been a fantastic year for him. He and Sarah take some time to catch up.
[Removed:139] jumps into the mix to interview Michael Haag, who came to a woman's rescue at the Venetian. He tells the story of stopping a domestic violence situation from escalating.
This week's sponsor: Global Poker.
Show Time Stamps
| | |
| --- | --- |
| 0:30 | Intro: Sarah and Jeff can't figure out internet connection logistics, so Sarah will handle this first part solo from WSOPE! |
| 1:30 | Shaun Deeb wins World Series of Poker Player of the Year |
| 3:30 | Michael Addamo makes a late run in the POY race |
| 4:00 | Sarah chats with WSOP POY Shaun Deeb |
| 4:30 | His competition: "I won by default. I put up some good scores here...I think with me showing up, they knew they'd have to do a lot just to pass me, they just didn't bother coming...I'm convinced it was worth coming." |
| 5:00 | What POY means to him: "This is the most important leaderboard of live poker...it's really cool. It's part of my resume that I'll always have. You can never take it away." |
| 6:30 | Reflecting on the run: "It's crazy looking back on it. I won a lot of money and now I've got the banner to go with it." |
| 7:30 | What's next for Shaun Deeb? "Sleep." |
| 8:20 | What family life is like in the Deeb house |
| 9:25 | Playing video games: "I wanted to focus on streaming for Fortnite...we bet really big compared to what most people are used to seeing...we're not quiet guys, we're very entertaining. We put on a good show." |
| 10:50 | Sports betting: "I know I'd go broke doing it. I'm not that smart. I'm too degenerate." |
| 11:30 | The status of the family business |
| 12:30 | Martin Kabrhel Wins Event #9: €100,000 Super High Roller |
| 16:30 | Sarah's winner's interview with Martin Kabrhel |
| 20:00 | The run that David Peters has been on over the last couple years |
| 21:00 | David Peters chats with Sarah |
| 21:30 | His Poker Masters run: "Poker Masters went great. I got off to a hot start...it was a great experience, a great series, I had a lot of fun." |
| 21:50 | His win in the $100k: "It was definitely a battle three-handed. We had a lot of chips...playing against two great players, deep stacks...I was able to kinda have things fall my way a little bit, so it worked out." |
| 23:00 | The best players out there in the high roller scene |
| 23:40 | What he's working on right now: "I pride myself on being very well-rounded and working on all different stack depths." |
| 24:30 | The emotional swings: "There's always emotional highs and lows. It's definitely a very swingy lifestyle, constantly playing for massive amounts of money." |
| 25:30 | Advice to players trying to move up the ranks: "My advice would be it's not easy, it's not going to happen quickly...it can get very tough, don't get too cocky." |
| 26:50 | A WSOP Europe Main Event update |
| 28:00 | Ryan Riess says he needs to get better |
| 32:00 | Igor Kurganov Explains Bluff Against Fedor Holz in Super High Roller |
| 33:30 | Michael "The Grinder" Mizrachi Bests Joe Hachem in Heads-Up Showdown |
| 35:20 | Sponsor: globalpoker.com |
| 36:30 | Fifth Edition of $300K Super High Roller Bowl Switches to Dec. 2018 |
| 38:30 | Matt Stout and Jeff Gross Grab Trophies at Run It Up Reno |
| 40:00 | Poker Player Michael Haag Breaks Up Fight in the Venetian Poker Room |
| 41:20 | Jeff chats with Michael Haag about this incident |
| 41:40 | Haag tells the story of breaking up a domestic violence incident: "I just reached for him, I grabbed him. My first intention was to just grab him and restrain him so he can stop choking her...so I grab him, then I pull him in, I sink a rear naked choke on him to restrain him." |
| 44:30 | Why he had to put the attacker to sleep (using his jujitsu training): "I just wanted to end it real quick because he was so violent and aggressive...It's a good way to restrain somebody who is that aggressive." |
| 46:35 | Who else was there during the incident: "There was nobody there in the moment. When I grabbed him and took his back, there was nobody around." |
| 47:30 | Venetian security's reaction to what was happening, and their resolution to the matter |
| 48:10 | The attacker's reaction when he woke up from the rear naked choke-hold |
| 49:40 | Reflecting on what happened: "It's hard to really convey how intense and how surreal the moment was." |
| 50:50 | Haag's jujitsu background and how it helped him in this situation: "I felt calm, I felt confident, my heart didn't even speed up." |
| 54:30 | Never wanting to get into a fight: "I don't want to get in an altercation. It's dangerous, things can happen." |
| 55:20 | Praising the efforts of Venetian security |
| 56:00 | Looking back, does it surprise him he was so calm? "That really did surprise me to be honest...There wasn't one bit of a racing heart or any second thoughts in my head or anything." |
| 57:40 | Haag's poker background story: from prison to Vegas! |
| 1:01:20 | Is poker in prison similar to how it's portrayed in the movies? "While we were playing, not very often would there be issues...it wasn't like Rounders." |
| 1:03:00 | Next week: wrapping up WSOP Europe...then Sarah is off to the partypoker event in the Bahamas! Plus, Brian Frenzel will join us! |
| 1:05:10 | Sponsor: globalpoker.com |
Tell us who you want to hear from. Let us know what you think of the show - tweet about the podcast using #PNPod, and be sure to follow Sarah and Jeff on Twitter.
You can subscribe to the PokerNews Podcast on iTunes here, or you can access the RSS feed here. The PokerNews Podcast family of podcasts is now available on audioBoom. Leave us a review and we might read it on the air, or at least give you a shoutout.