Borgata Poker Room Details
The fabulous Borgata is an iconic hotel and casino in Atlantic City, New Jersey, and one of the top gambling destinations in the U.S. for over 40 years. At this luxurious high-rise resort, you'll find one of the top poker rooms not only in town, but in all of the Northeast and United States. MGM Resorts, based out of Las Vegas, owns the property, which boasts 52 card tables, most in Atlantic City.
Borgata offers a plethora of card games inside the always crowded casino, both cash games and tournaments. Many players outside of the area know of the poker room for hosting the Borgata Poker Open and Borgata Winter Poker Open. Both events appear as part of the famous World Poker Tour, one of the most prestigious poker tours in the world.
Cash games are also a big deal at the Borgata. Players from New Jersey, New York, and other nearby states in the Northeast flock to the casino to play low, mid, and high stakes poker. You'll find a wide mix of games, ranging from $1/$3 no-limit hold'em on up to $10/$25, and sometimes higher if the poker room has interest to spread a game. Numerous pot-limit Omaha, spread limit, limit, and mixed limit games are also available most days, especially on the weekends.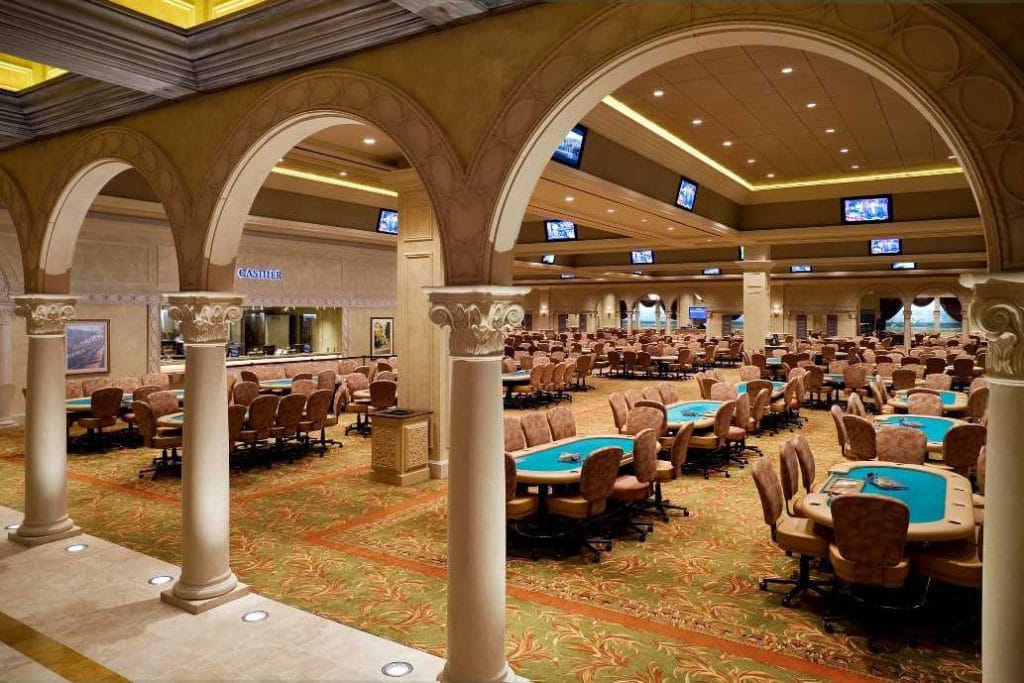 Room Summary:
| | |
| --- | --- |
| Number of tables: | 52 |
| Non smoking | Yes |
| Meal Comps | Yes |
| Poker Room Rate | Yes |
| Phone-in List | Yes |
| Automatic Shufflers | Yes |
| Massage Service | Yes |
| Cocktail Service | Yes |
| Food Service | Yes |
| Jackpot | Yes |
| Poker room manager | Joseph Garber |
| Phone | (609)317-1000 |
| Social Media | Twitter |
Cash Games Offered at the Borgata Poker Room
While Borgata has long been the top destination for tournament poker in the Northeast for quite some time, it's also among the best places to get some action in cash games. The 52-table poker palace features a plethora of games for players at all bankrolls, starting with the most common game spread — $1/$3 no-limit hold'em.
The $1/$3, $2/$5, and $5/$10 NLH games run daily, around the clock in this 24-hour poker room. You will also find some limit games running at just about any time of any day. That includes $3/$6 and even $20/$40 hold'em. As for the big Texas hold'em games, such as $10/$25 and $25/$50 and above NLH, you'll find those games mostly on the weekends or during peak hours. Borgata does an excellent job of getting any game going so long as there are enough players on the wait list ready to play.
Texas hold'em isn't the only poker variant spread at Borgata. In fact, you'll discover the card room has a plethora of options available for all types of poker players, starting with $2/$2 and $5/$5 pot-limit Omaha, both of which run often during the week. Stud games, which only run occasionally, range from $40/$80 to $75/$150. It's always best to call ahead for these games to ensure a game is running before driving to the casino.
Borgata has numerous mixed games, although they only typically run on the weekends, and some infrequently. The limits range from $40/$80 all the way up to $300/$600, but don't expect those games to be running all that often. They're most common during major tournaments at the casino.
Poker Tournaments at Borgata
Tournament poker reigns supreme at Borgata. The card rooms offers regular tournaments at low-stakes all the way up to major World Poker Tour-sponsored events.
Borgata spreads regular low to mid-stakes tournaments four days a week (Monday, Wednesday, Thursday, and Friday). On Monday, a $150 buy-in no-limit hold'em tournament at 11 a.m. takes place. The Wednesday schedule includes $230 buy-in NLH tournaments at 11 a.m. and 6 p.m. The stakes increase on Thursday with the $340 NLH at 11 a.m. and then a $225 NLH at 6 p.m. On Friday, there is typically a $400-$500 NLH event at 11 a.m. The tournament schedule changes month to month, so be sure to visit Borgata's poker room website for current events.
Beyond the daily tournaments, Borgata is the place to be in the Northeast for major poker events. That includes the World Poker Tour's annual (pre-COVID) Borgata Poker Open and Borgata Winter Poker Open, two events that have historically awarded more than $1 million in prize money. Those events, however, have been excluded from the WPT Main Tour schedule since COVID-19.
FAQs
Does Borgata have poker?

Yes.
Can I play poker at Borgata?

Anyone 21 and over can play poker at this fabulous casino.
How much does it cost to play poker at Borgata?

Buy-ins for poker games at Borgata range from $100 all the way up to five figures, depending on the game.
What cash games are in the Borgata poker room?

There are many games available, from low to high stakes, including no-limit Texas hold'em, limit Texas hold'em, limit Omaha, pot-limit Omaha, limit Omaha-8, limit and spread limit stud, and various mixed games.
What tournaments are in the Borgata poker room?

Daily no-limit Texas hold'em tournaments haven't returned since COVID-19, but stay tuned for updates from the poker room. Major events are regular at the Borgata, including the popular WPT Borgata Poker Open and the Borgata Winter Poker Open.
What is the rake in the Borgata poker room?
Is there free parking at Borgata Casino?

Yes
Is Borgata poker room the best for beginners?

Borgata is a great poker room for players of all levels, from beginners to seasoned pros.
What are the comps at Borgata?

Players earn MLife Express Comps while playing poker at Borgata, which can be used on food and drinks within the casino and other MGM Resorts properties.
What casino games are there at Borgata?

Borgata is more than just a poker room. The casino inside the resort features hundreds of slot machines, a sportsbook, and dozens of table games.
When is the Borgata poker room open?

The poker room at Borgata poker room never closes.