Alec Torelli's Poker Hands: How to Play a Flush Draw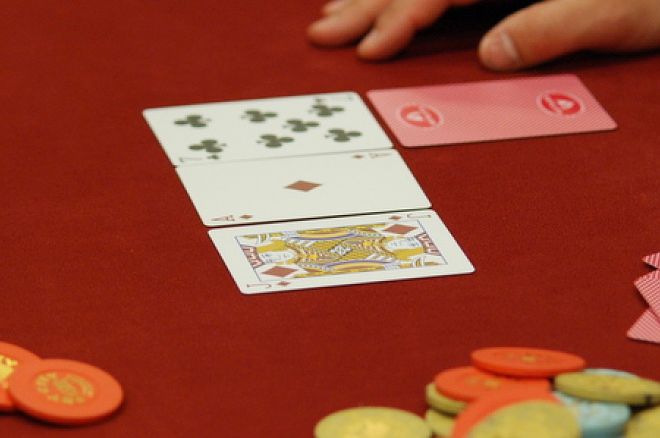 Tricky Poker Hands - How to Play a Flush Draw Correctly?
Alec Torelli is a poker professional originally from California, but travels the world full time with his wife, Ambra. Torelli has over $1.5 million in live tournament earnings (including two World Series of Poker final tables and two World Poker Tour final tables) as well as over $500,000 in online tournament earnings. Outside of poker he and his wife manage a million-dollar online business which travels the world with them.
In Torelli's "Hand of the Day" series he analyzes hands played by him and submitted to him by others. Today he considers one of the more tricky poker hands to play sent by reader playing in a deep-stacked, turbo event who flops a huge draw against multiple opponents.
* * * * *
Flush draws are tricky hands to play.
Math says to play them conservatively, as your chances of winning versus a made hand are roughly 35%. Strategy says to play them aggressively and push strong, since by raising, you give yourself two chances to win the pot — that is, if your opponents fold or if you draw out on them.
In today's "Hand of the Day" I take a very specific situation and point out some of the variables you need to consider when deciding how to play a flush draw.
Take a look at the discussion, and then afterwards I'll discuss proper strategy in more detail below, including raising some questions you should be ready to consider whenever faced with the problem of how to approach flush draws.
I don't want to overgeneralize the point I made in the video and claim that you should always flat-call with a flush draw. In fact, there are many times when being aggressive in such spots is absolutely warranted.
Here are those questions you should ponder when debating whether to raise or call on a flush draw:
Is your opponent likely to have a weak hand?
Can you successfully represent?
Do you have a lot of fold equity? (In other words is there a high probability that your opponent folds if you raise?)
Could I win the pot with less risk by just calling?
If you answered "yes" to the first three questions and said "no" to the fourth, then chances are it's a great time to play your draw aggressively. The more of these factors you have in your favor, the more beneficial it is to push with your draw.
Oh, and one more thing. When you do shove, be sure to hit!
See you next week.
~Alec
Want to be featured on future episodes of "Hand of the Day"? Simply submit your hands to Alec here.
Follow Alec Torelli on Twitter, Instagram, through Facebook, or via his popular blog.
Get all the latest PokerNews updates on your social media outlets. Follow us on Twitter and find us on both Facebook and Google+!