Alec Torelli's "Hand of the Day": I Went Broke with Pocket Aces!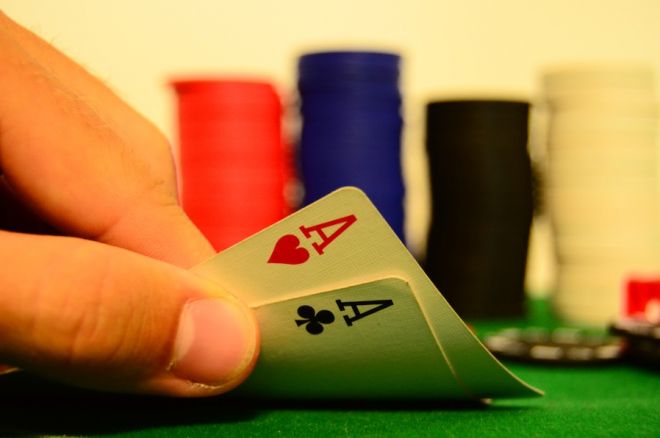 Alec Torelli is a poker professional originally from California, but travels the world full time with his wife, Ambra. Torelli has over $1.5 million in live tournament earnings (including two World Series of Poker final tables and two World Poker Tour final tables) as well as over $500,000 in online tournament earnings. Outside of poker he and his wife manage a million-dollar online business which travels the world with them.
In Torelli's "Hand of the Day" series he analyzes hands played by him and submitted to him by others. Today he considers a tricky hand sent by reader playing in a deep-stacked, turbo event who flops a huge draw against multiple opponents.
* * * * *
Big pairs are what you wait all night for. You're so patient in folding those junk hands that when you finally look down at two aces you feel entitled to win a big pot.
This subconscious logic — whether we're aware of it or not — often causes us to be overly aggressive in spots where we should exercise caution.
Today's hand is a prime example of the dangers involved in getting carried away with a big pair.
Check out the video first. There's more to follow on the other side.
Something I brought up at the very beginning of the video but forgot to reiterate later that deserves mentioning here is that Mikey had a really tight image and was up against a solid pro.
Those two factors make it way less likely for Mikey's opponent to be looking him up lightly, and much more likely for him to have a monster hand. In other words, that context gives even more credence to checking earlier on in the hand.
That being said, because I know playing big pairs are sticky to play, I created a quick checklist to follow when making decisions with them. Here are a few questions to ask yourself when determining whether or not you wish to play a big pot:
Is it likely my opponent has a worse hand?
Is it likely he will call me with this hand? (That is, because of my image, our history, and how I've played the hand, will he think I'm weak?)
Do I want to induce a raise by betting?
Can my hand withstand further action (a raise now or more bets on later streets)?
Is it important that I protect my hand now by betting?
If you answer "yes" to the majority of these questions, then chances are it's a good time to bet with your big pair. Otherwise, consider checking, both for pot control and to allow your opponent potentially to bluff you with a weaker hand.
Remember, by mixing strong hands into your checking range you make yourself tougher to play against and less predictable.
Do you struggle with creativity? What adjustments do you make to combat your opponents' tactics? Share your thoughts in a comment below.
~Alec
Photo: "Pocket Rockets - Pair of Aces," Poker Photos. Creative Commons Attribution 2.0 Generic.
Want to be featured on future episodes of "Hand of the Day"? Simply submit your hands to Alec here.
Follow Alec Torelli on Twitter, Instagram, through Facebook, or via his popular blog.
Get all the latest PokerNews updates on your social media outlets. Follow us on Twitter and find us on both Facebook and Google+!