Allen Kessler Looking Forward to Improved Structures, Added Events at 2015 WSOP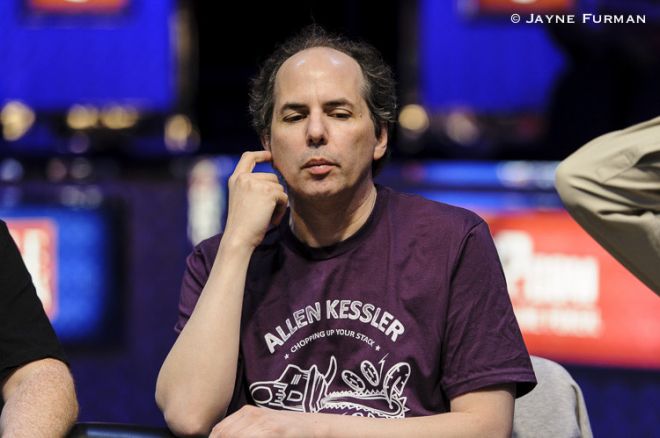 On his way to collecting nearly $3.2 million in career tournament earnings, Allen "Chainsaw" Kessler has earned quite a reputation as a tournament structure guru. So much so that tournament directors across the industry have become accustomed to dealing with his commentary regarding their tournaments in person and across social media on a regular basis.
Kessler has become a voice for players, demanding more chips, more play, extra levels, and more. Providing further evidence that his opinions on tournament structures are valued, the fledgling Mid-States Poker Tour went as far as to Kessler out for input and now advertises that its structures are "Chainsaw Approved."
From Kessler's perspective, understanding a tournament's structure is paramount strategy for any player.
"Players need to be aware of all things regarding any tournament," he told PokerNews, noting how there are certain questions every player should know the answers to when entering an event — "How many chips do we start with? How long are the levels? When are breaks and dinner breaks? When is restart? How many get paid?" Then, once the tournament begins, a clear understanding of the structure can be of further benefit to players, Kessler explained.
"Players need to keep track of their chip stacks, how people are playing in relation to others at their own table, and not worry about what's going on elsewhere," he continued. "They need to keep track of their chip count in terms of the blinds and know when the blind level will be increasing, trying to avoid falling below 15 blinds or so and being aware of who to bully at the table and who to avoid."
A veteran of the World Series of Poker, Kessler has 37 WSOP cashes on his résumé dating back to 2001 worth nearly $1.03 million. He's also made five different WSOP final tables, finishing runner-up on three different occasions.
The WSOP has made some changes to its structures for 2015, including increasing the starting stacks for all WSOP events with a buy-in under $10,000. Kessler says these changes are something every player can look forward to when the 2015 WSOP kicks off in a little over a month.
"The increase in chip stacks will benefit all players" he explained. "Recreational and amateur players won't feel as short-stacked during early levels, and pros will have more wiggle room to make plays and look for a good spot."
"Also the addition of two key levels — 250/500 and 2,500/5,000 — is something players have [requested] for quite some time. These new levels smooth out the structure much better. In the past, going from 200/400 to 300/600 with shallow stacks created an urgency that wasn't needed. Now there's an extra hour with a much smoother progression. This also occurs when you're in the money. The jump from 2,000/4,000 right to 3,000/6,000 was just too extreme that deep in these events."
Registration for most events will also be open later — another move that is also Chainsaw approved.
"Late registration will be a lot more desirable now" he said. "Someone can come in several hours late on a $1K event and still have over 25 blinds. In the past if you missed a few levels it wasn't as valuable to buy in with only 10-15 blinds."
Kessler applauds the WSOP for making all these changes.
"I really commend [WSOP Tournament Director] Jack Effel and the WSOP staff for listening to players" he said. "We've been asking for more play, more chips, and to fill in gaps of skipped levels. We said we didn't like the $10 million for first [in the Main Event] and would prefer a more even distribution of payouts. The WSOP came through on all fronts. Well done."
Personally, Kessler said he's looking forward to the return of the $1,500 Dealer's Choice (Event #52), the addition of a new $10,000 Dealer's Choice (Event #67), the return of the $3,000 H.O.R.S.E. (Event #35), and in particular the new $1,500 No-Limit Hold'em Extended Play (Event #42) he calls "a hidden gem with a nice starting stack, and even longer levels."
In fact, Kessler says the "Extended Play" event will provide even more play than the vaunted $1,500 NLHE Monster Stack (Event #28) that drew droves last years. The new $565 NLHE Colossus (Event #5) with a $5 million guarantee is also on his radar.
"The Colossus is a great value for pros as well as recreational players" he said. "A $500 buy-in with 5,000 starting stack, a good structure, and a chance at a first place prize of around $1 million. I'd suggest buying in all at once for as many flights as a player is budgeted for. By doing so, they'd avoid a long line to reenter, and also the possibility of being an alternate. [The WSOP] has offered refunds on unused flights to this event, so there's no reason not to plan ahead for the possibility of busting a given flight."
If there's one further change Kessler would like to see happen at the WSOP, it would be to the $10,000 buy-in Championship level events.
"I'd like to see the $10K championships start with 50,000-chip stacks but use the structure from last year" he explained. "The blind levels started slightly too high for such a big buy-in, and the extra chips would solve that, as well as make all the events more consistent in regard to chip stack versus buy-in. These are championship events — we don't need to bust players in a limit game on Level 1 or 2."
At this point, however, he's certainly looking forward to what the 2015 WSOP has to offer.
"WSOP structures and the recent changes are competitive with anything on the market" Kessler said. "The tournaments have to end in 3-4 days, and given that parameter there's not much more the WSOP can do to improve it further."
Want to stay atop all the latest in the poker world? If so, make sure to get PokerNews updates on your social media outlets. Follow us on Twitter and find us on both Facebook and Google+!