Maria Ho Approaching the World Series of Poker Like a Pro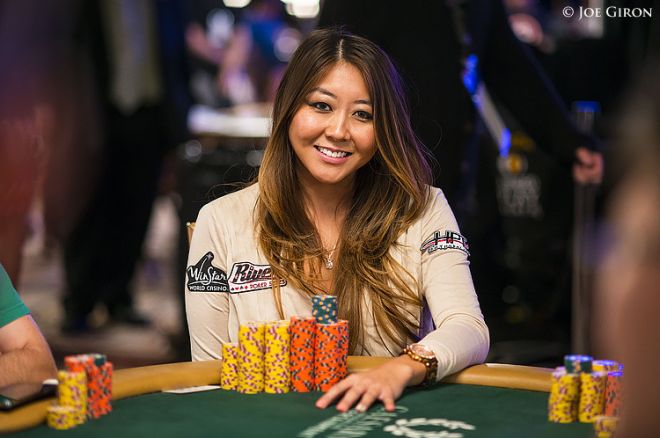 Year-in, year-out, Maria Ho approaches the World Series of Poker like a consummate professional — and she's got the résumé to prove it.
The general public may recognize Ho as a two-time "Last Woman Standing" in the WSOP Main Event, having earned that title with a 38th-place finish in 2007 and then again by finishing 77th in 2014. Or perhaps they know her from her appearance on the CBS show Amazing Race in 2009, as the current co-host and commentator on the Heartland Poker Tour, or for her position a Celebrity Spokesperson for the WinStar World Casino.
But it is perhaps her lengthy list of accomplishments at the WSOP that is most impressive of all.
Ho boasts an outstanding 30 cashes at the WSOP dating back to 2005 and an impressive $1,141,602 in total earnings. Her biggest WSOP cash to date came in 2011 when she fell just short of her first bracelet win, earning $540,020 for a second-place finish in a $5,000 no-limit hold'em event.
As Ho tells it, putting together an impressive record like hers starts with meticulous planning months in advance of the call to shuffle up and deal at the Rio All-Suite Hotel and Casino in Las Vegas.
"For the past five years that I have been playing a pretty full schedule at the WSOP, I have been very diligent about planning which tournaments I will be playing well ahead of time," she told PokerNews. "I categorize them into 'must-plays' and 'want-to-plays' because I've noticed that it in years past when I tried to play every single tournament that looked enticing, I would get burned out quickly and start playing poorly.
"Must-plays are self-explanatory. The want-to-plays are the tournaments I am willing to skip if I don't feel like I'm playing my best, or come the day of, I feel like I just need a day off," she said. "I also think it's beneficial to plan your schedule ahead of time to know how much you will be spending in buy-ins for bankroll considerations. Since I'm not staked, and never have been, I want to make sure that I am managing my bankroll properly because playing the series can get pretty expensive."
Planning to tackle a full schedule of events at the WSOP means staying in Las Vegas for at least six weeks. For the past five years Ho has stayed in furnished rental homes with friends and fellow poker players. She's done everything from the single roommate to a full house with five other people. This year she'll be staying in a high-rise condo just off the Strip on her own.
"I think when choosing accommodations, proximity to the Rio is obviously very important because I really like having the option to go home on dinner breaks and eat a home cooked meal or just be in my own thoughts instead of in a social setting at a noisy restaurant," she explained.
"I really like to stay focused during a tournament so I enjoy quiet dinner breaks to myself every now and then. I also strongly advise against staying at a casino. I did that one of my first years out at the WSOP and when you are spending pretty much all your time at the Rio it is nice to get out of that environment and not walk through a crowded casino every day just to get back to your room."
Ho maintains a year-round exercise regimen, but says approaching the WSOP like a true professional means ramping things up in the weeks and months before the series and throughout its duration.
"I find that exercising every morning before play starts really gives me that extra energy and stamina I need throughout the day," she said. "I also make sure to eat healthy and to eat food that helps me stay alert, not food that makes me feel lethargic and sluggish."
Once it's time to sit down and play poker, Ho says a real pro approaches the typically large-field WSOP events with a relatively simple strategy.
"My best advice would be to remember that it's a marathon not a sprint," she said. "I think a lot of times people get overwhelmed by how big the size of the field is and start playing a bit recklessly because they feel pressure to win all the chips right away. I've always found that a patient and ABC strategy in the early stages of big field tournaments has served me well and gotten me far."
All the big-field events at the WSOP mean luck and variance are bound to rear their ugly heads, but Ho says it's important to take it all in stride.
"Live MTT's have huge variance as it is and if you factor in these thousands-of-players fields then of course you have to run pretty well throughout in order to do well," she explained. "I have always said about my deep runs in the 2007 and 2014 Main Events that it wasn't so much that I needed to get lucky — as in get it in with the worst hand and win — as it is you need to get dealt more premium hands than average and have them hold up and not get unlucky at the hands of your opponent."
"I think the best way to deal with variance in general is just to remember that poker, whether it is tournaments or cash games, are all about the long-term results. You have to be willing to weather the variance storm if this is something you want to do for a living."
With the amount of poker Ho plays during the WSOP, burn out is a real danger. She recommends any player planning to tackle a full schedule and approach the WSOP like a pro should be willing to walk away sometimes.
"It's okay to give yourself a break," she said. "I think some people get caught up in chasing bracelets and WSOP fever, but if you are burned out and not playing your best then you aren't doing yourself any favors by forcing yourself to play on any given day."
"I used to struggle with giving myself permission to take days off, but after I started allowing myself to do that I noticed how reinvigorated I would feel at the tables the next day. You would be surprised at what a huge difference a day makes."
Ho adds that handling the WSOP schedule like a professional can be as much about avoiding the trappings of Sin City as just about anything else.
"I think some people get caught up in the Vegas lifestyle when they are out there during the WSOP," she said. "When you are surrounded by so many friends all of the time and factor in the 24/7 accessibility of things to do in Vegas, there's always the temptation to go out to a club when you should be in bed or to drink more than just one or two drinks because you are catching up with someone you haven't seen in a while."
"I know I have been guilty of partying the night before a big Day 3 of a tournament. Just remember it's all about balance. It's okay to go out and have a good time, but if you aren't feeling well rested the next day then don't go play anyway. And at the end of the day if you are a true pro then you should remind yourself why you came out to Vegas in the first place — to make the WSOP a profitable one. So pass up on that third drink or going to that club you've been to before in favor of getting a good night's rest so that you can be mentally prepared to play your best game at all times."
This year's WSOP gets going just over six weeks from now with the first events kicking off on Wednesday, May 27. For pros like Maria Ho, the preparation has already begun.
Get all the latest PokerNews updates on your social media outlets. Follow us on Twitter and find us on both Facebook and Google+!