Bankroll Builders, Vol. 9: WSOP Satellites, Part 1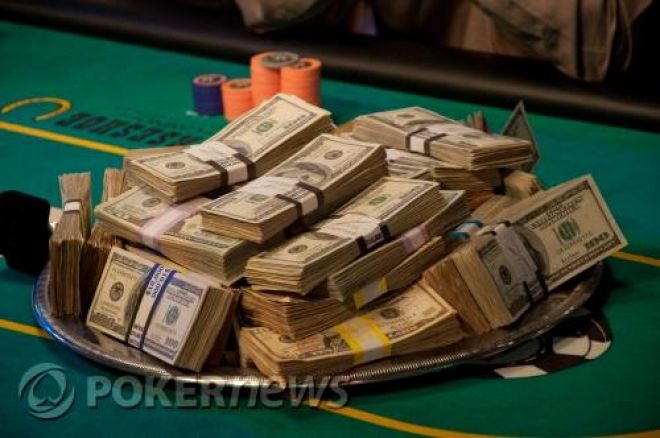 Let's remember how this whole thing started. Why I have a job writing articles like this one and why you are reading them. Why there is a row of colorful banners to your right, each of them offering an excellent cash bonus for signing up for an online poker account. Why last July, 6,494 souls — hardened professionals and wide-eyed rookies alike — put up $10,000 apiece for a simultaneous shot at a vast fortune and a piece of poker history. It all started with a 28-year-old guy named Chris Moneymaker, who parlayed a $39 investment into $2.5 million, global fame, and a far different lifestyle than the one he was living in the hills of Tennessee.
Is it really too cliché to say that you could be the next Moneymaker? It sounds like a line straight out of a PokerStars commercial, and maybe it is. But is the idea really so far-fetched? A Connecticut lawyer, an Aussie chiropractor, a former Hollywood agent, a Southern California family man, a Danish rounder, and a college student from Michigan have all won the World Series of Poker Main Event since Moneymaker's victory threw the doors open to online satellites for poker's "Big Dance."
There are more routes to a Main Event seat than ever this year and in this edition of Bankroll Builders, we're throwing open our atlas and sharing a few choice shortcuts. Even if you have only $100 to spend on winning your seat, there are still plenty of ways to get there.
Where can I find online WSOP satellites?
Most of the major U.S.-facing sites have already started running satellites. Full Tilt Poker has by far the largest variety of low buy-in options, although Cake Poker, PokerStars and UB are also running "Step" systems that start as low as $1.
How much do I need?
If you're taking a sit-n-go or "Steps" route, you will need 30-50 buy-ins for the first level you plan on playing. If you have $100, go with something like Full Tilt's $3.30 "Step 1" sit-n-goes. With $200 you could try PokerStars' Step 1 tournaments at $7.50 apiece. With anything less than $100, start at the $1 level.
Here's the good news about step satellites. They pay a huge percentage of the field, meaning that you're likely to get at least something back for your troubles. A two-table Step 2 tournament on Full Tilt pays eight places — five move on to Step 3, one retries Step 2, and the other two earn Step 1 tickets. A nine-handed $25 + $1 Step 3 Super Turbo pays eight places — two move on to Step 4, two retry Step 3, two are knocked down to Step 2 and two go back to Step 1.
If I win a seat, can I keep the money instead of playing the Main Event?
Absolutely. And since you're reading an article called "Bankroll Builders," you might want to consider it. Upon winning a WSOP package, the "travel" part of the award (usually $2,000-$2,500) is immediately credited to your online poker account, while the $10,000 buy-in follows a few weeks later. You are free to do whatever you want with that money — cash it out, wire it to the Rio, use it to play FTOPS events, pay off your MasterCard, anything your heart desires. Some savvy players take that $10,000 to the WSOP, but instead of spending it all on the Main Event, they'll spread their risk over several tournaments. That $10,000 could by you in to three $1,000 NLHE events, one $2,000 NLHE event, ten $225 single-table satellites and five $545 Venetian Deepstack events.
I can only come to Vegas for one weekend and I want to play one of those $1,500 NLHE donkaments, are there online satellites for these events?
There sure are. Only thing is, there are far fewer of them running than there are for the Main Event. Your best bets for preliminary event satellites are on Cake Poker, where they are running step satellites culminating in a $2,500 package, and on Full Tilt Poker, where they run thrice-daily MTT satellites for $2,000 "Bracelet Race" packages.
In Part 2, we'll delve into some basic strategy and offer up some insider tips on how to find the softest satellites. Stay tuned.
Dreaming of a seat at the Big Dance? Open up an account at one of our online poker rooms and get on the grind.