Use Caution or Exert Pressure? Flopping Middle Pair in a Three-Bet Pot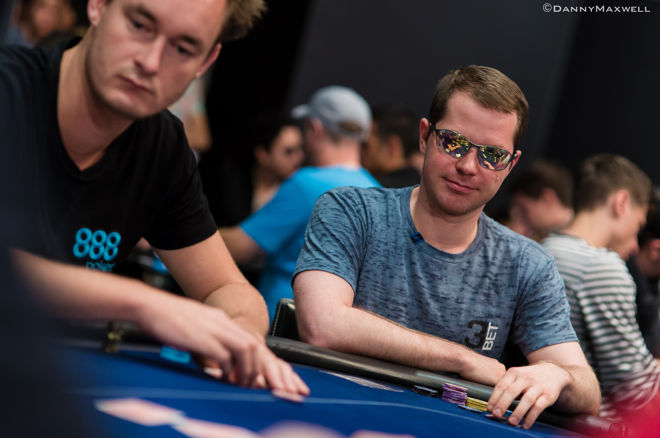 Today we have a fun hand from the $10,000 buy-in World Poker Tour L.A. Poker Classic Main Event at the Commerce Casino.
The tournament was not a re-entry — that is to say, it was a standard "freezeout" which has actually become less common these days. That's relevant to point out, as this hand comes early and in freezeouts I tend to be a little more aggressive during the first levels if I think my opponents are leaning toward not wanting to go broke.
The blinds were 50/100, and it folded to a loose-aggressive player in the cutoff who had about 28,000 to start and raised to 300. I had 30,000 and was dealt
on the button, and I chose three-bet to 900. My opponent called, the flop came
(giving me middle pair) and my opponent checked.
As I explain in the video below, a few years ago everyone would automatically continuation bet in this situation, and usually for about two-thirds of the pot. But I talk about how either betting smaller (i.e., one-third pot) or checking are good options here, too.
I ended up checking behind, then the turn brought the
— not a great card for me — and my opponent checked once more. I decided to remain cautious and check again. That might seem weak to some, but with marginal hands like this you want to play small pots.
The river was the
and my opponent checked a third time. Is there any merit in value betting here? Take a look to see what I did and what happened, as well as to hear my explanation of my thought process postflop.
In the end, this is an example of a hand in which I flopped middle pair in a three-bet pot and played it more or less as you might expect a middle-pair hand to be played. When you have a hand with a marginal amount of showdown value, you should usually try to get to the showdown. Nothing fancy here!
Jonathan Little is a professional poker player and author with over $6,400,000 in live tournament earnings. He writes a weekly educational blog and hosts a podcast at JonathanLittlePoker.com. You can follow him on Twitter @JonathanLittle.
Finding a trustworthy room to play online poker can be a monumental burden. That's all the more true if you're just looking for a place to play poker for free. We've listed five of the best play-money poker sites to enjoy and help hone your skills.