Strategy with Kristy: David Randall Discusses Hands from WSOP-C Rincon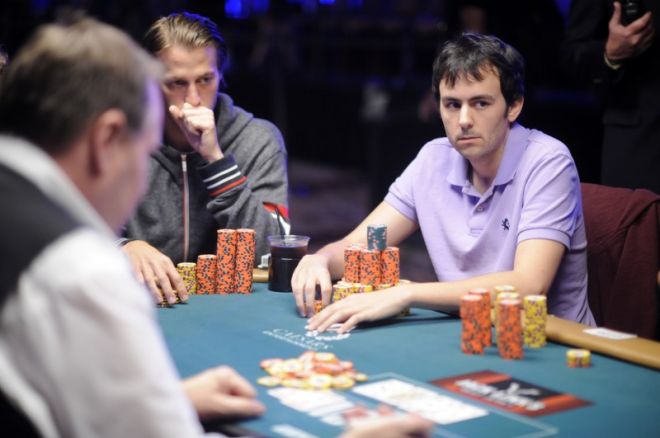 David Randall made his second appearance on the Strategy with Kristy Podcast this week. After finishing third in a $1,125 buy-in no-limit hold'em World Series of Poker Circuit Harrah's Rincon prelim event and then eighth in the $1,675 Main Event, Randall's live tournament winnings are nearly $500,000. That, coupled with his online tournament winnings of more than twice that, make him a player to look out for in the upcoming year.
During the interview, host Kristy Arnett and Randall discussed two interesting hands he played on the recent trip. The first came in the first orbit of the WSOP-C Harrah's Rincon prelim event. With blinds at 25/50 and starting stacks of 15,000, Randall raised from early position with the
to 150. The player to his left made, and the player on the button called. Action went three ways to the flop, which brought the
.
Here is a snippet from the interview:
"It's an interesting hand because these spots don't come around that often, obviously. I feel like, a lot of times, in situations like this, people kind of lose their mind a little bit. They just freak out because they flopped a straight flush and just try to shovel in as many chips as they can. I think that it's important to maintain your cool and really try to assess what your opponents' ranges are and how they are going to react as the hand continues. So, I think it's important to talk about what line you can take that really gives you the maximum amount of information as to what your opponents are going to do — that will give you the best opportunity to stack them. You need to take a deep breath and maintain your timing similar to other hands you've played.
"So, I wanted to break down how this hand played out. I flop a straight flush, and then the action is on me because my two opponents have position on me. I think, obviously, a lot of people would bet in this spot. I think that betting is very defendable, but what I decided to do was check. I wanted to see how they reacted behind me when I checked on such a wet board. If one of them has a piece of the flop, they are certainly going to fire. If it's a vulnerable piece like a set or top two pair, they are going to want to bet to try to protect it. Or, maybe someone flopped a flush or a straight. I'm also giving someone the opportunity to bluff off or barrel just the naked ace of diamonds. I wanted to see what I was dealing with, basically, and I could react accordingly. If I just bet and they call, I don't really have a feel for what's going on because they can do that with a very wide range."
Tune in every week for new episodes of Strategy with Kristy. Feel free to send in questions, ideas or suggestions for the podcast to kristy@pokernews.com. Also remember to follow Kristy Arnett and PokerNews on Twitter for up-to-the-minute news.