From the Gridiron to the Green Felt: NFL Great Richard Seymour's Poker Advice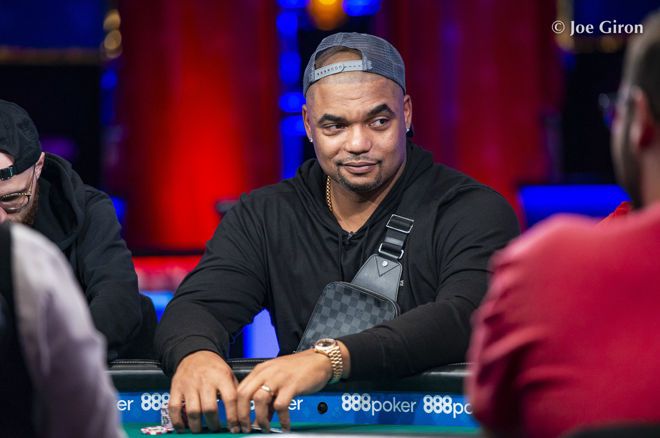 Football season is finally here. Of course, poker fans already spent some time this summer watching an NFL superstar in action on ESPN when former defensive lineman Richard Seymour made a deep run to Day 5 of the 2019 World Series of Poker Main Event. Seymour ultimately finished 131st out of 8,569 for a $59,295 payday, spending a lot of time on the feature table along the way.
That was Seymour's second-largest career cash following his big $376,360 score in the $25K High Roller at the 2018 PokerStars Caribbean Adventure.
As the 2019 NFL season kicks off, we turn to the three-time Super Bowl champion and seven-time NFL All-Pro to ask him about how some of the lessons he learned during his professional football career have helped him when competing at the poker tables.
PokerNews: Congratulations on your deep run in the WSOP Main Event.
Richard Seymour: Thanks, Bernard. It was an incredible experience. I was very happy to make it so deep in the WSOP Main Event, which I consider the Super Bowl of Poker.
How did you get started playing poker?
Growing up, I played with my dad, who really enjoyed the game. I had some uncles and we'd all just sit around while we watched football and play poker. We would just really have a good time. I was always intrigued by the game. Although I really didn't know a whole lot at first, I just enjoyed playing the game. I just thought it was great camaraderie. That's really where the essence and the love for me of poker came in.
During your 12-year NFL career, did you play much poker with your teammates?
After we played our game on Sunday, we would play poker a lot of times on Monday nights. We would get together, kick back and watch Monday Night Football and order a bunch of food. It was a great place to kick back with your buddies and play something competitive. But it wasn't high stakes — it was really about the enjoyment of the game. I didn't want a teammate having animosity because they lost a lot of money.
What are some traits learned playing professional football that might help amateurs improve their poker games?
I believe that you have to be poised in all situations. In football, anything can be thrown at you, like a double-team. In poker, there are so many situations and so many decisions that you have to make. Some hands go well for you, while others can go very poorly.
You also have to avoid becoming tilted. You forget about any mistakes you made or bad beats you have taken and put them behind yourself as quickly as possible. Many players take a bad beat, go on tilt and often lose the remainder of these chips. You need to treat every moment as its own.
floor... "auto seat change if 2 main event champs are at your table" it's a rule @RyanRiess1 @Martin_Jacobson… https://t.co/KkI1S8Jrcn

— Richard Seymour (@BigSey93)
Any other advice for amateurs looking to improve?
I can say you need to be very observant, especially when you are not in the hand. I like to watch my opponents to see what they like to do or how they react. Too many players today just stick their head down, staring at their phone.
Also, try to gather a group of talented poker minds to bounce ideas off of and review hand histories. These players can not only answer your questions, but also discuss the specific situation, thereby helping improve your game.
How do you determine what tournaments you play?
After I look through the event schedule, I will pick out a few events that have good value and a nice prize pool. I also take the location into consideration. A couple of series with tournaments that fit all of these criteria are EPT Barcelona and the Pokerstars Caribbean Adventure.
What is your one dream goal in poker?
Taking down a major event, like a WSOP tournament, is high on my bucket list.
What does the future hold for you in poker? Do you want to turn pro?
At the end of the day, you always want to do something that is fun. Football was fun for me and [now] poker is fun. I still look at it as a great hobby. My wife and I have five kids and they are all heavily involved in sports.
So traveling to poker tournaments is my competitive outlet. It keeps me mentally engaged and keeps me wanting to compete at a high level. I enter a lot of tournaments where I play against some of the best players in the world. This is what gets my competitive juices going. I just really enjoy playing poker as it is a really fascinating game.