Getting Value: Poker Strategy with Matt Berkey and Andrew Brokos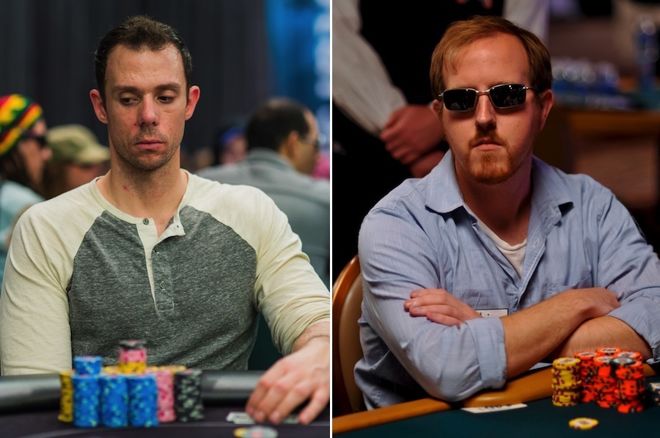 It's not often you get free top-level strategy from some of poker's finest thinkers, but poker pros Matt Berkey and Andrew Brokos have offered just that with an hour's worth of analyses covering hands played by each.
In the video below, Berkey and Brokos start out by going over a couple of $100/$200/$400 NL cash game hands played by Berkey not too long ago on Poker Night in America. These hands earned a lot of interesting commentary from others — both on the PNIA stream and afterwards.
In the first hand discussed (starting a little after the 9-minute mark), Berkey calls a raise from the blinds with pocket eights and in a three-way situation involving Bill Perkins manages to flop a set. Berkey gets big value, doubling through Perkins after getting all in on the turn.
The second hand (starting at the 17-minute mark) is another three-way hand involving Perkins, Berkey and Chance Kornuth. In this one Perkins raises from the cutoff, Berkey calls from the small blind with
, then Kornuth three-bets big from the big blind. Perkins gets out of the way and Berkey calls.
Berkey then flops a flush draw (on a paired board) and check-raises Kornuth, a decision and strategy Berkey and Brokos discuss at length. After missing on the turn Berkey checks and watches Kornuth bet again — prompting another interesting discussion — and after Berkey calls he hits his flush on the river, shoves, and gets a crying call from Kornuth with
. More retrospective analysis follows, offering viewers much to consider.
The analyses are fascinating, highlighting a number of no-limit hold'em concepts including value betting, position, playing drawing hands and semi-bluffing, floating (and combating floating), bet sizing and — perhaps most importantly — understanding your opponents' styles and tendencies.
From there (at about the 44-minute mark), the pair turn to talk about Brokos's play of several $1/$2 Zoom hands on PokerStars featuring his experiments with overbetting strong holdings (sets and flushes).
The pair's discussions again highlight value betting and range reading, while also sharing other strategies for fast-fold games.
Fans of the Thinking Poker Podcast and of clear, useful strategy discussion will enjoy and get a lot out of this. Take a look:
For more from Berkey, check out his website Solve for Why, and also visit Brokos at Thinking Poker for more strategy articles and the Thinking Poker Podcast.
Brokos also serves as a board member and volunteer for the Bay Area Urban Debate League, a non-profit organization that helps improve the lives of hundreds of kids from disadvantaged backgrounds. Those who enjoy the video are invited to donate to the Bay Area Urban Debate League and help students learn critical reading, writing and argumentation skills.