Hand Review: An Overbet Bluff at the EPT Prague Main Event Final Table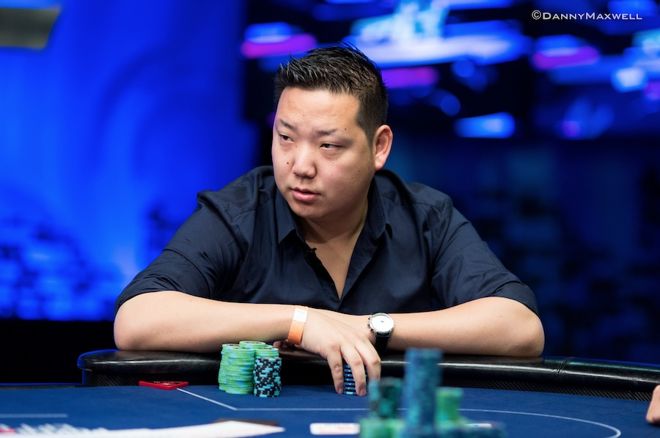 Covering live poker tournaments for a living affords me the opportunity to see countless thousands of hands played out, many of which offer interesting and potentially valuable insights into how players — both amateurs and professionals — play the game. In this ongoing series, I'll highlight hands I've seen at the tournaments I've covered and see if we can glean anything useful from them.
The Scene
It's the final stages of the final European Poker Tour Main Event at EPT Prague. Just three players remain in contention for the last EPT crown and a first-place prize worth over €700,000 — David Peters, Jasper Meijer, and Marton Czuczor.
By the time this hand took place Meijer had raced ahead of his rivals and had about half of the chips in play. After having been mostly on the tighter side previously he was just starting to switch gears, using his big stack with some more aggressive play. Still, stacks were quite deep all around with everyone over 50 big blinds at 80,000/160,000/20,000.
The Action
In this hand, Peters folded from the button and Meijer completed the blind with
. Czuczor held
and checked.
The flop came
and Meijer led out with 180,000. Czuczor called, and the turn was an
. Meijer van Putten put in another 480,000 and Czuczor called once more. The
then fell on the river.
With the pot at 1.7 million and a board of
out, Meijer bet 3,075,000. Czuczor gave it a lot of consideration. After a few minutes, he released his cards, and Meijer showed the bluff.
"I almost called, nice hand," Czuczor said.
Concept and Analysis
Meijer completed with a rather weak hand here, one that in most cases would be pretty dicey. It's going to be tough to win the pot out of position with a weak hand against good players, and jack-six isn't going to do much in most situations.
However, with a nice chip lead, Meijer — who earlier at the final table had let go of some strong holdings like king-jack in early position — was likely looking to open up his range and put added pressure on his opponents.
Czuczor sensibly checked his mediocre hand and watched a pleasant flop come that gave him top pair. However, facing a little over half-pot leading bet from Meijer, Czuczor decided to just call.
The action went the same way against a bigger bet on a scary turn that completed two draws and brought an overcard. It's far too early for Czuczor to release a pair of queens, especially given the bullets Meijer has been firing since he grabbed the chip lead.
After fifth street the final board was
with a pot of 1.7 million having developed and the players having 7 million effectively behind with Meijer covering. That's when Meijer decided to fire in a big overbet of nearly twice the pot.
Meijer's line is a very interesting one. Based on Czuczor's calls, what does it look like he has? Probably a pair of queens. Meijer knows he's probably up against a medium-strength one-pair hand, and this line is designed to get folds out of these hands.
Czuczor, for his part, knows he has played his hand face-up. Therefore, he has to be suspicious of this bet.
Most likely, Czuczor isn't up against the nuts. As aggressively as Meijer has been playing he'd probably have raised a suited king blind versus blind. King-jack makes some sense as a value hand, but would again have been raised pre. In other words, this big bet is probably polarized to bluffs and smaller flushes. Meijer would probably complete most suited combos here, so there's definitely a decent amount of value hands to consider.
Ultimately, Czuczor decided to fold, showcasing the power of the bet-bet-overbet line Meijer used here. It's a crucial weapon because of how the game has evolved to where so many players look to play their equity and get to showdown with medium-strength hands.
Using two smaller bets on the flop and turn builds the pot so that there's money in the middle to win with a bigger bet on the river. Players know opponents will typically call down with most one-pair hands, so setting up a big river bluff puts them to a hugely difficult decision. Most players are going to be very hesitant to call off a huge portion of their chips in these spots as they'll feel silly if they're shown a flush.
Meijer's line got max value out of a bluff. It's a critical tool to use every now and then against players looking to play pot control and get to showdowns.
Everybody needs an account at one of these online poker rooms! They're the biggest, the best, and we get you the best poker bonuses. Check out our online poker section for details on all the online poker rooms around.