How to Approach Your First Live Poker Tournament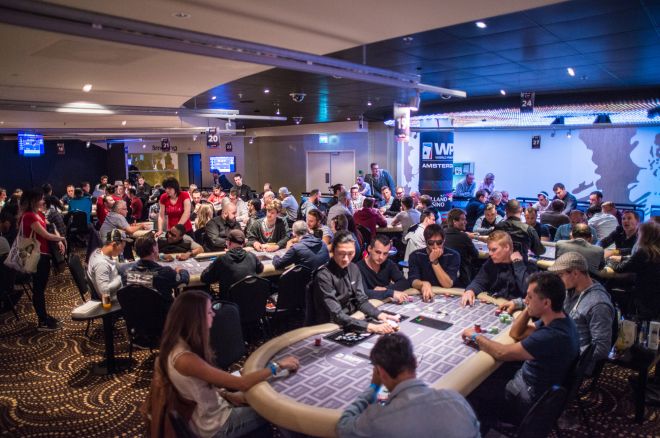 My first live poker tournament was a £20 + £5 one at a local casino. I don't recall how it went, only that I felt super out of my depth and bullied around by the regulars.
However, do not fear! If you've decided to play your first live poker tournament, then congratulations! You have evolved from being a dirty basement kid to a brick-and-mortar casino-goer.
There are many things you need to take into account when you approach your first live poker tournament, and there are many mistakes that you can rectify long before you've played your first hand or even walked through the casino doors.
Here are a few steps to follow to help make that first tournament experience a positive one.
Pick your first poker tournament
Unless you are a multi-millionaire businessman, your first live poker tournament is not going to be the World Series of Poker Main Event. Chances are it will be either a weekly tournament at your local casino such as I tried or a lower buy-in event on a regional tour. To make the most of your first tournament, you need to pay attention to a couple of things.
First to consider, picking the right size buy-in. Aim too high and you are at risk of poor bankroll management as well as nerves over how much money you have paid to enter. Aim too low and you are far less likely to take it seriously or put as much thought into your decisions. You have to gauge your ability and your bankroll to be able to choose the right tournament to play.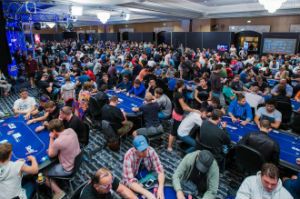 Secondly, you'll also want to be aware of the prospect of rebuys. If a tournament allows rebuys, then you need to factor that in when you choose the buy-in. Always be prepared to rebuy at least once — that way, it's there when you need it. And when you don't need it, it's just an added bonus!
Lastly, are there any special things about this tournament in particular? Casinos are running all sorts of tournaments these days, from bounty and shootout tournaments to short-handed and satellites. Make sure you read up on the specifics about a certain tournament before you decide to enter it, just to be sure!
Don't be over-awed
Remember, regardless of where you learned to play, be it with family playing for pennies around the dining room table or in a university dorm with a bunch of mates, you will be playing exactly the same game.
The best five-card high hand wins — simple as that. Aim to win big pots and lose small pots, just as you do in those home games. Remember to keep focused on the game and not become distracted by the environment in which you find yourself playing.
Play your own game
Many people when they play in a casino tournament for the first time get caught up with the regular players who seem to know every dealer and most of the other players at the table. As a result, newer players sometimes tend to revert to the playing style of the table rather than stick with their own.
This is a major weakness. Play your own game! After all, this has to be your strongest game as it's the one you've spent the most time playing and practicing and honing in order to become a better player.
Don't imitate the pros
I would bet good money that we've all seen one episode of Poker After Dark, High Stakes Poker, or the WSOP on ESPN. We've all watched the pros and they way the play, act, and even dress.
I've seen a lot of players try and utilize techniques that they've seen on TV to little or no effect. Don't go down your local casino fixed with a Mike McDonald stare, a Daniel Negreanu mouth, or Dominik Panka sunglasses. I've already suggested you should play your own game, so don't feel like you need to imitate a pro to fit into this new setting.
Keep an eye on regulars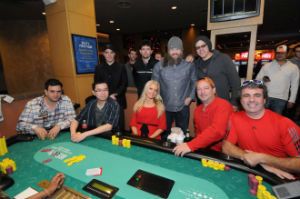 If you're going to frequent the same casino several times, it's never too early to start making a list of notes on players that you feel are regulars.
For example, you notice the guy in seat three seems to know every dealer by first name, and has had numerous other players come up to him to say hello. Therefore it would seem highly likely that he will be here next time you come to play. Start making notes. How often does he defend his big blind? What is his opening raise size when he is weak? Or strong?
This step helps you become less intimidated when you find yourself in hands with these and other more experienced live tournament players.
Have fun!
You wouldn't be playing poker if you didn't want to have fun! So relax, take it hand by hand and enjoy yourself.
Want to stay atop all the latest in the poker world? If so, make sure to get PokerNews updates on your social media outlets. Follow us on Twitter and find us on both Facebook and Google+!
Will Shillibier is based in the United Kingdom. He graduated from the University of Kent in 2017 with a B.A. in German, and then studied for a NCTJ Diploma in Sports Journalism at Sportsbeat in Manchester. He previously worked as a freelance live reporter, and video presenter for the World Poker Tour.