Improving Your Game with David Randall, Vol. 4: No Substitute for Relentless Belief
David Randall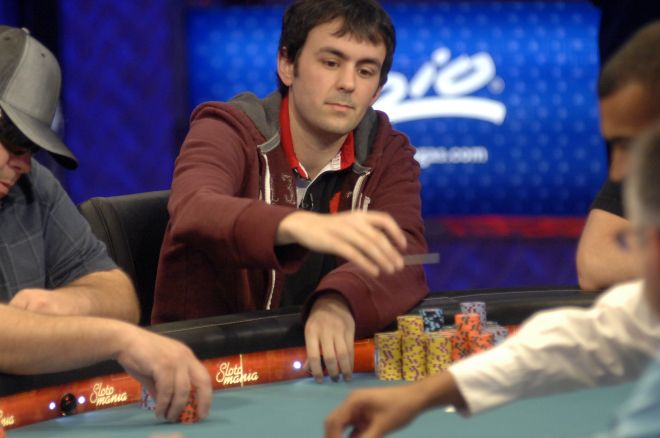 There is no substitute for the relentless belief in your ability to be successful. We often see players get huge scores that are not qualified for these scores. We scratch our heads and ask ourselves how this is possible. Obviously, there is an element of luck that is involved in poker, so generally when I have spoken to people about this topic they just write it off as a huge upswing in variance for that player. While I definitely agree, I think there is something else going on there that is worth exploring.
While there are a few players that have this relentless belief in themselves consistently, when I walk into a tournament room I generally see a sea of players waiting for the "Plinko Effect" (yes, Plinko Effect — I just made that up as a metaphor for just letting the chips fall as they may, and I know you saw Plinko as one of the games on the Price is Right) to take over and decide who's going to be chip leader that day. Then, someone runs abnormally hot in the beginning and their chip stack isn't the only thing that becomes abnormally inflated. They start sitting straight up in their chair, chest puffed out like they're the Simba of the pride. If you saw them on any other day, they'd be Scar hiding in the shadows envious of the other fortunate ones, but today is their day. They may even start being loud, initiating conversation and become "Mr. Outgoing" (which they would never be if things weren't going their way). They start believing it's possible. They experience a little bit of success and they really start to believe they can win the tournament. If they can avoid hastily being knocked off their throne with a little adversity they can often sail to a victory in a very large field. They will look back at this day as the highlight of their poker career and wonder why they can't replicate it.
Today we are going to explore how to replicate this relentless belief without waiting on the Plinko effect to magically give you the chip lead. In order to begin our analysis, we must first concretely describe what our goal is. I'm going to go ahead and assume that your goal is similar to mine, which is to be the best poker player I can be every time I sit down. Poker is somewhat similar to sports in that having the ability to do this requires a ton of preparation (which is not the glamorous part of the endeavor). You have to mentally put yourself in position to be successful before it can actually happen.
When I was young in my poker career, I had a mentor from back home (not a poker player) give me a pep talk when I was in the biggest downswing of my career. I have often given the same pep talk to many students in order to get their heads right when they are in downswings and it's all they need to get going in the right direction. The key is to understand why you feel the way you do. It's easy to feel great about where you're headed when things are going well. I have said 1,000 times, and will say again, that I can determine the trajectory of someone's career based on how they act and speak when they are struggling. Is there a confidence that things will change? Or is there a feel of hopelessness until something goes their way? I personally have often teetered between both feelings. Only very recently have I been able to be much more dominated by feelings of belief in myself, and what do you know, in the last year or so I have had more deep runs live than the rest of my career combined. Some people have this feeling naturally, but unfortunately I do not. I had to earn it.
So what changed? What clicked?
Discontentment. I consciously knew I was capable of better, but what did I do on a daily basis to make myself better? Sure, I put in a lot of hours playing, but let's be honest, everyone does that. What did I do to set myself apart? The answer was nothing.
When I came to this realization, it all made sense to me. I said to myself, "I have not achieved the things I want to in poker because of me." Not because of some fall of the card that could've gone differently or so-and-so beating me shorthanded for a bracelet. It was because I had not put in the work to be great. Then I sat back and asked myself the million dollar question: What would a day look like for the most successful player in the world? How does that compare to how my days currently look? They'd definitely get their hours in playing, but what else would they do? What they do differently when no one else is looking is what sets them apart when they are under the lights.
Like my favorite sports icon Woody Hayes would always say, "Any time you give a man something he doesn't earn, you cheapen him." In the poker world, where there are so many attitudes of entitlement and floating on natural talent because being "good enough" comes easy, you have to really ask yourself: Is my B-game day in and day out good enough for me? If the answer is yes, then perhaps you should consider a different path. If poker was truly your passion, you would be unable to settle for a mediocre version of yourself. Go find something that fuels you to wake up bringing your A-game every day. If the answer is no, then I urge you to ask yourself the million dollar question, hash out what adjustments you can make to your day to put you in that position, and commit to the execution of it.
David Randall is a professional poker player residing in Las Vegas, Nevada. He has nearly $700,000 in live tournament earnings, including one World Series of Poker final table and one World Poker Tour final table. The largest score on Randall's live record is from a $1,500 No-Limit Hold'em event at the 2010 WSOP when he took third for $270,299.
For more strategy tips, tricks, tutorials, podcasts, and more, head to the PokerNews.com Strategy section of the site and start exploring today!