Making the Transition from Cash Games to Tournaments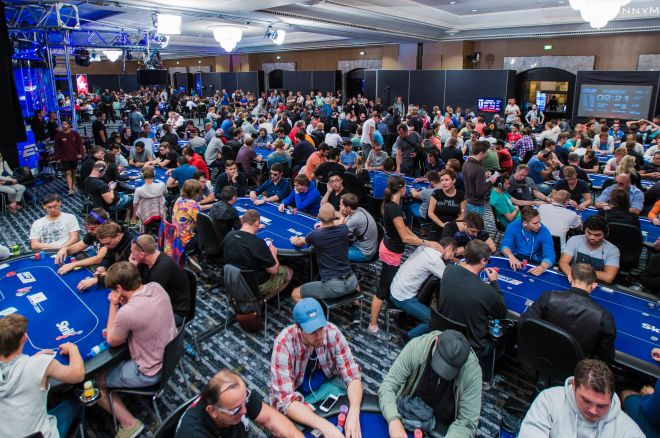 Robert Woolley continues his "Casino Poker for Beginners" series with some advice for new players looking to play their first tournament.
Poker tournaments, as opposed to cash games, are a popular way for players new to the game to experience real casino poker for the first time. Two reasons for this stand out: First, the amount you can lose — the buy-in for the tournament — is capped from the get-go. Second, you can win many times what you spend to enter it. That's an appealing combination.
But I'm already getting ahead of myself. Let's start by being clear about what a poker tournament is, and how it differs from cash games. The essential elements include:
A buy-in defined by the casino, with some fraction (usually between 10 and 25 percent) of that kept by the house for their expenses and profit, and the rest going into a prize pool.
A defined start time.
Random table and seat assignments.
A uniform starting stack size, though some give an option to start with more chips for an extra fee, called an "add-on."
A predetermined schedule of escalating blinds and antes, which forces action as players' stacks get short relative to the blinds.
Use of special tournament chips, which have no cash value.
A payout structure that depends on the number of players entering the tournament. Typically about 10% will get at least some prize money, and payouts go up for those who last longer before being eliminated.
One player eventually has all the chips and is declared the winner, and thereby takes home the biggest share of the prize pool.
If you want to try a poker tournament, the first problem you have to overcome is finding one. Most poker rooms have regularly scheduled daily, weekly, and/or monthly events, plus special tournaments at irregular intervals. However, since poker rooms frequently change their schedules it is probably best to check their website or call ahead to find out what tournaments are being offered before making the trip. Other online resources such as Poker Atlas and similar sites can be of use for finding tournaments in your area, too.
Once you have decided where, when, and what tournament to play, you need to get yourself registered. It's rare for regularly scheduled events to sell out, but there's often a crunch of people registering at the last minute. If it's important to you to be there from the starting bell, plan to arrive 15 minutes early. But if you're a little late, it's not a big problem. Late registration is routinely allowed, though it might put you at a slight strategic disadvantage.
By their nature, it's impossible to know exactly when a tournament will end. However, those running them usually have a lot of experience and can give you a pretty good estimate of how long it will take to play out. This might be important to know if you have some other commitment.
Poker tournaments share most of their rules with cash games, but there are a few special ones you should know about:
Unlike regular chips, you may not take home tournament chips as souvenirs. This is to prevent people from bringing such chips back another day to surreptitiously augment their stack.
In fact, all your chips must remain out and visible at all times. If you take any chips out of plain sight — e.g., under the table or in your pockets — those chips will be confiscated from you, and you may be disqualified from the tournament, with no refund. If you get moved to a new table, use a chip rack to carry your chips.
When at least one player is all-in and another has called, and no more betting is possible, all involved players' cards must be turned face up. That is, you can't just watch to see how the board cards come and then muck if you fail to improve your hand.
Many poker rooms have more stringent rules about the use of cell phones and earphones than apply during cash games.
You must be in your seat by the time the last card is dealt to the button, or your hand will be mucked by the dealer.
Don't be surprised in a tournament if you get moved to a new table. In fact, it will probably happen more than once. Two things cause this.
First, as players get eliminated, fewer tables are needed than when the tournament started, so the tournament director will break up a table and reassign the players to fill in empty seats elsewhere.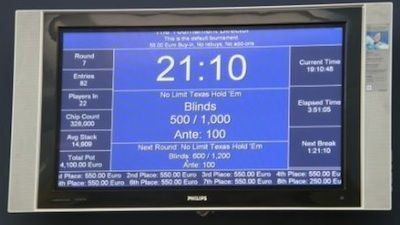 Second, sometimes they need to balance the number of players at the remaining tables. For example, perhaps three people in a row bust out at one table. Rather than leave that table short-handed, staff will move a couple of players there from full tables.
Another oddity for those familiar only with cash games is the chip "color-up." Nobody needs chips denominated "25" when the blinds are, say, 1,000/2,000, so during some breaks the staff will trade your smallest-denomination chips for larger ones. You're free to stay and watch this process if you wish.
Almost every poker room now has a computerized tournament clock such as the one pictured at right, displaying vital information:
The amount of time left in the current level, i.e., until the next step up in blinds and antes.
How much time until the next break. (But don't suffer with a full bladder. You can take a restroom trip whenever you need to. There is no penalty, though you'll miss a few hands.)
The number of players left.
The average number of chips held by the remaining players.
The payout schedule.
As you get to within one or two eliminations of making the money (the so-called tournament "bubble"), play may go "hand-for-hand." That is, all of the remaining tables will simultaneously start a hand, but then wait for all tables to finish that hand before going on to the next one. This is done to prevent short-stacked players from stalling their way into the money by playing excruciatingly slowly, in the hope that somebody else at another table will bust out first.
If you're lucky — and skillful! — enough to survive past the money bubble and to the final table, you are likely to hear players start talking about making a deal, or a "chop" of the remaining money.
The decisions as to whether and how to negotiate such a deal are complicated, and have been covered in other PokerNews articles. (See here for starters.) For now, just be aware that the subject will probably come up, and that you are under no obligation to agree to anything that is proposed. It's always perfectly okay to say, "No, thanks, I'd rather just keep playing."
I well remember my first time playing poker in a real casino. It was a $40 daily tournament at the Luxor, about 12 years ago. I lasted only 20 minutes or so before busting out on what I later realized was a stupid mistake: I had a flush and didn't understand that the paired board meant that my opponent could have a full house — which he did. But it was the most fun I had ever had in a casino, and it thoroughly hooked me on poker.
I hope that your first experience with a poker tournaments is just as good — or, even better, that you go on to win it!
Robert Woolley lives in Asheville, NC. He spent several years in Las Vegas and chronicled his life in poker on the "Poker Grump" blog.
Get all the latest PokerNews updates on your social media outlets. Follow us on Twitter and find us on both Facebook and Google+!