Strategy with Kristy: Darryll Fish Analyzes Key Hands During WPT Lucky Hearts Poker Open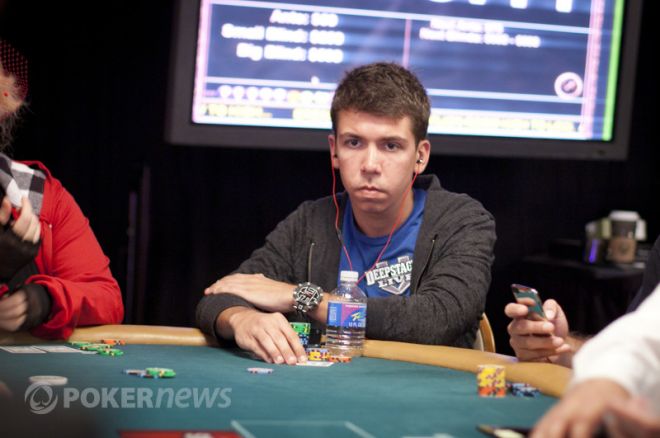 Darryll Fish is an online and live tournament poker pro based out of Florida. Last week, he finished third in the 2013 World Poker Tour Lucky Hearts Poker Open at the Seminole Hard Rock Hotel & Casino in Hollywood, Florida for $126,000, making his total live tournament earnings just over $1 million.
Fish is the most recent guest on the Strategy with Kristy podcast and came on to discuss a few interesting hands that came up during his deep run. The first spot he discussed took place when there were two tables left in the event.
Here is a snippet from that part of the interview:
"Evan Teitelbaum was at my table, and he'd been up and down in chips throughout the tournament. He's a local guy, and I've played with him a lot. The blinds were 10,000/20,000, and he min-raised to 40,000 from the cutoff. He had about 1.5 million to start the hand. At this point, I had around 2 million and was close to the chip lead. I was in the small blind with ace-queen offsuit. Against a lot of people, it would be pretty standard to three-bet for value with my hand, but against this type of player, I didn't think he would four-bet light. He's not the type to get into a preflop battle. So, more often than not, if I three-bet, he's just going to call, and it's going to be sort of difficult to play post flop. It would just be a high-variance situation. I decided to flat and keep the pot small, and if I hit the flop, I'm likely to be dominating him.
"Then, the big blind made it 120,000 with about 900,000 total. This was a pretty interesting situation because the big blind was a pretty solid player, so I knew he wasn't doing it with an air type of hand, but I also thought that he likely didn't have something very strong because he would have probably sized his three-bet a littler larger. Evan ended up calling the three-bet, so at that point, there was over a quarter-million in the pot — almost 300,000. Even though I knew the big blind had a strong range in that spot, I looked at it as a very good opportunity to be able to pick up a nice pot preflop. I knew that Evan was never calling a shove, and like I said before, I didn't think the big blind had a really strong hand, so I decided to just move all in to try and take down almost 300,000 with no showdown. The big blind ended up folding pocket nines, and Evan folded without saying what he had. It ended up working out pretty well."
Tune in every week for new episodes of Strategy with Kristy. Feel free to send in questions, ideas or suggestions for the podcast to kristy@pokernews.com. Also remember to follow Kristy Arnett and PokerNews on Twitter for up-to-the-minute news.