Michael Soyza Explains Fold to Bryn Kenney in Biggest Tournament Ever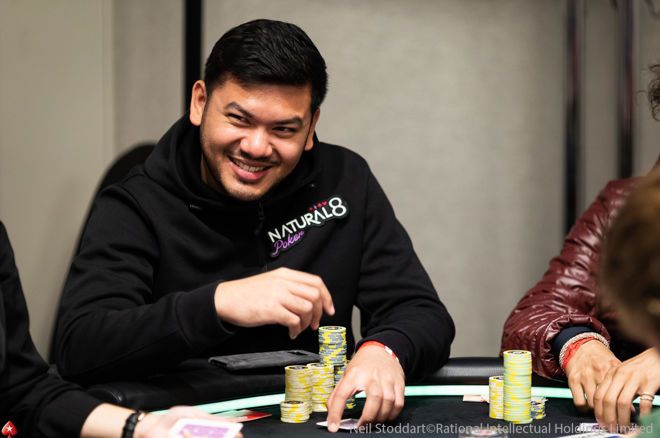 You ever get that feeling that the guy raising you on the flop is just totally full of it? He's been doing it consistently to everyone, and now he's doing it to you... and you're sure the guy can't have it this time.
But... maybe he does.
That was the spot Michael Soyza was in during the record-breaking £1,050,000 Triton Million - A Helping Hand for Charity event in London, England.
Soyza talked with PokerNews about the hand in which Bryn Kenney — who eventually chopped the event heads-up to become poker's all-time leading tournament money winner — found a good moment to apply pressure on Soyza to cause him to let go of a hand even though he thought he might possibly be best.
As Soyza remembers it, he had about 50 or more big blinds when Bryn Kenney opened from the cutoff, then Soyza looked down at A-K in the big blind and three-bet. Kenney called, and the flop came J-5-6 rainbow.
Soyza made a continuation bet of one-third pot, and when Kenney raised, that's when Soyza couldn't help but feel dubious.
"At this point, I just feel like Bryn is so full of shit, you know!" Soyza says with a big smile before running through the possible hands Kenney might have.
Soyza also talks about how the huge buy-in and the stack sizes became factors encouraging him to lean towards folding rather than continuing against Kenney from out of position.
"It was a really, really tricky spot, in my opinion," says Soyza. "Even though I really felt like he was just messing around and just putting me to the test, and I wanted to pull the trigger, but I thought just shoving into a set and drawing dead is going to be pretty bad in this tournament!"
After much consternation and after expending a few time bank cards, Soyza finally let his hand go. Listen to what else he says about the difficulty of such marginal situations, especially when your opponent has found a good spot to pressure you.
Or, as he says of Kenney, during those times when you can't be sure if he might be doing "a Bryn kind of thing." Take a look: