Bryn Kenney: The $55 Million Dollar Man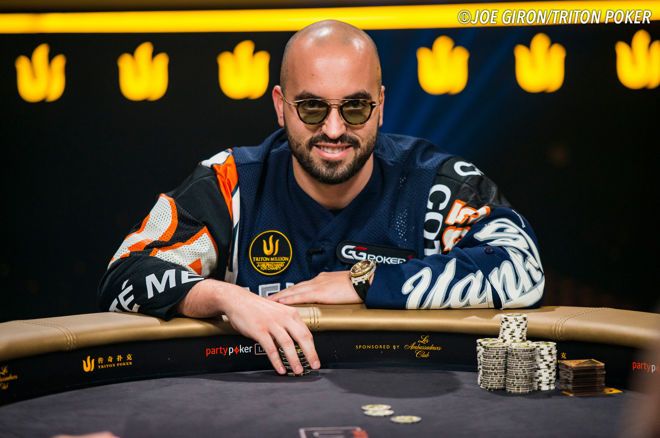 We would be willing to bet serious money that if you told a young Bryn Kenney by the time he was 32 years old, he would have won more than $55 million from live poker tournaments and would be topping the all-time money listing, that he would have laughed in your face.
Kenney is probably laughing right now because earlier this week, he scooped a massive £16,890,509 ($20,563,324) prize when he finished second to Aaron Zang in the largest buy-in poker tournament ever run, the £1,050,000 Triton Million – A Helping Hand for Charity event sponsored by partypoker LIVE.
This monster-sized prize took Kenney's earnings for 2019 to an almost unbelievable $29,822,761 and pushed his total live poker tournament earnings to $55,505,630, a cool $10,245,582 more than his closest rival Justin Bonomo — that was, before the latter won the Triton £100,000 Short Deck Main Event for £2,670,000 ($3,240,886).
The Start of a Glistening Career
Magic: The Gathering was Kenney's passion as a youngster, as highlighted in this article by PokerNews' Paul Seaton but it would soon be poker where Kenney focused his attention — and with spectacular results.
A regular in the biggest poker tournaments online, Kenney gained a reputation for being a high roller. The British sometimes call someone like Kenney a "Marmite" character, that is you either love him or detest him with no middle ground. We get the feeling that a.) Kenney thrives off any attention and b.) he does not care about what people think about him; he just lets his poker game do the talking.
Always prepared to speak his mind and never one to sit on the fence when posed with a dividing question, Kenney has become an interviewer's paradise, always delivering nuggets of gold when he candidly fields questions.
The same can be said of his Twitter account where earlier this year Kenney said he wanted to take on pop sensation Justin Bieber in an MMA fight, before saying he would pay $1 million to fight Bieber shortly after claiming the No. 1 spot on the all-time money listings.
While climbing the online poker ranks, Kenney was one to flash some of his winnings via expensive purchases. Some may recall the massive diamond-studded dollar pendant Kenney would wear on a chain to live poker events, or the lavish watches he would sport on his wrist, some reported to be worth up to $100,000. All that aside, Kenney's skills on the felt and his amazing results in the live poker world over the past few years speak volumes.
Kenney has removed his alias' from his PocketFives.com profile so we do not know how much he has won from online MTTs. His account says he last cashed online in 2008 but he has definitely cashed online since then.
Bryn Kenney's Exceptional Live Poker Record
The first recorded cash on Kenney's Hendon Mob profile is from May 2007, some 12 years ago. A then 21-year-old, Kenney finished second of 184 entries in a $1,070 buy-in event at the Turning Stone Resort & Casino in Verona for $34,446.
His first six-figure prize came three years later at the 2010 World Series of Poker (WSOP). An eighth-place finish in the $25,000 No-Limit Hold'em Six-Handed event netted Kenney $141,168. This sum was surpassed a week or so later when Kenney navigated his way to a 28th-place finish in the WSOP Main Event, a result worth $255,242.
By now, Kenney was becoming a regular feature on the European Poker Tour and in high buy-in events around the world. A $643,000 score in January 2011 got the year off to a flying start, Kenney's reward for a third-place finish in the $100,500 Super High Roller at the PokerStars Caribbean Adventure (PCA).
Kenney's First Seven-Figure Score
It would take another five years for Kenney to bank his first seven-figure prize and it was in the tournament that he finished third in previously. Kenney bulldozed his way to victory in the $100,000 Super High Roller 8-Handed event at the 2016 PCA and walked away with $1,687,800. While Kenney was already feared and respected in equal measure, this was the tournament that saw Kenney arrive and gave him room to maneuver in the biggest poker tournaments around the world.
Another million-plus score was handed to Kenney in November 2016 when he finished as runner-up in a Triton Poker Super High Roller Series event in the Philippines; Kenney returned home with the equivalent of $1,401,694.
A $969,075 haul and another outright victory came for Kenney a few months later at the 2017 PCA before Kenney locked up a career-best €1,784,500 ($1,946,911) prize when he won the €100,000 Super High Roller 8-Max event at the 2017 PokerStars Championship presented by Monte-Carlo Casino.
That would remain Kenney's biggest cash until March 2019 when he finished second in another Triton Poker Super High Roller Series, this one in Jeju, South Korea, for a whopping $3,062,513.
Fast forward to August 2019 and Kenney can now boast of a $20,563,324 score.
Bryn Kenney's Top 10 Live Poker Tournament Results
| Rank | Date | Tournament | Finishing position | Prize (USD) |
| --- | --- | --- | --- | --- |
| 1 | Aug. 2019 | £1,050,000 Triton Million | 2nd | $20,563,324 |
| 2 | Mar. 2019 | HK$2,000,000 Triton Super High Roller Series Jeju Main Event | 2nd | $3,062,513 |
| 3 | May 2019 | HK1,000,000 Triton Super High Roller Series Montenegro Main Event | 1st | $2,713,859 |
| 4 | Apr. 2017 | €100,000 NLHE Super High Roller Eight-Max | 1st | $1,946,911 |
| 5 | Jan. 2016 | $100,000 PCA Super High Roller Eight-Handed | 1st | $1,687,800 |
| 6 | Mar. 2018 | HK$2,000,000 Super High Roller Bowl Macau | 5th | $1,484,024 |
| 7 | May 2019 | HK$500,000 Triton Super High Roller Series Montenegro NLHE 6-Handed | 1st | $1,431,376 |
| 8 | Nov. 2016 | HK$500,000 Triton Super High Roller Series Philippines Main Event | 2nd | $1,401,694 |
| 9 | Jan. 2017 | $50,000 No Limit Hold'em at PCA | 1st | $969,075 |
| 10 | Sep. 2017 | $50,000 Poker Masters | 1st | $960,000 |
Love him or loathe him, there is no denying Kenney is one of the game's best-ever tournament players with the results to back it up. He has won more than $1.19 million in seven of the past 13 years, has seven seven-figures scores and now, an eight-figure prize. Of his 178 cashes, 65 are for more than $100,000. Oh, and he has a WSOP bracelet too. What a guy!
All-Time Money List Top 10
| Position | Player | Country | Live Tournament Earnings |
| --- | --- | --- | --- |
| 1 | Bryn Kenney | United States | $55,505,634 |
| 2 | Justin Bonomo | United States | $48,508,780 |
| 3 | Daniel Negreanu | Canada | $41,857,384 |
| 4 | Dan Smith | United States | $36,742,718 |
| 5 | Erik Seidel | United States | $35,726,969 |
| 6 | David Peters | United States | $33,146,070 |
| 7 | Fedor Holz | Germany | $32,556,379 |
| 8 | Stephen Chidwick | United Kingdom | $31,720,378 |
| 9 | Jason Koon | United States | $30,344,229 |
| 10 | Daniel Colman | United States | $28,925,059 |
Courtesy of TheHendonmob.com