High Stakes Poker Reviewed: Enter Esfandiari and Hellmuth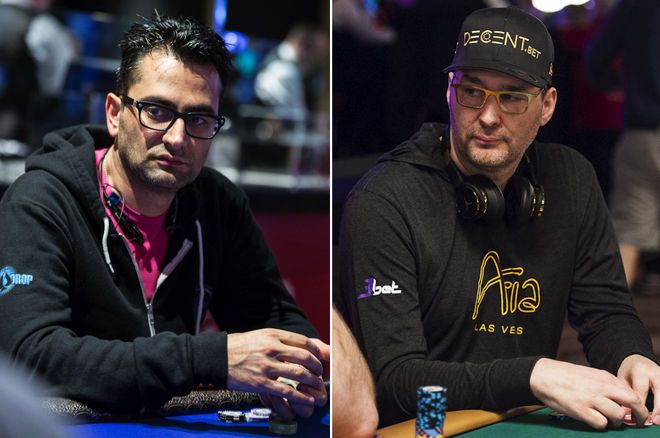 The popular show High Stakes Poker debuted in early 2006, with the first season lasting 13 episodes. Throughout the show's run, episodes were culled from multi-day sessions, so often the same players would be sitting around the table from week to week, although new players were frequently rotated in to change the makeup of the game.
Years later the shows remain highly entertaining, and can even be educational. For new poker players they introduce the game while illustrating many strategic concepts, while those with experience can watch and recognize how certain strategies have evolved over the years since the shows aired.
We're continuing our look back at Season 1, this time reviewing Episode 10. This episode marks the first appearance of a couple of familiar players making their first appearances on the show — Antonio Esfandiari and Phil Hellmuth.
Esfandiari immediately gets involved by raising preflop with
, then he promptly flops one pair and turns a second. Then Hellmuth opens
and ends up losing a big quads-versus-full-house pot versus Barry Greenstein.
Things don't go well for Hellmuth after that, either, with clashes against Freddy Deeb and Barry Greenstein result in him losing his entire starting stack, forcing him to rebuy. Meanwhile Daniel Negreanu's first-season woes continue in this episode as he finds himself on the wrong side of multiple big hands. And Esfandiari runs into some difficulty with pocket aces right at the end, too.
In fact, pocket aces turn up several times in this episode, leading to a few interesting (and big) hands. Take a look below.
High Stakes Poker: Season 1, Episode 10
| | |
| --- | --- |
| Originally aired: | March 20, 2006 |
| Location: | Golden Nugget, Las Vegas |
| Players: | Doyle Brunson, Freddy Deeb, Eli Elezra, Antonio Esfandiari, Barry Greenstein, Phil Hellmuth, Daniel Negreanu, Shawn Sheikhan |
| Commentators: | A.J. Benza, Gabe Kaplan |
| Game: | no-limit hold'em cash game, minimum $100,000 buy-in |
| Stakes: | blinds $300/$600, ante $100 |
Terms and Concepts
equity — in the first hand Deeb flops a flush draw and turns a pair, giving him enough "equity" to call postflop bets by Greenstein — 2:00 mark
steaming — as noted, things do not start well for Hellmuth, and he begins "steaming" in a hand versus Deeb — 16:00 mark
loose — after an oversized preflop reraise by Greenstein in a multi-way hand, Negreanu has queen-jack suited and makes a "loose" call (not the only time he does so this episode) — 21:00 mark
Big Hand Alerts
Doyle Brunson and Negreanu play a $184,900 pot in which one of them calls an all-in on the turn while drawing dead — 26:30 mark
Negreanu and Deeb play a big one as well, getting all in on the flop in what turns out to be a $241,300 pot (that they run twice) — 35:30 mark
a three-way all-in involving Esfandiari, Hellmuth, and Eli Elezra concludes the episode, creating a $212,800 pot — 38:30 mark