High Stakes Poker Reviewed: Negreanu, Hellmuth Climb Back in First Season Finale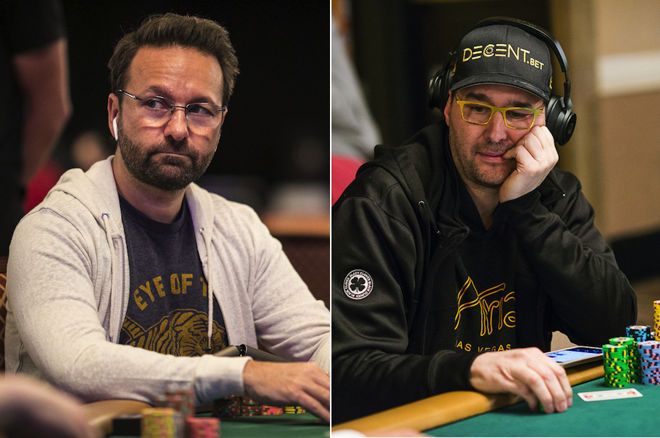 The popular show High Stakes Poker debuted in early 2006, with the first season lasting 13 episodes. Throughout the show's run, episodes were culled from multi-day sessions, so often the same players would be sitting around the table from week to week, although new players were frequently rotated in to change the makeup of the game.
Years later the shows remain highly entertaining, and can even be educational. For new poker players they introduce the game while illustrating many strategic concepts, while those with experience can watch and recognize how certain strategies have evolved over the years since the shows aired.
We're continuing our review of shows from Season 1, having arrived at Episode 13, the finale of the series' first season. That means a last chance for players to add to their winnings or recover from losses. "It's a free-for-all," says A.J. Benza. "Anything goes! And the mad dash for the cash goes over the edge."
Soon enough Benza's prediction appears it might come true with Daniel Negreanu straddling and Phil Hellmuth betting flops in the dark and three-betting preflop with ace-four offsuit. Both Negreanu and Hellmuth arrive at this episode desiring to dig themselves out of holes from previous shows, and both are able to enjoy some success to end the season.
Things remain relatively calm, however, aside from one big pot between Negreanu and Jerry Buss (see below). Then during the last hands of the session Antonio Esfandiari tries to earn back some of what he lost previously after picking up pocket aces in one hand, then making two pair in the following hand.
The episode closes with Benza and Gabe Kaplan rattling off the names of the 19 players who participated in Season 1, followed by a few highlights from the show up to that point.
High Stakes Poker: Season 1, Episode 13
| | |
| --- | --- |
| Originally aired: | April 10, 2006 |
| Location: | Golden Nugget, Las Vegas |
| Players: | Jerry Buss, Todd Brunson, Johnny Chan, Antonio Esfandiari, Barry Greenstein, Jennifer Harman, Phil Hellmuth, Daniel Negreanu |
| Commentators: | A.J. Benza, Gabe Kaplan |
| Game: | no-limit hold'em cash game, minimum $100,000 buy-in |
| Stakes: | blinds $300/$600, ante $100 |
Terms and Concepts
live card(s) — in the first hand shown, Jennifer Harman contemplates calling a raise with king-queen, and Kaplan points out both of her cards are "live," meaning the raiser, Barry Greenstein with ace-seven, has neither a king or a queen and thus she's drawing "live" to make a pair — 2:00 mark
dominated hands — in that hand Hellmuth three-bets with ace-four, his only opponent is Negreanu with ace-ten, meaning Hellmuth's hand is "dominated" thanks to Negreanu's bigger kicker — 16:30 mark
pot committed — a relatively big hand between Hellmuth and Harman finds the latter having a beatable hand and contemplating calling Hellmuth's river bet after she's already committed significant chips to the pot on previous streets — 24:30 mark
Big Hand Alert
after both flop top pair, Negreanu and Buss play for a pot worth $229,900 — 19:00 mark