November Nine Strategy Session: Jorryt van Hoof Analyzes a Pivotal Flush-Over-Flush Scenario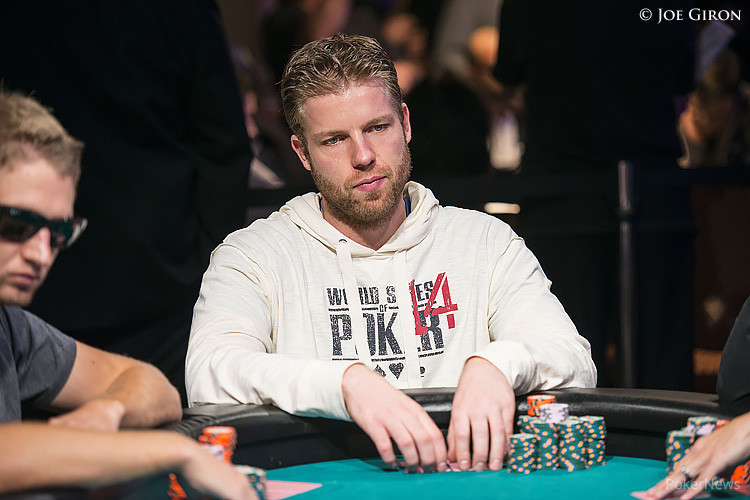 Jorryt van Hoof's poker mantra during the World Series of Poker Main Event was to take it one hand at a time. For van Hoof, it turned out to be one hand on Day 7 that gave him the ammunition to enter the November Nine as the chip leader.
Van Hoof, a Dutch poker pro who plays as "TheCleaner11" online, mopped up on the penultimate day thanks in part to a flush-over-flush situation against Eddy Sabat. Here's the hand, as reported by PokerNews' Josh Cahlik:
Jorryt van Hoof opened to 525,000 from the cutoff (with around 20 million in chips behind) and Eddy Sabat called from the big blind (with just shy of 6 million). The flop came down and both players checked to see the hit the turn. Sabat led at the turn for 600,000 and van Hoof flatted.

The hit the felt on the river and Sabat cut out a bet of 1.15 million. Van Hoof announced all in over the top and Sabat instantly shifted in his seat. He shook his head and counted out his chip stack. His all in was for 5.975 million total and he took his time making his decision.

Sabat stood from the table and plopped chips into the center, signifying a call. Van Hoof immediately tabled for the nuts.

"Aw, man, he's got the nuts," said Sabat as he rolled over for a lower flush. His hand was pulled into the muck and he became the 16th-place finisher.

Van Hoof raked in the pot and brought his stack up to 26.655 million for the overall tournament chip lead.
While the hand itself may not spawn any hard-hitting strategy discussion, we still wanted to get the Dutchman's take on the scenario as well as his plan to abuse his chip lead on the final table bubble.
PokerNews: Let's pick this up on the turn after you both checked the flop. The
gives you a massive draw — nut flush and a gutshot — but you elect to call his bet of 600,000 instead of raising. Can you talk through your thought process here?
Van Hoof: Obviously I'm never going to fold my nut flush draw here so it's either call or raise. I just felt like he was quite polarized in his leading range — he's either strong or he has air. My hand wins against air, and when he's strong I don't want to get my chips in even though I have a strong draw. So I just prefer to flat there and play a river.
Obviously you have an easy decision when you make the flush on the river. But here's a different scenario — let's say you river a ten-high straight here. Do you shove the river over his bet, or do you just call?
I would just call. I think he has a flush or he has nothing. I would only raise with a king-high flush or better.
Put yourself in his position with the jack-high flush and facing a raise for all of your chips. Can you even consider folding given what is at stake?
Actually, yes. I don't have that many bluffs in my range. I wouldn't need to be bluffing with something like the ace-nine with the ace of hearts. Then again, if he's betting that river he's even more polarized because he's probably not even going to bet with a straight. I think he's even going to check-call a straight or two pair.
To be honest it's difficult to say whether I could fold in his spot. I know how I was playing so I was probably perceived as someone who could make a move.
Would you ever bluff-shove the river here?
Maybe, but I don't want to give out any information to the others (laughs).
Totally understandable. Well, this pot pushes you into the chip lead. What was your strategy as the big stack — were you trying to simply make the November Nine or attempting to build a big stack to use at the final table?
Big stack, definitely. When we got down to the final 18 and the redraw happened, I wasn't happy with my seat. I got one of the worst seats with two big stacks directly to my left. But the cards fell right, I got the nuts a couple times, and then I just got momentum.
On the final table bubble I knew the players want to get [to the final table] so I used that to win some chips. It was pretty good for me that the money bubbles weren't flat so I could take advantage of that.
What will your approach be when you sit down at the final table?
Just play every hand one at a time. That's what I'm always focusing on. That way you don't get emotionally involved too much. It's easier to have a better approach when you're thinking about the hand in front of you. So that's what I'm going to do — play one hand at a time and then go on to the next one.
There's a huge difference between the $10 million top prize and $5 million second prize. But putting the money aside, how important is the bracelet to you?
Obviously I want to win the bracelet. I didn't know what to expect from this experience. It has been a really awesome experience and it makes me want to have to bracelet even more.
For more on van Hoof, check out his November Nine profile here at PokerNews. And be sure to watch for more November Nine strategy articles and interviews leading up to the final table!
Get all the latest PokerNews updates on your social media outlets. Follow us on Twitter and find us on both Facebook and Google+!