Play and Learn: Abusing the Bubble in Tournaments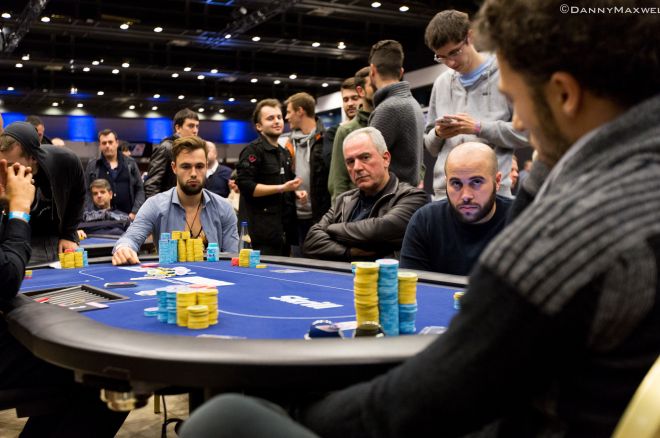 Last week I discussed a hand from a European Poker Tour event involving a player on the tournament bubble choosing to exert pressure on others with similarly-sized stacks. The hand served as a warning about picking ill-advised targets in a tournament when the money is close, as those who are near to you in chips (or with bigger stacks) are not often going to be the ones you want to go after in such spots.
The lesson reminded me of a situation I faced a while back when playing a standard daily no-limit hold'em tournament hosted at a local casino. The buy-in was $100 and the event attracted a field of just over 80 runners. Given the mediocre structure and inevitability of shallow stacks, I knew that a key to making a deep run would be to build up a large stack early on.
In fact, this turned out to be one of those events where seemingly every choice I made was the correct one. Over the course of the next few hours, I turned my starting stack of 10,000 chips into right around 140,000 with just 14 entrants remaining. The payout structure of this event stated that the final nine players cashed, meaning my chip lead as we edged toward the bubble was looking very good.
It was during this time — just five eliminations away from the money — that one of my favorite hands of the event occurred. I played the hand quite aggressively, taking advantage of the bubble period in order to pad my stack even further and continue to craft a dominant table image.
We were playing seven-handed, and the blinds were 500/1,000 with a 100 ante. Action folded around to me in the small blind. I looked down at
and raised to 3,000, and action was on the older gentleman sitting next to me in the big blind. He began the hand with roughly 30,000 in chips and tossed out a call. The dealer fanned a flop of
and I continued out with a bet of 3,500.
"Double it," my opponent quickly said, moving 7,000 past the betting line.
I immediately announced an all-in three-bet over the top, putting this player to a decision for all of his chips. He went into the tank and began talking under his breath.
"I finally hit a board and then this happens," I heard him mutter. "Everyone always raising me."
Eventually, he looked at me and threw his hand into the muck face up, exposing
to the table. Despite him having the better hand, I was able to pick up the pot, pad my stack, and leave my opponent visibly steamed with approximately 20 big blinds.
Looking back at the hand, some may wonder why I opted to move all in here. Was it because I thought my flopped pair of kings were good? While it certainly helped to connect with this board (making top pair with a backdoor flush draw), that wasn't the only reason for my move. Rather, I opted to take a risk based on the fact that I knew my opponent in the moment wanted nothing more than to cash in this tournament.
After playing a poker tournament for many hours and nearing the cash, making the money becomes a prime goal for most poker players. Doing so guarantees profit, ensures that your day was not wasted, and can yield very large rewards if a deep run happens to follow the bursting of the bubble.
In fact, this player in particular had made several comments as the night wound down about how he "hated tournaments" and he "better cash in this thing." With this information in mind, I wasn't going to let him coast his way to a cash. If he wanted to make the money, I was going to make him work for it.
Players in general tend to play more passively when the bubble approaches. It's the time for them to reflect on their play for the day and often is accompanied by tense hopes until the sigh of relief when the bubble is burst. Nobody wants to play all day to fall short in the last few moments before the money.
In my particular situation, I had a lot of room to maneuver. I had the tournament chip lead and could afford to make a mistake while pressuring those around me. While it's always an option to just sit on those chips and let the tournament happen around you while your stack slowly diminishes, that's usually not the best play.
The tournament bubble is simply one of the best times to put pressure on the shorter stacks who are looking to make the money. This aggression benefits you in two ways, because not only will it causes the short stacks to become shorter, but it will also allow the size of your stack to increase as well.
Get all the latest PokerNews updates on your social media outlets. Follow us on Twitter and find us on both Facebook and Google+!