Satellite Strategy: Reconsidering a Poorly-Timed Shove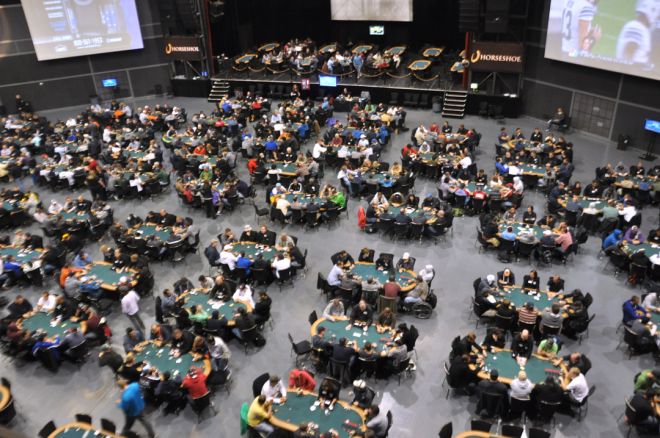 Covering live poker tournaments for a living affords me the opportunity to see countless thousands of hands played out, many of which offer interesting and potentially valuable insights into how players — both amateurs and professionals — play the game. In this ongoing series, I'll highlight hands I've seen at the tournaments I've covered and see if we can glean anything useful from them.
The Scene
Over the last two weeks, we've diverted from discussing hands I've observed while live reporting and instead talked about hands I played in the World Series of Poker Circuit Main Event at Horseshoe Hammond (pictured above). This week, we'll take a look at one more hand I played from that same locale, although this one comes from a very different tournament.
I arrived in Hammond on Thursday night and was all set to play Day 1a on Friday. Unfortunately, the convergence of a few factors prevented that from happening, and I ended up getting to the venue a little later than I would have liked to be comfortable registering. But there was a $250 Mega Satellite running in the corner of the room, so I hopped in that instead.
The early levels had not been going great for me when the following hand occurred. Our table was playing seven-handed, and my 5,000 starting stack was down to 4,300.
The Action
With blinds at 200/400/50, Michael Sanders, a circuit regular, opened to 1,000 under the gun with a stack of about 35,000-40,000. I looked down at
in the next seat and put it all in. Action folded to the player in the small blind, who shoved all in as well for about 13,000. Sanders thought a while and called.
Sanders:

Small blind:

Me:
The board ran out dead for all three of us, leaving the kings best. That player doubled up and then some, while I busted out and Sanders headed back to the grind.
Concept and Analysis
The important thing to keep in mind for this hand is how different satellites play from regular tournaments. Under normal circumstances at a seven-handed table, Sanders would probably be opening a lot of hands that are flipping against two fives. However, because we are playing a satellite, the situation is quite a bit different.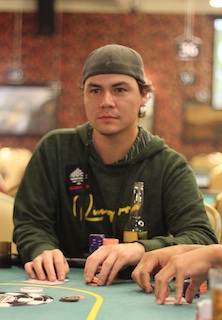 In this particular satellite, roughly one in every eight players was going to win one of the seats. It's usually correct to play a little tighter in satellites anyway because you aren't trying to get all of the chips, only to survive long enough to win one of the seats. It makes no difference if you get there with 1,000 big blinds or one.
Because Sanders had more than seven starting stacks, he was already pretty close to the stack needed in this satellite to secure a seat. Therefore, there's really no reason for him to get involved unless he has a premium holding. He should be playing even tighter than everyone else and likely has a pretty snug opening range here.
Pocket fives is pretty borderline in a regular tournament to shove in this spot, as you're likely gambling without too much fold equity. But in a satellite, it's a pretty easy fold. I was just on autopilot here waiting for a decent hand to get the last of my chips in and shoved without really thinking.
Really, I should probably be folding hands quite a bit stronger than fives here after Sanders opens. The combined likelihood that Sanders has a really strong hand plus the chance of someone else picking up a hand behind me — which is, of course, exactly what happened — means it's correct to play super-tight in that spot. I'm not an expert on satellites by any stretch, but even
might be a fold here.
Want to stay atop all the latest in the poker world? If so, make sure to get PokerNews updates on your social media outlets. Follow us on Twitter and find us on both Facebook and Google+!